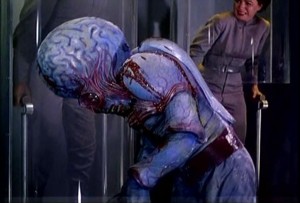 The rogue "Mu-tant" attempts to reach Dr. Ruth Adams (Faith Domergue) in her cylinder

Raymond F. Jones' science fiction serial, which appeared in three issues of Thrilling Wonder Stories, from 1949 to 1950, was the source for the first science fiction movie depicting interstellar travel and interstellar war.

Jeff Morrow plays Exeter, an alien from the planet Metaluna, recruiting Earth scientists (played by Rex Reason, Faith Domergue and Russell Johnson) in an attempt to save his war-ravaged race. Their efforts are in vain, however. Although the "mu-tants" were added to the film under protest, they are now the icons of the film.