Marshal Tito Succeeds Ivan Ribar
On January 13, Yugoslavia established that the "Law on Self-management" would be the basis of the entire social order in Yugoslavia, continuing Yugoslavia's trend of "independent socialism."

On January 14, Marshal Josip Broz (Tito), succeeded Ivan Ribar as the President of Yugoslavia. (Broz has been called Tito since about 1934, but sources vary on how he acquired the nickname.)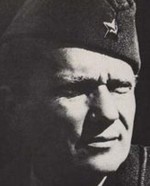 INS photo
Marshal Tito in 1942
Dwight D. Eisenhower becomes 34th President


INS Photo
Dwight Eisenhower takes the oath of office. Former President Truman
on far left. New Vice President, Richard M. Nixon on far right.
On January 20, our country's 34th president took office. Chief Justice Fred Vinson administered the oath of office to the new President.
Eisenhower, who defeated Illinois Governor Adlai Stevenson to win the Republican party's nomination last year, is the first career soldier since Ulysses S. Grant to be elected President.
Eisenhower was Chief of Staff of the U.S. Army, served as Supreme Commander of the North Atlantic Treaty Organization, and had operational command of NATO forces in Europe before he retired from active service on May 31, 1952. He then entered politics. His memoirs, Crusade in Europe were published in 1948. He has also served as president of Columbia University from 1948.