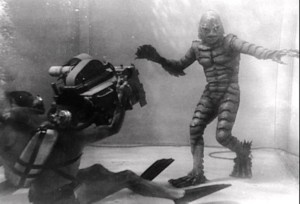 Underwater 3D camera and Ricou Browning
The Creature From the Black Lagoon (1954) is one of the iconic science fiction films of the 1950s.

Scientists journey to the Amazon in search of the "missing link" behind ocean dwellers and mankind, and discover an amphibious creature who is intent on protecting his domain from intruders.

It was followed by two sequels: Revenge of the Creature in 1955, in which the Creature is kidnapped and brought to the United States, and The Creature Walks Among Us in 1956, in which the Creature is surgically altered so that it can breathe on land - but not underwater.