The Creature From the Black Lagoon Legacy Collection
Universal released The Creature from the Black Lagoon Legacy DVD Collection on October 19, 2004.

It is a two disc set, featuring all three Creature films, a documentary, and audio commentaries for each film. Also included are the original theatrical trailers for each film, and production photographs.

There are no 'liner' notes, just a single page insert (with Dracula, Frankenstein, and Wolf Man Legacy sets advertised on the reverse side). It consists of a single paragraph description of each of the three movies. The author of this gem of misinformation isn't credited, but he (or she) says that John Agar played the Creature in Revenge of the Creature, and that Jeff Morrow plays the Creature in The Creature Walks Among Us. The reality is of course that each actor played a scientist in their respective films, not the Creature.

However, this is a very minor flaw, just an amusing sidenote.

This Legacy set is a must have for all past, present and future fans of the creature from the Black Lagoon.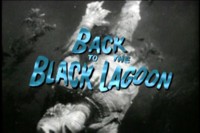 The documentary Back to the Black Lagoon is worth the cost of the set alone. Produced and hosted by David J. Skal (author of several books including The Monster Show: A Cultural History of Horror, and Screams of Reason: Mad Science in Modern Culture), this doc brings us on a journey through the Black Lagoon. It's a thorough visit.
Ben Chapman, the Creature on land in the first film, and Ricou Browning, the Creature underwater for all of the films, are on camera, as well as Julie Adams, star of the first film, and Lori Nelson, star of the second. (Most of the actors in these films are deceased: Richard Carlson in 1977, Richard Denning in 1998, and Jeff Morrow in 1993. John Agar died in 2002. Rex Reason is still alive at the time of this writing...but presumably declined to participate.
The doc covers the conception of the film, the various designs of the Creature's costume, the 3D effects, the music, the making of each of the films, and the impact on the audience. Experts such as David Schecter (Monstrous Movie Music), Vincent Di Fate, Bob Furmanek, Paul M. Jensen and Bob Burns are along for the fun ride.
Then, for each film there's an audio commentary. Tom Weaver is on board for all three. Lori Nelson and Bob Burns talk about Revenge of the Creature, and Weaver and Burns discuss The Creature Walks Among Us.
The trailers are fun. There are quite a few representatives for Creature, but only one each for Revenge and Walks, each one playing up the "repressed urges" of the Creature.
The extra entitled "Production Photos" starts out slowly - with posters and stills from the film. But keep on watching, eventually they get to the Production photos, of which a couple are different than the ones shown in the documentary, but then comes the good stuff, photos of theater marquees with the movie prominently displayed, publicity stunts, etc. So hang in there for the whole thing.)
Return to:
Click on the icons for new features in The Thunder Child.
Radiation Theater: 1950s Sci Fi Movies Discussion Boards
The Sand Rock Sentinel: Ripped From the Headlines of 1950s Sci Fi Films