Con-tact: Science Fiction Convention Previews and Reports
---
Cadet's Log: 2006 Williamsburg Film Festival (March 8-11, 2006)
THE SOLAR GUARD REUNION: SCIENCE FICTION AT WILLIAMSBURG by Caroline Miniscule
Every year, the Holiday Inn Patriot hosts the Williamsburg Film Festival in historic Williamsburg, Virginia. The Festival celebrated its tenth anniversary this year (March 8-11, 2006) and invited back guests who had attended in years past.

The Williamsburg Film Festival takes place in an intime setting. All of the guest stars signed autographs in a single large room, which permitted fans easy access to them. In addition to signing autographs, the stars participated in panels and question-and-answer sessions after certain of their films.

This page covers only the science fiction themed activies during the festival.
There were eleven guest stars at the festival?all with long and successful acting careers. While the majority of them are remembered as Western stars, most of them have acted in every genre. They all had a lot of fun and occasionally poignant stories to recount.

They also all ensured that their fans would have a good time. The autograph sessions were a lot of fun?with the actors signing stills and other memorabilia, posing for photos with fans, and chatting with whoever wanted to stop by. With the intime atmosphere, fans never had to wait very long to meet the stars.

I attended all four days of the Festival, met a lot of nice people, saw a lot of good TV shows and movies, and was entertained by the reminiscences of Beverly Garland (Not of This Earth), Jan Merlin (The Peacemaker), Mala Powers (The Storm Riders), Ben Cooper (Rebel in Town), and Jan and Frankie Thomas (Tom Corbett, Space Cadet.

Guests
James Best
Ben Cooper
Beverly Garland
Will Hutchins
Dick Jones
Jimmy Lydon
Jan Merlin
Mala Powers
William Smith
Peggy Stewart
Frankie Thomas

and various Western entertainers
The Solar Guard (1950s science fiction TV enthusiasts) holds their reunion at the same time as the Film Festival. On this occasion, in honor of the Festival's tenth anniversary, Jan Merlin wrote a Tom Corbett radio play called "Project Enigma," and he, Frankie Thomas, and several other Festival guest stars participated. It was a highlight of the Festival.
This page combines all of the science fiction themed events at the Williamsburg Film Festival into one page. At the very bottom of this page are links to the entire Film Festival coverage.
Wednesday, March 8, 2006

The Festival guests would not make their appearance until Thursday. Nevertheless, I went to the hotel on Wednesday afternoon, to make the rounds of the Dealer's Room and acquire various items of interest before the general rush of people [I ended up acquiring a great many DVDs for my movie collection].

More importantly, I met Cadet Ed, webmaster of The Solar Guard, who was busy setting up the Solar Guard table, and received my packet of Official Documents (and some extras Cadet Ed was generous enough to give me - premiums from earlier conventions such as a CD of Tom Corbett radio shows and a CD of Tom Corbett comic strips from the early 1950s.


The Solar Guard table. The display featured Tom Corbett advertisements from various sources during its heyday.

Cadet Ed's wife sewed this banner for the Solar Guard
A lot of people think that there was no science fiction on television before Lost in Space and Star Trek, but that's far from the truth. The Solar Guard website is jam-packed with information on 1950s programs like Tom Corbett, Space Cadet and Space Patrol. Although they were aimed for the most part at children, and had primitive "special effects," these shows were quite entertaining, and were just as inspiring to the youth of their day as the later programs would be.

To cite only one case, Tom Corbett, Space Cadet, inspired Steve Robinson (STS-85, STS-95, and STS-114) to become an astronaut.
After chatting with Cadet Ed and his wife, I took my swag and went home.
Thursday: 1950s science fiction television episodes
The only science fiction related activity that took place on Thursday was in the Solar Guard's film room, where they showed classic TV episodes from 5-7 pm and from 9-11 pm. There were also autograph sessions held in the Grand Ballroom, in which fans could talk to the actors - including Jan Merlin and Frankie Thomas.
(Descriptions of the plots from Solar Guard website):
SPACE PATROL - Theft of the Rocket Cockpit (X-RC)- # 192 - Oct. 23, 1954. Buzz and Happy are transported back to 1950s Nevada, on an A- bomb test site just as a bomb is about to be tested.

SPACE PATROL - Danger Radiation - # 194 - Nov. 6, 1954. The story continues (with a one episode laps), as the evil Garth Stanger and his henchman (contaminated by a bomb blast in the previous, missing, episode) look for a cure for their radiation sickness in the 1950s.

SPACE PATROL - Space Patrol Periscope # 186 - Sept. 11, 1954. Buzz and Happy are trapped by Monza, an invisible alien who uses a "pain whip" to keep his subjects in line.

SPACE PATROL - The Defeat of Monza - # 188 - Sept. 25, 1954. Continues the Manza storyline (with a one episode lapse) as Buzz allies himself with a human looking alien group to overcome the Manza.


Mommas, let your kids grow up to be astronauts.

Astronaut Steve Robinson carried his Tom Corbett lunchbox (made in 1954) with him on every voyage.


Cadet Happy does a commercial for the Rocket Cockpit. It was the cockpit from the episode, drawn in 2-dimension on a large piece of cardboard


Cadet Mike Turco spent 200 manhours making a 3-dimensional model of the cockpit, with overhead lights that worked, dials that twisted, and levers that moved up and down.
Friday: "Project Enigma" and then 1950s Science Fiction Television
The performance of the Tom Corbett radio play "Project Enigma" was not scheduled to start until 3 pm, but I secured my seat fully an hour ahead of time. The entire front row was taken up by various cameras which would film the performance from various angles. (A DVD of this performance will be available for sale from the Williamsburg Festival website).
I have long been a fan of "The Theater of the Mind," otherwise known as Old Time Radio, and know the craft and skill that goes into the form. I was really looking forward to seeing the performance.
Jan Merlin had written the script especially for the occasion, and although he and Frankie Thomas (and on occasions at other conventions in the past, Al Markim and Ed Bryce) had performed such productions before, it would be the first time I would see them live and I knew it would be something memorable. (And it was!)
The room gradually filled up, with the audience consisting not only of Solar Guard members but general Festival attendees as well. It was a very enjoyable performance from beginning to end.

Photo by Ed Pippin

L to R: Dick Jones, Ted Reinhart, Ben Cooper's chair, Mary Orozco, Mitch Weisberg, Barbara Merlin,
Jan Merlin, Frankie Thomas, Jimmy Lydon, Jan's chair, Chuck Lassen
Tom Corbett, Space Cadet was a popular science fiction children's program from 1950-1955. It starred Frankie Thomas, Jan Merlin and Al Markim as Cadets Tom Corbett, Roger Manning and Astro, with Ed Bryce as Captain Strong, Margaret Garland as Dr. Joan Dale, and John Fiedler as Cadet Alfie Higgins.

These actors also starred in the radio version of the program, which aired during the same years. Indeed, the early 1950s were the heyday of radio drama, which is now referred to fondly as Old Time Radio, and new fans are introduced to this medium every day.

In celebration of the 10th anniversary of the Williamsburg Film Festival, actor and author Jan Merlin wrote a radio play featuring Tom Corbett, Space Cadet, entitled "Project Enigma."
Unfortunately, sound man Dave Dessler was suddenly taken ill on the very day of the performance and so was unable to provide the sound effects (music, rocket engines, scanners beeping, helmets opening, etc.) for the performance. Festival guest Dick Jones (voice of Pinocchio, Westerns star) stepped into the breach. He was not supposed to do the sound effects, but rather to read out what they were supposed to be at that particular time. However, he got into the spirit of the thing and on occasion essayed a sound effect or two, aided and abetted by Ben Cooper.
| | | |
| --- | --- | --- |
| Ben Cooper as Alfie enthusiastically exhorts listeners to eat Kellog's Raisin Bran. | The performers were a mixture of professionals and amateurs. Frankie Thomas of course played Tom Corbett - wearing his original costume from the show. Jan Merlin reprised his role as Roger Manning. Astro was played by amateur Chuck Lassen. Jan had written in the role of Alfie Higgins in the hopes that John Fiedler, who originated the role, would play it here, but unfortunately Mr. Fiedler passed away on June 25, 2005. | Jan Merlin enjoys Ben's enthusiastic portrayal during the 'commercial' for Raisin Bran. |
Jan then contacted Ben Cooper (Westerns, frequent TV guest star), who was also to be a guest at the 2006 Williamsburg Film Festival, and he agreed to do the part. Cooper's vocal inflections as Alfie were spot on.

Director/Sound Effects announcer (Dick Jones): "Project Enigma. Opening theme." [music would be here]

Frankie: "Stand by to raise ship! Blast off minus five, four, three, two, one!"

Director: ?Rockets take off.? [Sound of rockets would be here]

Announcer (Ted): "As roaring rockets blast off to distant planets and far flung stars, we take you to the age of the conquest of space with TOM CORBETT, SPACE CADET!"

Director: ?Music up, under, out, blending into a low steady scanner beep beep beep.? ("Beep, beep, beep" sound from Ben Cooper.)

Announcer: "After an uneventful course into the outer galaxy the Polaris maintains an orbital position around a dead planet in the constellation of Draco, between the stars of Gawain and Chi Draconis. The planet has continually been bypassed by explorers because of its total desolation, but recently drew attention from the Solar Guard because of a bombardment by a periodic meteor storm. Captain Strong and the three cadets are gazing through their control deck porthole on the vast dim globe before them..."
Thus began "Project Enigma." The impact of a meteorite on the planet's desolate surface has revealed a huge construction of some sort...and it must be investigated.

The Polaris, manned by Captain Steve Strong and Cadets Tom, Roger and Astro, maintains an orbit around the planet in order to ward off any space pirates or other unscrupulous people. Meanwhile, an aerospace research team from the rocketship Deneb lands on the surface in order to explore. This team consists of Dr. Joan Dale, Commander Arkwright, Professor Rowan, and Cadet Alfie Higgins. What will they find within this mysterious structure?

"Project Enigma" was performed on Friday afternoon in front of an appreciative audience. Everyone had a lot of fun, from the actors portraying the characters to the audience getting a taste of a "dress rehearsal."


Barbara Merlin as Dr. Dale, Jan Merlin as Roger, Frankie as Tom, Chuck Lassan as Astro
Dick Jones
Ted Reinhart
Frankie Thomas
Jan Merlin
Chuck Lassan
Ben Cooper
Jimmy Lydon
Mitch Weisberg
Barbara Merlin
Mary Orozco
"Director"
Announcer
Tom Corbett
Roger Manning
Astro
Alfie Higgins
Captain Strong
Cmdr Arkwright
Dr. Joan Dale
Professor Rowan

Ted Reinhart (one-half of the singing duo of Ted & Ruth Reinhart), has a marvelous baritone and his delivery was magnificent throughout the program, a testament to his years as a disc jockey and radio announcer.

Captain Strong was played by Jimmy Lydon (most famous as Henry Aldrich in front of the camera, with many directing stints behind it), Commander Arkwright by amateur Mitch Weisberg. Dr. Joan Dale was played by Jan's wife Barbara, and Professor Rowan by Frankie Thomas' personal assistant Mary Orozco.
There were two standing microphones. "Director" Dick Jones and announcer Ted Reinhart remained seated and shared a hand-held microphone, Ben Cooper, Mary Orozco and Mitch Weiberg shared a standing microphone, as did Jan, Barbara Merlin and Chuck Lassen. Frankie and Jimmy Lydon remained seated and shared a hand-held microphone.

The production was like an intricate dance, with the various performers making their way to and from their microphones, reacting to their cues, and reading their lines and working their scripts so no sound of turning pages would be audible.

"Project Enigma" was mysterious and suspenseful, and like all episodes of an on-going radio serial, left the audience wanting more!

After the show, Jan Merlin and Frankie Thomas gave a question-and-answer session. The two men have been friends for 56 years and their affection for each other was palpable and heartwarming to see.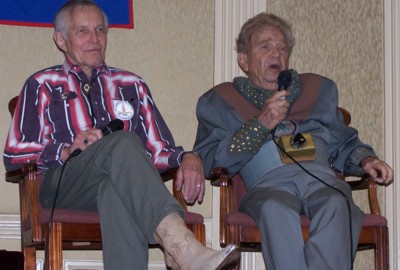 Jan Merlin and Frankie Thomas at the panel discussion after the performance, with moderator Bill Ruehlmann (not shown).
Read the transcript of Jan Merlin and Frankie Thomas' talk after the radio play:

Jan Merlin was kind enough to write a few words on the production of "Project Enigma" for me.

Photo by Ed Pippin
Frankie and Jimmy Lydon are stoic, Jan and Chuck Lassen are trying not to "corpse." Ben Cooper must be doing the Raisan Bran commercial.
"When we discussed doing another Tom Corbett, Space Cadet script at Williamsburg, I suggested writing a new one because of the special occasion: it being the Festivals' 10th Anniversary, and the Fifth Reunion of the Solar Guard.

Frankie agreed for me to do that, but asked that we let the women have larger roles so that he and I could sit for the most part and watch the fun ourselves.

I had hoped to get Johnny Fiedler to do his own role, but was unsuccessful at contacting him. In the weeks approaching March, we learned of his passing.

Having caught Ben Cooper at the last SPERDVAC [The Society to Preserve and Encourage Radio Drama, Variety and Comedy] convention, doing Archie in a recreation of Duffy's Tavern, I knew he could do a crackerjack job of taking over the role of Cadet Higgins, and when I asked him to do it, he was delighted to accept. And he was first rate!

The two female roles had been reserved for Mary Orozco as Professor Rose Rowan, and for my wife, Barbara, as Dr. Dale. As for the rest of the casting, it was a matter of using a committee member of the Festival, Mitch Weisberg as Commander Arkwright, Chuck Lassen of the Solar Guard as Astro, and other celebrities willing to take part, the aforementioned Ben Cooper as Higgins, Jimmy Lydon as Captain Strong, Dick Jones, and Ted Reinhart.

It was terrible to learn that our sound man suffered a stroke just before coming to the Festival... and though fearful for his recovery, we did what would have been done in New York during those days... we tried to get one of the other radio people to sub for him... and were unable to accomplish that.


Photo by Ed Pippin
Jan and Frankie during opening lines

So we chose to do the show as it might have been a first reading...with Dick Jones, our director, reading the sound effects and cues where they appeared in the script. Combined with Ted Reinhart's dramatic reading of the narrative portions, we managed to get the idea of the story presented to our amused audience."

More photos of "Project Enigma"


Ben Cooper reacts as Dick Jones experiments
with sound effects before the performance.


Jan and Frankie warm up the audience while others study their lines
Mitch Weiberg, Barbara Merlin, Jimmy Lydon.


Getting ready - Jimmy Lydon studies his script, Jan Merlin and Chuck Lassen.


William Sasser of the Williamsburg Film Festival
introduces the performance of "Project Enigma."


Dick Jones reads the sound effects while Ted Reinhart
and Ben Cooper follow along.


Jan and Frankie after the show.


Jan and Frankie after the show.

Solar Guard Viewing Session 3
From 5 to 7 pm I was transported simultaneously to the past and the future, while watching six episodes of Tom Corbett, Space Cadet. I take the plot description from the Solar Guard website:

TOM CORBETT - RUN AWAY ASTEROID - November 6, 1950 - November 17, 1950. An almost complete adventure arc of six 15-minute shows that ran between the "Mercurian Invasion" and the "Pirates of Ganymede" episodes. The adventure begins with Tom and Roger in the boxing ring establishing who would be in command of the Polaris Unit.

A fourth cadet,a science cadet named Alfie Higgins, joins the unit to help Astro with his Academy lessons. The science cadet is played by the late John Fiedler, who became a well known voice and character actor. He appeared on Star Trek and the Bob Newhart show.

Look for a young Tom Poston ringside in the first few minutes of the show. Tom had been both an Academy Officer and a Mercurian Invader in the first TC adventure.

The Polaris unit is sent out into space to track an asteroid...which suddenly has a course deviation and heads straight for Earth! Dr. Joan Dale, Captain Strong, and the four cadets are tasked with destroying the asteroid before it destroys Earth.

These six episodes were a lot of fun. Yes, the special effects were not that sophisticated, but when you think of what early 1950s TV had to work with, they were actually quite impressive. In one scene Captain Strong, Tom and Roger spacewalk in order to repair a fused engine on the Polaris. Strong is knocked off the ship and literally floats in space above their heads, until Tom is able to throw a line to him and pull him in.

Thus ended the first Solar Guard viewing time. For the 9 - 11 pm showings:

1- ROCKY JONES-INFERNO IN SPACE - An excellent copy of a hard to find Rocky Jones show in the original 3-part format. Cadet Mike Elmo located a 16mm film of the story and had the DVD made directly from the original film. This may be the cleanest copy in circulation. Jimmy Lydon, another guest at the festival this year, stars in this near to the last of the Rocky Jones filmed series. 2-Ralston Rocket Space Patrol Newsreel announcing the "Traveling" Ralston Rocket and the awarding of the Ralson Rocket NAME THE PLANET rocket to Ricky Walker.

Note that Jimmy Lydon starred in the Rocky Jones episodes. He appeared - unscheduled - in the viewing room during the show, which was a treat for everyone there. Had I but known...I also would have been there!

Thus ended the Solar Guard program, but there was plenty of science fiction themed events still to be had at the 2006 Williamsburg Film Festival. There would be another autograph session on Saturday so that fans could continue to get autographs and chat with the science fiction actors (and all of the actors in attendance had done at least some science fiction.

Beverly Garland, on Saturday (see coverage for that day) talked about Not of This Earth and It Conquered the World.

List of Williamsburg 2006 webpages:

Essential Websites:


Return to:

Click on the icons for new features in The Thunder Child.
Radiation Theater: 1950s Sci Fi Movies Discussion Boards
The Sand Rock Sentinel: Ripped From the Headlines of 1950s Sci Fi Films


Space Patrol Spaceship

All text © 2006 The Thunder Child unless otherwise credited.
All illustrations retain original copyright.
Please contact us with any concerns as to correct attribution.
Any questions, comments or concerns contact The Thunder Child.