Con-tact: Science Fiction Convention Previews and Reports
Williamsburg Film Festival 2006
---
Cadet's Log: Old Time Radio Enactment: "Project Enigma"
by Caroline Miniscule

Photo by Ed Pippin

L to R: Dick Jones, Ted Reinhart, Ben Cooper's chair, Mary Orozco, Mitch Weisberg, Barbara Merlin,
Jan Merlin, Frankie Thomas, Jimmy Lydon, Jan's chair, Chuck Lassen
Tom Corbett, Space Cadet was a popular science fiction children's program from 1950-1955. It starred Frankie Thomas, Jan Merlin and Al Markim as Cadets Tom Corbett, Roger Manning and Astro, with Ed Bryce as Captain Strong, Margaret Garland as Dr. Joan Dale, and John Fiedler as Cadet Alfie Higgins.

These actors also starred in the radio version of the program, which aired during the same years. Indeed, the early 1950s were the heyday of radio drama, which is now referred to fondly as Old Time Radio, and new fans are introduced to this medium every day.

In celebration of the 10th anniversary of the Williamsburg Film Festival, actor and author Jan Merlin wrote a radio play featuring Tom Corbett, Space Cadet, entitled "Project Enigma."
Unfortunately, sound man Dave Dessler was suddenly taken ill on the very day of the performance and so was unable to provide the sound effects (music, rocket engines, scanners beeping, helmets opening, etc.) for the performance. Festival guest Dick Jones (voice of Pinocchio, Westerns star) stepped into the breach. He was not supposed to do the sound effects, but rather to read out what they were supposed to be at that particular time. However, he got into the spirit of the thing and on occasion essayed a sound effect or two, aided and abetted by Ben Cooper.
| | | |
| --- | --- | --- |
| Ben Cooper as Alfie enthusiastically exhorts listeners to eat Kellog's Raisin Bran. | The performers were a mixture of professionals and amateurs. Frankie Thomas of course played Tom Corbett - wearing his original costume from the show. Jan Merlin reprised his role as Roger Manning. Astro was played by amateur Chuck Lassen. Jan had written in the role of Alfie Higgins in the hopes that John Fiedler, who originated the role, would play it here, but unfortunately Mr. Fiedler passed away on June 25, 2005. | Jan Merlin enjoys Ben's enthusiastic portrayal during the 'commercial' for Raisin Bran. |
Jan then contacted Ben Cooper (Westerns, frequent TV guest star), who was also to be a guest at the 2006 Williamsburg Film Festival, and he agreed to do the part. Cooper's vocal inflections as Alfie were spot on.

Director/Sound Effects announcer (Dick Jones): "Project Enigma. Opening theme." [music would be here]

Frankie: "Stand by to raise ship! Blast off minus five, four, three, two, one!"

Director: ?Rockets take off.? [Sound of rockets would be here]

Announcer (Ted): "As roaring rockets blast off to distant planets and far flung stars, we take you to the age of the conquest of space with TOM CORBETT, SPACE CADET!"

Director: ?Music up, under, out, blending into a low steady scanner beep beep beep.? ("Beep, beep, beep" sound from Ben Cooper.)

Announcer: "After an uneventful course into the outer galaxy the Polaris maintains an orbital position around a dead planet in the constellation of Draco, between the stars of Gawain and Chi Draconis. The planet has continually been bypassed by explorers because of its total desolation, but recently drew attention from the Solar Guard because of a bombardment by a periodic meteor storm. Captain Strong and the three cadets are gazing through their control deck porthole on the vast dim globe before them..."
Thus began "Project Enigma." The impact of a meteorite on the planet's desolate surface has revealed a huge construction of some sort...and it must be investigated.

The Polaris, manned by Captain Steve Strong and Cadets Tom, Roger and Astro, maintains an orbit around the planet in order to ward off any space pirates or other unscrupulous people. Meanwhile, an aerospace research team from the rocketship Deneb lands on the surface in order to explore. This team consists of Dr. Joan Dale, Commander Arkwright, Professor Rowan, and Cadet Alfie Higgins. What will they find within this mysterious structure?

"Project Enigma" was performed on Friday afternoon in front of an appreciative audience. Everyone had a lot of fun, from the actors portraying the characters to the audience getting a taste of a "dress rehearsal."


Barbara Merlin as Dr. Dale, Jan Merlin as Roger, Frankie as Tom, Chuck Lassan as Astro
Dick Jones
Ted Reinhart
Frankie Thomas
Jan Merlin
Chuck Lassan
Ben Cooper
Jimmy Lydon
Mitch Weisberg
Barbara Merlin
Mary Orozco
"Director"
Announcer
Tom Corbett
Roger Manning
Astro
Alfie Higgins
Captain Strong
Cmdr Arkwright
Dr. Joan Dale
Professor Rowan

Ted Reinhart (one-half of the singing duo of Ted & Ruth Reinhart), has a marvelous baritone and his delivery was magnificent throughout the program, a testament to his years as a disc jockey and radio announcer.

Captain Strong was played by Jimmy Lydon (most famous as Henry Aldrich in front of the camera, with many directing stints behind it), Commander Arkwright by amateur Mitch Weisberg. Dr. Joan Dale was played by Jan's wife Barbara, and Professor Rowan by Frankie Thomas' personal assistant Mary Orozco.
There were two standing microphones. "Director" Dick Jones and announcer Ted Reinhart remained seated and shared a hand-held microphone, Ben Cooper, Mary Orozco and Mitch Weiberg shared a standing microphone, as did Jan, Barbara Merlin and Chuck Lassen. Frankie and Jimmy Lydon remained seated and shared a hand-held microphone.

The production was like an intricate dance, with the various performers making their way to and from their microphones, reacting to their cues, and reading their lines and working their scripts so no sound of turning pages would be audible.

"Project Enigma" was mysterious and suspenseful, and like all episodes of an on-going radio serial, left the audience wanting more!

After the show, Jan Merlin and Frankie Thomas gave a question-and-answer session. The two men have been friends for 56 years and their affection for each other was palpable and heartwarming to see.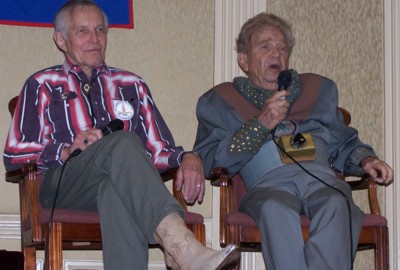 Jan Merlin and Frankie Thomas at the panel discussion after the performance, with moderator Bill Ruehlmann (not shown).
More photos of "Project Enigma"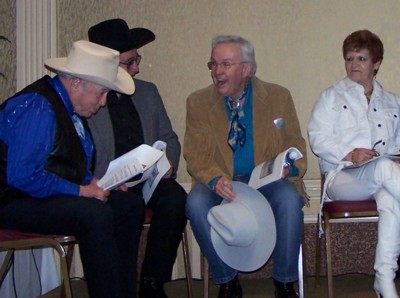 Ben Cooper reacts as Dick Jones experiments
with sound effects before the performance.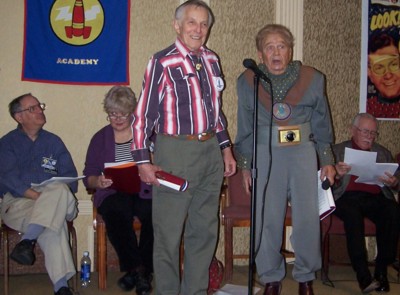 Jan and Frankie warm up the audience while others study their lines
Mitch Weiberg, Barbara Merlin, Jimmy Lydon.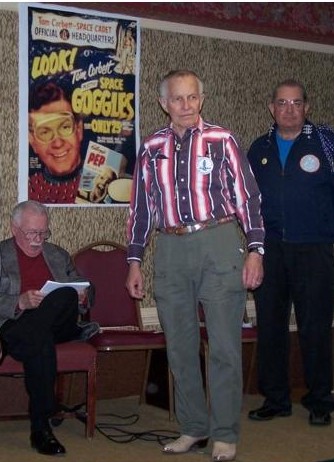 Getting ready - Jimmy Lydon studies his script, Jan Merlin and Chuck Lassen.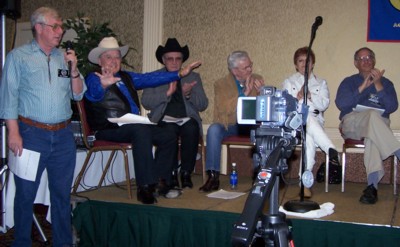 William Sasser of the Williamsburg Film Festival
introduces the performance of "Project Enigma."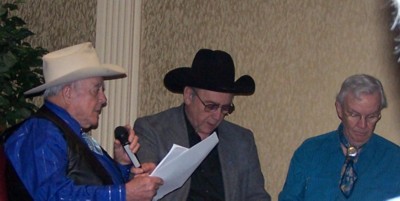 Dick Jones reads the sound effects while Ted Reinhart
and Ben Cooper follow along.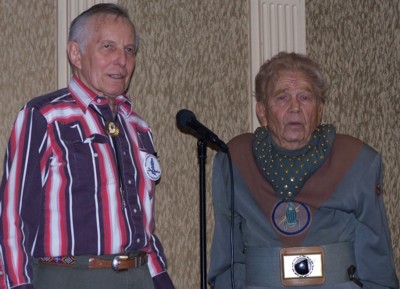 Jan and Frankie after the show.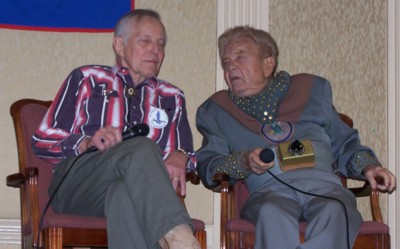 Jan and Frankie after the show.

Be sure to visit the Solar Guard website for lots more photos of "Project Enigma," and Jan and Frankie posing with Solar Guard cadets!

Return to:
Click on the icons for new features in The Thunder Child.
Radiation Theater: 1950s Sci Fi Movies Discussion Boards
The Sand Rock Sentinel: Ripped From the Headlines of 1950s Sci Fi Films

Learn more or
Buy Now