Con-tact: Science Fiction Convention Previews and Reports
---
Cadet's Log: 2006 Williamsburg Film Festival - FRIDAY
by Caroline Miniscule
Page 2 of this day:
4) More 1950s science fiction TV episodes
5) Mala Powers and Beverly Garland panel
---
Solar Guard Viewing Session 3
From 5 to 7 pm I was transported simultaneously to the past and the future, while watching six episodes of Tom Corbett, Space Cadet. I say this because I was transported back to the 1950s to see what the future looked like back then.
I take the plot description from the Solar Guard website:
TOM CORBETT - RUN AWAY ASTEROID - November 6, 1950 - November 17, 1950. An almost complete adventure arc of six 15-minute shows that ran between the "Mercurian Invasion" and the "Pirates of Ganymede" episodes. The adventure begins with Tom and Roger in the boxing ring establishing who would be in command of the Polaris Unit.

A fourth cadet,a science cadet named Alfie Higgins, joins the unit to help Astro with his Academy lessons. The science cadet is played by the late John Fiedler, who became a well known voice and character actor. He appeared on Star Trek and the Bob Newhart show.

Look for a young Tom Poston ringside in the first few minutes of the show. Tom had been both an Academy Officer and a Mercurian Invader in the first TC adventure.
The Polaris unit is sent out into space to track an asteroid...which suddenly has a course deviation and heads straight for Earth! Dr. Joan Dale, Captain Strong, and the four cadets are tasked with destroying the asteroid before it destroys Earth.
These six episodes were a lot of fun. Yes, the special effects were not that sophisticated, but when you think of what early 1950s TV had to work with, they were actually quite impressive. In one scene Captain Strong, Tom and Roger spacewalk in order to repair a fused engine on the Polaris. Strong is knocked off the ship and literally floats in space above their heads, until Tom is able to throw a line to him and pull him in.
When I returned to the here and now, I attended the 7 pm panel with Beverly Garland and Mala Powers.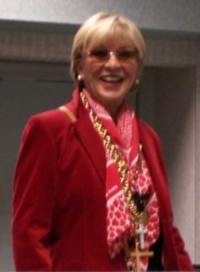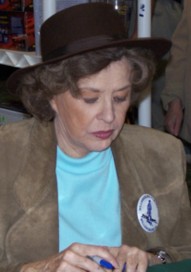 Lobby card for Outrage
First starring role for Mala Powers

Beverly Garland and Mala Powers
Bill Ruehlmann was the moderateor of the panel. He introduced the two guest stars: Beverly Garland and Mala Powers.

"Beverly Garland and Mala Powers are both motion picture, radio and tv stars. They are both grandmothers. They are both successful businesswomen. They both have stars on the Hollywood walk of fame."

This was a fun panel. Ms. Garland was animated and vivacious as she told horror stories from her days doing films for Roger Corman, and while Ms. Powers was more laid back she was able to hold her own.
Both women started their acting career as children, beginning in stage plays, getting work in radio, and then movies. They both took acting lessons from prominent teachers - Garland worked with Anita Arliss (sister of George Arliss), and Mala Powers trained with Michael Checkov.
Ms. Garland spoke of her entry into the business: ?I?d always acted. I?d always done little stuff, school plays... I thought it was fascinating fun, just wonderful. So my Mother said, ?You seem to like this so much, maybe you should learn how to do it.? I thought I knew how to do it. Apparently my mother didn?t think so!

In those days, when I started out, we didn?t have Marlon Brandos, and we didn?t have the training... [Lee Strasberg and the Method]. The way I was taught to act was [she demonstrated vocally] using my vo-wels, learning to pro-nounce-my-words, learning to sing, learning grace, so I would do ?a-e-i-o-you, a, aaaa?, a.? That was a big lesson. Then she?d play a little bit on the piano, then she taught me grace. I had to pick balloons (she demonstrated). That?s how I learned grace, can you believe that? That was my training!


Lobby card for DOA
First movie role for Beverly Garland
Anita Arliss was so well known in Hollywood, she knew all the heads of the studios. So if she recommended you, then the head of the studio, Warner or Mayer or whatever, would interview you, and you might be able to get a contract and you might be able to make $750 a week and...do bits and pieces in pictures. It was a whole different world than it is today, there were no managers, agents were really not that important, people like Anita Arliss were important. So...it?s a whole different world."
Ms. Powers then shared her history: "My father was with the United Press and he was transferred down as assistant bureau manager to Los Angeles in the middle of a very hot summer, and my mother thought it would be a good idea for me to go to a school that was very near us, the Max Reinhart Junior Workshop, and work there during the summer, so that I?d meet other children. So, that summer, I did a play, and with that first time that I stood in front of that live audience...I was just hooked. That was it.

Not too long after that an agent came backstage from a play that I did and asked my mother if he could take me to a studio about a part. And my mother said to me, ?What do you want to do?? and I remember distinctly that moment, I was I think nine, and I said ?Yes.? And it was like this bell rang off, that I was going to be an actress, and that was it. There was never any wavering from that whatsoever. So, I did go to the studio. I didn?t get the part that I was up for but ...it was a picture with the Bowery Boys...and I worked two days on the movie...[in a different role] and... they can talk about the smell of the greasepaint and the roar of the crowd, but for me it was the smell of the sound stage and everything to do with it - the lights and the crew and the working with actors...that was it, period.


The Colossus of New York
Starring Mala Powers
So then I really began to study....I was fortunate...to work with the fabulous actor/director/teacher Michael Checkov who was in Hollywood at that time, and I worked with him for the next seven years, until his death. So that was heaven. I mean, I don?t even know who I would be if I had never met Michael Checkov."
Custom Search Secure Server Server Information Set Site Editor View my Web site Visitor Statistics WebSite Creator by CM4all
So, that was it, and during the time that I worked with him, of course, I got my first break in movies through Ida Lupino. She was directing and had co-authored a script called Outrage. And I read for her and she jumped out of her chair and she said, ?You?re it, you?re it! Read me another scene!? And that was it. [?Oh, that?s beautiful!? commented Garland.] After all the... I?d had ten years of rejections for big parts, but now all of a sudden there it was. So she starred me in a film called Outrage."

[Ida Lupino (1914-1995) was one of the very few women to direct movies and television programs during the 1940s through the 1960s. Outrage was one of the very first films to deal with the taboo subject of rape - Mala Powers was the victim in her first major screen role.]


Ida Lupino studying a script

At this point Ruehlmann commented: ?And that is, along with many other films, put in the film noir category, right??

?I guess it is now, yeah," responded Powers. "We didn?t have a film noir category. [Garland agrees.] They didn?t have genres. We just did movies.?

"Film noir," explained Ruehlmann, "for those of you who are not film buffs, was called ?black film? by the French, and it was usually post war films that had to do with violence, crime, suspense, and it didn?t have happy endings, typically. It was a sensibility after World War II that things hadn?t gone real well. They were done on low budget, and Robert Mitchum argued, ?We didn?t know we were making film noir. We just thought we didn?t have enough money to light them right.?

He then asked Beverly Garland about her experience in her first movie, the Edmund O'Brien film DOA (1950).

DOA
"I decided to do summer stock...and I did it down in Laguna, and I was in a play, and an agent came and saw me and asked if he could represent me and I said, 'Yes, that?s wonderful.' And he went to Rudy Matè who was going to do a movie called DOA - Dead on Arrival with Eddie O?Brien." And Rudy Matèagreed to ?read her? and she did get the part.

?And it was kind of film noir, wasn?t it?? Garland concluded.

?Oh, yes.? murmured Ruehlmann as Garland continued, with perfect timing. ?It certainly didn?t have a happy ending. He dies. At the beginning of the film.

?You can?t get darker than that.? agreed Ruehlmanm.

And he?s still dead at the end.? chimed in Mala Powers, to general laughter.

From there, they each discussed their radio work. Garland had her own radio show as a teen in Phoenix, Arizona, , once a week telling the story of a family in need, "and then the Community Chest would step in and solve everything." But when she moved back to Los Angeles the radio community was so enclosed that she found it difficult to get into it. Now, however, she does OTR for CART (California Artists Radio Theater).

Mala Powers, on the other hand, did quite a few radio programs - Doctor Christian, Red Ryder, Rocky Jordan. She enjoyed it because she could play any role, young or old, because it didn't matter what you looked like, just what you could do with your voice.

Then Beverly Garland spoke of her time working with Roger Corman, and the interesting times he put her through. She also worked with German director Curt Siodmak in a movie called Curucu, Beast of the Amazon in which she was enveloped by a real boa constrictor. Many years later Siodmak apparently called her and apologized to her for putting her in danger. Garland was unaware that she had been in dnager - there had been so many men around during the scene, but Siodmak explained that if the constrictor had chosen to start squeezing her to paste, no one could have stopped it.

They spoke of their television work - Beverly Garland was the first police woman on the air in a show called Decoy, which lasted only one season. Mala Powers was asked about Daniel Boone, but pointed out that she had been in the series that starred Dewey Martin, not the one with Fess Parker.

The evening ended with an overview of their business concerns - Beverly Garland owns a hotel in California, which she runs with the assistance of her children, and she's currently working on a one-woman show.

Mala Powers is an instructor of the Michael Checkov technique of acting and does many acting seminars.

After the panel ended many fans went up to the stage and had their photographs taken with the stars. The festival itself had one more day to run, and on Saturday morning I was looking forward to seeing Beverly Garland in the classic Corman film Not of This Earth, and to hear her comments about it afterwards.

Return to:
Click on the icons for new features in The Thunder Child.
Radiation Theater: 1950s Sci Fi Movies Discussion Boards
The Sand Rock Sentinel: Ripped From the Headlines of 1950s Sci Fi Films