Con-tact: Science Fiction Convention Previews and Reports
---
Cadet's Log: 2006 Williamsburg Film Festival - SATURDAY
by Caroline Miniscule
1) Viewed Beverly Garland's First 50 Years in Show Business
2) Beverly Garland introduced Not of this Earth
3) Viewed Not of this Earth
4) Q & A Session with Beverly Garland
5) 1/5 Johnny Western speaking of Johnny Cash
6) Viewed Have Gun, Will Travel episode
7) Ben Cooper introduced Rebel in Town
8) Viewed Rebel in Town
9) Q&A with Ben Cooper
---
An attempt at an 'artistic' shot. Beverly Garland on her laptop juxtaposed with Bevery Garland in person.
Saturday.

The Festival would culminate in a Saturday Night Dinner Show, in which festival guests had the chance to dine with the stars, and then have photos taken afterwards. Before this finale, however, the day was jam packed.

There was another autograph session at 9 am. I attempted more artistic shots, which, as usual, did not turn out the way I'd envisioned.

I went to the Guest Star Theater early. Here would be shown two Beverly Garland films. When I arrived Ted Reinhart's film My Love is the West was playing. It's a travelogue of western scenery, which Reinhart narrates in his impressive baritone.
At ten, Beverly Garland entered the room and introduced a twenty-minute film called Beverly Garland's First 50 Years in Show Business. It was a fun and nostalgic trip down memory lane as audience members were treated to excerpts from many of her television shows, from an episode on Medic (Richard Boone) in which she won an Emmy as a patient who is diagnosed with cancer, to her comedy roles, to her stint on Lois and Clark as Lois' mother.
Then she introduced the Roger Corman film Not of this Earth (1957). (Accept no remakes.) Ms. Garland played a nurse, Nadine Storey, who is given an assignment by her employer, Doctor Rochelle, to move into the house of a man named Paul Johnson - who is suffering from a blood disease and needs frequent transfusions. Paul Johnson, of course, is not of this Earth. He wears dark glasses at all times...when he removes them..people die! He also has the power to control others' minds. He has come to Earth because the people of his own planet are dying - suffering from radiation poisoning, and they need transfusions of blood to survive. They are trying to find a cure, but meanwhile Johnson goes around killing people for their blood. Can Nadine and her boyfriend, police officer Harry Sherbourne, figure out what's happening in time to save Earth?
During the introduction, Garland was animated as usual. The phrases in bold below correspond to her gestures.
| | | |
| --- | --- | --- |
| Paul Birch plays in this movie. He and Roger Corman did not get along at all. I think one of the reasons was that Birch had to wear these contacts - white contacts. And in those days...those days, jesus, it?s so long ago (laughs).... | Contacts were new, and they were just the most uncomfortable things you could possibly wear. And he had to wear them all the time and he hated it. And finally he decided that he didn?t like the movie. Didn?t like Roger Corman. And decided to leave. Goodbye. I?m leaving. And he left.. He just left in the middle of the movie. So when you see his back in the movie, that?s somebody else, because we had to use some other man?s back...so see if you can catch him- not being him. | I don?t know why it is that every time I have to run through a movie, and I?m being chased by someone, I?m wearing high heels. I don?t know why that is, but that is, y?know. We did a lot of the running in Griffith Park, I remember, in fact I think there?s one scene here where you see me running, and then you see me running again! - right straight, right where I just ran! ...I think you?ll get a kick out of it, it?s science fiction, it?s fun. |
After the appreciative clapping at the end of the movie Garland said, "You do it...you don?t camp it... We were all trying really hard to be good actors and good actresses and we played it honestly and like it was really true and when you see it...so many years later...what, 30 years later (actually 50) and you look at it and you go, ?You?ve got to be kidding.?
But we played it the way it should have been played. Strangely enough, the movies that I made with Roger Corman, Gunslinger and the things that I?ve done with him, stand up, because we played it honestly, and we were real, and we didn?t camp it. We took it very seriously. We all wanted to be good actors and good actresses and we really wanted to have a career in this business, and so we approached it that way and I think that?s the way that you should have approached it. It has stood up. You know, I can?t help it, with the little hats and stuff. [dated clothing, mores, etc.]"
She then went on to make a few comments about another Corman movie, It Conquered the World. This is the movie in which the monster resembled on overgrown carrot with fangs.
?That was the funniest monster I?ve ever seen....I said, ?Roger, we?ve got to see this monster...what does he look like?? And he says, ?I?ll show him to you. How about lunch on Wednesday?? I said, ?Okay.?
| | | |
| --- | --- | --- |
| "So lunch on Wednesday. He picks me up in the car and takes me and he says, ?What do you think?? I said, ?What?? He said, ?What do you think?? What do I think about what?? What do you think about the monster?? That?s the monster? That little man down there?s the monster?" | He said, ?Well, he came from Venus and they?re very low to the ground.? ?Okay. I don?t think this is going to work, Roger.? | ?And so..and the monster of course moved, you know. He walked, and he moved.? |
| | | |
| --- | --- | --- |
| I said, ?I can kick him.? | So of course when we filmed it, we put the monster on a box and then I stayed over there... | ... and we put the monster over there and so you never saw the monster and me with the monster...except a claw would come out. We did that. We made an extra claw." |
Ms. Garland then opened the room up for questions, and after a few more minutes the session ended to a round of applause.
At 3 pm there was a choice between a pael with William Smith (Laredo and many motorcycle films among others) and Will Hutchins (various Western films), or viewing Rebel in Town starring Ben Cooper and John Payne, with Ben Cooper to speak afterwards. I elected for the movie.
I arrived halfway through Johnny Western's talk prepatory to the showing of the Have Gun, Will Travel episode, "The Return of Dr. Thackery" (June Lockhart as Paladin's old flame) in which he had a role. Western was speaking about Johnny Cash and what a great man was - in particular in doing his prison shows, which was very touching.
Ben Cooper
Poster for Rebel in Town
At 3 o'clock Ben Cooper introduced Rebel in Town (1956) in which he played one of four sons of J. Carroll Naish's character.

They are a family of Rebel ex-soldiers, who, instead of returning to their homes after the end of the Civil War have taken up a life of crime - specifically robbing banks.

John Payne plays an ex-Union soldier, married to Ruth Roman, and they have a little boy who idolizes his father and likes to play with guns and pretend to catch Rebels. The boy is playing with a cap gun when he sees Ben and his two brothers ride into town, and hitch their horses at a hitching post (they're wearing Rebel caps). He approaches them...shooting the cap gun. One of the brothers whirls and shoots in self defense...killing the boy.

They all flee, but Cooper's character is wracked with guilt and returns to the scene of the crime...where John Payne's character is gradually disintegrating under his grief and thirst for revenge.
All of the guests at this year's festival were pleasant and approachable and a joy to listen to, but for sheer exuberant senses of humor there was no matching Beverly Garland or Ben Cooper.
The afternoon started with a four minute film - a series of clips of stunt work Cooper had done in his films and movies - usually being shot and dying, although it also included shots of his gun work (spinning, fast draw, etc). Cooper explained that he did presentations around the world for a training company called Network 21. Network 21 had make short films to introduce each of their speakers - all of them "glamourous" in their homes or cars. For Cooper they did this.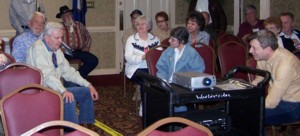 At its finish Cooper commented, ?I got killed a lot. Pamela [his wife] counted it up one time, just for the amusement of our children. I had been killed in 247 television shows and 19 movies [and he only did about 35 movies].
Network 21 is the training group I work with," he continued, "They would play that and then I?d walk out and say, Network 21 is a lot safer."
Then he addressed the film:
"This was the first picture I did for Howard [Koch]. I was under contract at Republic and they loaned me out to him to do this picture... John Payne and Ruth Roman, J. Carroll Naish plays my father, Ben Johnson and John Smith are my brothers in it, I was the rebel in town, and I loved the script, it was a very well written script. I was most interested when I saw it...I haven?t seen it for many many years, I hope it?s good because it?s my favorite, if it?s not good it won?t be my favorite anymore. Y?know, really, it?s kind of lousy to see something forty - fifty years later - but Benny Coleman was the cameraman on it, it?s in black and white and he photographed it in a very stark manner, almost like an Italian black and white film, very very stark, which fit the story line I think exceedingly well....the picture was a joy to make. I got to do what I loved to do and I got paid for it. And this picture, I only did about 35 pictures, and I loved every bit of it, but this picture, when people would ask me what was your favorite show, out of probably 4000 or 500 live or taped tv shows, a Gunsmoke I did called "Apprentice Doc" where I studied medicine with Doc, Milburn Stone...and the favorite movie was this one, as far as my experience in working with John and Ruth and Ben, it was just a fabulous, wonderful...experience."
Ben Cooper answers a question
Cooper spoke about the movie - he hadn't remembered that it was such a film noir, very dark. He was full of praise of the people he worked with. Then we started asking him questions and he explained how the stunt had been worked with the boy getting shot (a stuntman was yanked backward by a wire), he'd had a knife thrown into his back by one of his brothers and it had been sent down a wire into a board on his back...

He told a funny story about Sammy Davis, Jr. Both he and Jeff Chandler had been friends with Davis. Cooper taught Davis how to do the fast draw, and when Cooper went to visit him after the car accident that had cost him his eye, Davis met him wearing his gun belt, ready to have a contest.
I asked Cooper if he still did his gun work, and he did. Usually he brought his gunbelt with him to festivals and conventions, but unfortunately he had not done so this time. But when he did, he would have the audience raise their hands chest high, and by the time they could clap their hands he would have drawn his gun, he was that fast (and that was not as fast as he had once been.)
Cooper had to cut the talk short as it was time for him to go to the Ballroom for the dinner show, so everyone gave him a round of applause.
Overall it was a very enjoyable four days.
The Williamsburg Film Festival has already put up its list of guests for next year (of course their presence will be contingent upon health):
Richard Anderson
Audrey Dalton
Margia Dean
Ed Faulkner
James Hampton
Robert Horton
David Huddleston
Heather Lowe
Andrew Prine
Neil Summers
Return to:
Click on the icons for new features in The Thunder Child.
Radiation Theater: 1950s Sci Fi Movies Discussion Boards
The Sand Rock Sentinel: Ripped From the Headlines of 1950s Sci Fi Films
Recommended Viewing

Learn more or
Buy Now
Garland provides an introduction