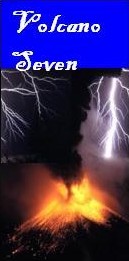 Con-tact: Science Fiction and Fantasy Conventions and Events
For information only. ALWAYS check convention websites for the most up-to-date information. The Thunder Child is not affiliated with any convention or responsible for anything that may change.
Conventioners, authors, book stores, etc. please send your press releases to Events Con-tact.
We need convention correspondents also! Email us if you'd like to share your experiences at the conventions you attend!
UNITED STATES and CANADA - BY DATE: 2011
January, 2011
Date
Convention
Location
State
Notes
January 14-16
RustyCon 30
"A science fiction & fantasy convention"
Seattle Airport Marriott
3201 South 176th Street Seattle
WA
www.rustycon.com/
January 14-16
MarsCon (Williamsburg, VA)
"Southeastern Virginia's Premiere Relaxi-con"
Holiday Inn Patriot
3032 Richmond Road, Route 60 Williamsburg
VA
www.marscon.net/
January 14-17
Arisia '19
"New England's largest and most diverse science fiction and fantasy convention"
Westin Waterfront Hotel
425 Summer Street Boston, 02210
MA
2011.arisia.org/
January 21-23
Confusion
"Brought to you by the Stilyagi Air Corps"
Detroit Marriott Troy
200 West Big Beaver Road , Troy
MI
www.stilyagi.org/
February, 2011
Date
Convention
Location
State
Notes
February 10 - 13
Capricon 31
"A celebration of high fantasy"
Westin Chicago North Shore
601 North Milwaukee Avenue,
Wheeling
IL
http://www.capricon.org/capricon31/index.php
February 18 - 20
Boskone 48
"NESFA's regional Science Fiction Convention"
Westin Waterfront
425 Summer St
Boston
MA
www.nesfa.org/boskone/
February 18 - 20
ConDFW X
"A fantasy and science fiction event"
Crowne Plaza Suites
7800 ALPHA ROAD
Dallas
TX
www.condfw.org/
February 18 - 20
ConNooga

Chattanooga Choo Choo Hotel
1400 Market St
Chattanooga
TN
www.connooga.com
February 25 - 27
ConDor 2011
The Town And Country
500 Hotel Circle North
San Diego
CA
www.condorcon.org/
March, 2011
Date
Convention
Location
State
Notes
March 4-6
MarsCon 13 (Bloomington, MN)
Holiday Inn Hotel & Suites
3 Appletree Square, Bloomington
MN
www.marscon.org/
March 9 - 12
Williamsburg Film Festival
Holiday Inn Patriot
3032 Richmond Road, Williamsburg
VA
Notes:
Mostly western films and actors, BUT, The Solar Guard Academy holds its reunion here.
March 11-13
CoastCon 34
Super 8 Biloxi
1870 Beach Blvd. , Biloxi
MS
www.coastcon.org

March 18-20
Lunacon 54
Rye Town Hilton
699 Westchester Avenue, Rye Brook
NY
www.lunacon.org/
March 18-20
Vericon XI
Harvard University
Cambridge
MA
www.vericon.org/main.html
March 25 - 27
Aggie-Con 42: Life, The Con, and Everything

College Station Hilton Hotel
801 University Drive East
College Station
TX
http://cephvar.tamu.edu/aggiecon
April, 2011
Date
Convention
Location
State
Notes
April 1 - 3
WillyCon 13

Student Center on the campus of Wayne State College
NE
www.willycon.com
Contact ScFanta1@wsc.edu
April 8-10
RavenCon 2011

Holiday Inn Koger Center
1021 Koger Center Blvd
Richmond
VA
www.ravencon.com/

April 8 - 10
Odyssey Con 11

Radisson Hotel
517 Grand Canyon Drive
Madison
WI
www.oddcon.com/index.php

April 15-17
I-Con 30

Stony Brook University
100 Nicolls Rd
NY
www.iconsf.org/
April 21-24
Norwestcon 34

Seatac Doubletree Hotel
18740 International Blvd, Seatac
WA
www.norwescon.org/

April 22 - 24
Minicon 46

Sheraton Bloomington Hotel
7800 Normandale Blvd, Bloomington
MN
http://www.mnstf.org/minicon46/

April 29-May 1
Penguicon
Open Source Software and Science Fiction Convention
Troy Marriott
200 W. Big Beaver Rd
Troy
MI
www.penguicon.org/

May, 2011
Date
Convention
Location
State
Notes
May 13 - May 15
Gaylaxicon
Annual international gay, lesbian, bisexual, transgender & friends Science Fiction, Fantasy, Horror, and Gaming Convention
Hotel TBD,
Atlanta
GA
http://www.gaylacticnetwork.org/index.php?option=com_content&view=article&id=46/
May 26-30
WisCon 35
World's Leading Feminist Science Fiction Convention
The Concourse Hotel
1 West Dayton Street
Madison
WI
www.wiscon.info/
May 27-29
Oasis 24
Sheraton Orlando Downtown
400 West Livingston Street
Orlando
FL
www.oasfis.org/oasis/
Sponsor's website: oasfis.org/: Orlando Area Science Fiction Society
May 27-29
Time Gate 11
Holiday Inn Select
4386 Chamblee-Dunwoody Road
Atlanta
GA
http://www.timegatecon.org/

May 27-30
Balticon 45: The Maryland Regional Science Fiction and Fantasy Convention
Marriott's Hunt Valley Inn
245 Shawan Road
Hunt Valley
MD
www.balticon.org/
May 27-30
Comic Palooza
Hilton Americas - Houston
1600 Lamar
Houston
TX
www.comicpalooza.com/
June, 2011
July, 2011
Date
Convention
Location
State
Notes
July 1 - 4
Westercon 64

The Fairmont
170 South Market Street
San Jose
California
http://www.westercon64.org/
July 9 - 10
Ancient City Con

Hyatt Regency Jacksonville Riverfront
Terrace Pavilion I
225 East Coastline Drive
Jacksonville
Florida
www.ancientcitycon.com
August, 2011
None at this time
September, 2011
Date
Convention
Location
State
Notes
September 2 - 5
DragonCon

Hilton Atlanta (1 of 5 hotels)
255 Courtland Street, NE
Atlanta
GA
http://dragoncon.org/
September 23-25
FenCon 8

Crowne Plaza Hotel, North Dallas/Addison, 14315 Midway Road, Addison
Texas
www.fencon.org
September 22-24
Mid-Atlantic Nostalgia Convention

Hunt Valley Marriott, 245 Shawan Road Hunt Valley
Maryland
www.MidAtlanticNostalgiaConvention.com
October, 2011
November, 2011
CONVENTION ARCHIVES BELOW. CONVENTION ARCHIVES BELOW. CONVENTION ARCHILES BELOW ARCHIVES BELOW. ARCHIVES BELOW
UNITED STATES and CANADA - BY DATE: 2010
January, 2010
Date
Convention
Location
State
Notes
January 15-18
Arisia '18
"New England's largest and most diverse science fiction and fantasy convention"
Hyatt Regency Cambridge
Cambridge
MA
2010.arisia.org/
January 15-17
RustyCon 29
"A science fiction & fantasy convention"
Seattle Airport Marriott
Seattle
WA
www.rustycon.com/
January 15-17
MarsCon (Williamsburg, VA)
"Southeastern Virginia's Premiere Relaxi-con"
Holiday Inn Patriot
Williamsburg
VA
www.marscon.net/
January 22-24
Confusion
"Brought to you by the Stilyagi Air Corps"
Detroit Marriott
Troy
MI
www.stilyagi.org/
February, 2010
Date
Convention
Location
State
Notes
February 5-7
Aggie-Con 41

College Station Hilton Hotel
College Station
TX
aggiecon.tamu.edu/?q=aggiecon
February 11-14
Capricon 30
"A celebration of high fantasy"
Westin Chicago North Shore
Wheeling
IL
www.capricon.org/
February 12-14
Boskone 47
"NESFA's regional Science Fiction Convention"
Westin Waterfront
Boston
MA
www.nesfa.org/boskone/
February 12 – 14
ConDFW 9
"A fantasy and science fiction event"
Crowne Plaza Suites
Dallas-Park Central
TX
www.condfw.org/
February 19-21
ConNooga

Chattanooga Choo Choo Hotel
Chattanooga
TN
www.connooga.com
February 26 -28
ConDor 2010
Handlery Hotel & Resort
950 Hotel Circle North
CA
www.condorcon.org/
March, 2010
Date
Convention
Location
State
Notes
March 4 - 6
SheVaCon: Southwestern Virginia's Premier Science Fiction & Fantasy Convention
Sheraton Roanoke Hotel and Conference Center
2801 Hershberger Road
Roanoke
VA
www.shevacon.org/
March 5-7
MarsCon (Bloomington, MN)
Holiday Inn Select
Bloomington
MN
www.marscon.org/
March 5-7
CoastCon 33
Mississippi Coast Coliseum
Biloxi
MS
www.coastcon.org

March 10 - 13
Williamsburg Film Festival
Holiday Inn Patriot
Williamsburg
VA
Notes:
Mostly western films and actors, BUT, The Solar Guard Academy holds its reunion here.
March 19-21
Lunacon 53
Rye Town Hilton
Rye
NY
www.lunacon.org/
March 19-21
Vericon X
Harvard University
Cambridge
MA
www.vericon.org/main.html
March 26-28
I-Con 29

Stony Brook University
NY
www.iconsf.org/
April, 2010
May, 2010
Date
Convention
Location
State
Notes
May 28-30
Oasis 23
Marriott Downtown Orlando
Orlando
FL
www.oasfis.org/oasis/.
Sponsor's website: oasfis.org/: Orlando Area Science Fiction Society
May 28-30
Time Gate 10
Holiday Inn Select
Atlanta
GA
http://www.timegatecon.org/

May 27-31
WisCon 34
World's Leading Feminist Science Fiction Convention
The Concourse Hotel
Madison
WI
www.wiscon.info/
May 28-31
Balticon 44
Marriott's Hunt Valley Inn
Hunt Valley
MD
www.balticon.org/
June, 2010
Date
Convention
Location
State
Notes
June 11 -13
SCI FI Summer Con

Crowne Plaza NW at Powers Ferry
Atlanta
GA
www.sfscon.net
June 24-27
BotCon 2010
Transformers
Walt Disney World Dolphin Hotel and Convention Center
Lake Buena Vista
FL
http://www.botcon.com/
June 4-6
Hypericon 6

Days Inn Stadium
Nashville
TN
http://www.hypericononline.com/
July, 2010
August, 2010
None at this time
September, 2010
Date
Convention
Location
State
Notes
September 2 - 5
CopperCon: Vampires, Werewolves, Demons, Oh My
Hilton Garden Inn hotel
Avondale
AZ
http://www.casfs.org/cucon/index.html
September 17-19
FenCon 7

Crowne Plaza Hotel, North Dallas/Addison, 14315 Midway Road, Addison
Texas
www.fencon.org
September 23-25
Mid-Atlantic Nostalgia Convention

Hunt Valley Marriott, 245 Shawan Road Hunt Valley, Maryland, 21031
Maryland
www.MidAtlanticNostalgiaConvention.com
October, 2010
Date
Convention
Location
State
Notes
Oct ?
Gaylaxicon
Annual international gay, lesbian, bisexual, transgender & friends Science Fiction, Fantasy, Horror, and Gaming Convention
The Hyatt Regency Bethesda,
Montreal
Canada
http://www.2010.gaylaxicon.org//
Oct ?
Oni-Con
Anime convention
Website not yet updated
TBA

TX
http://www.oni-con.com/
Oct 1-3
Archon 34
Westport Plaza
St. Louis
Missouri
http://www.archonstl.org/
November, 2010
[US BY DATE ] [US BY LOCATION ] [THE WORLD]

ARCHIVES

2006:
Date
Convention
Location
State
Notes
Sep 28 - Oct 1
BotCon 2006
Transformers
Hyatt Regency Lexington
Lexington
Kentucky
www.botcon.com/
Oct 5-8
Archon 30
Collinsville, IL Gateway Center
Collinsville
Illinois
www.archonstl.org/30/index2.html
Oct 5-8
Gaylaxicon
Annual international gay, lesbian, bisexual, transgender & friends Science Fiction, Fantasy, Horror, and Gaming Convention
Sheraton Midtown Atlanta Hotel at Colony Square,
Atlanta
Georgia
2007.atlantagallifreyans.org/
Oct 13-15
ICON 31
"Gallium: The Other Soft Metal"
Clarion Hotel
Cedar Rapids
Iowa
www.mindbridge.org/icon/
Oct 20-22
Oni-Con 2006
Anime convention
George R. Brown Convention Center
Houston
Texas
www.oni-con.com/
Nov 2-5
World Fantasy Convention 2006
Robert E. Howard Centennial
Renaissance Hotel
Northwest Austin
Texas
www.fact.org/wfc2006/
Nov 10-12
WindyCon 33
"First contact"
The Wyndham O'Hare Hotel,
Rosemont
Illinois
www.windycon.org/
Nov 17-19
OryCon 28
"Portland's Premier Science Fiction / Fantasy Convention": "The Digital Age"
Portland Marriott Waterfront
Portland
Oregon
www.orycon.org/orycon28/
2007
Date
Convention
Location
State
Notes
Jan 12-14
Arisia '07
"New England's largest and most diverse science fiction and fantasy convention"
Hyatt Regency Cambridge
Cambridge
Massachusetts
http://2007.arisia.org/
Jan 12-14
RustyCon 24
"A science fiction & fantasy convention"
Seatac Holiday Inn
Seattle
Washington
http://www.rustycon.com/
Jan 19-21
Confusion
"Brought to you by the Stilyagi Air Corps"
Troy Marriott
Troy
Michigan
http://stilyagi.org/cons/2007/
Jan 19-21
MarsCon (Williamsburg)
"Southeastern Virginia's Premiere Relaxi-con"
Holiday Inn Patriot
Williamsburg
Virginia
http://www.marscon.net/
Jan 26-27
Vericon
Harvard University
Cambridge
Massachusetts
http://www.vericon.org/main.html
Feb 8-11
Capricon XXVII
"A celebration of high fantasy"
Sheraton Chicago Northwest
Arlington Heights
Illinois
http://capricon.org/capricon27/
Feb 16-18
Boskone 44
"NESFA's regional Science Fiction Convention"
Westin Waterfront
Boston
Massachussetts
http://www.nesfa.org/boskone/
Feb 23-25
ConDFW
"A fantasy and science fiction event"
Radisson Hotel Dallas North
Richardson
Texas
http://www.condfw.org/
Mar 2-4
MarsCon (Bloomington)
Holiday Inn Select
Bloomington
Minnesota
http://www.marscon.org/
Mar 7-10
Williamsburg Film Festival
Holiday Inn Patriot
Williamsburg
Virginia
Notes:
Mostly western films and actors, BUT, The Solar Guard Academy holds its reunion here, and Richard Anderson of the several bionic tv series is scheduled to be a guest.
Mar 16-18
Lunacon 50
Rye Town Hilton
Rye
New York
http://www.lunacon.org/
Mar 22-25
Aggie-Con 38
"The Winds of Change"
The Memorial Student Center at Texas A&M University
College Station
Texas
http://aggiecon.tamu.edu/info.html
Mar 23-27
I-Con XXVI

Holiday Inn Ronkonkoma
Ronkonkoma
New York
http://www.iconsf.org/
April 5-8
Norwestcon 30

Seatac Doubletree Hotel
Seatac
Washington
http://www.norwescon.org/

April 6-8
Minicon 42

Hotel TBD
Bloomintgon
Minnesota
http://mnstf.org/minicon/

April 13-15
Odyssey Con 2007
"SuperMoo"
Raddisson Inn
Madison
Wisconsin
http://www.oddcon.com/index.php

April 20-22
Penguicon
Open Source Software and Science Fiction Convention
Troy Hilton
Troy
Michigan
http://www.penguicon.org/

April 20-22
RavenCon

Doubletree Inn at the Richmond Airport
Richmond
Virginia
http://www.ravencon.com/

May 25-28
Oasis 20
International Plaza Resort and Spa
Orlando
Florida
http://www.oasfis.org/oasis/.
Sponsor's website: http://oasfis.org/: Orlando Area Science Fiction Society
May 25-28
Balticon 41
Marriott's Hunt's Valley Inn
Hunt Valley
Maryland
http://www.balticon.org/
May 25-28
WisCon 31
World's Leading Feminist Science Fiction Convention
The Concourse Hotel
Madison
Wisconsin
http://www.wiscon.info/
June 15-17
Hypericon III

Days Inn Stadium
Nashville
Tennessee
http://hypericon.info/
Jun 30 - Jul 3
Westercon 60
"Gnomeward Bound"
San Mateo Marriott
San Mateo
California
http://spfii.org/westercon60/
July 13 - 14, 2007
The Blob Fest
Annual re-enactment of the "Fleeing the theater scene" from The Blob, (1957)
The Colonial Theater
227 Bridge Street, Phoenixville, PA, 19460
Pittsburgh, PA
www.thecolonialtheatre.com/
September 21-23
FenCon IV
It's going to be Fantastic
Crowne Plaza Hotel, North Dallas/Addison, 14315 Midway Road, Addison
Texas
www.fencon.org
September 29-30, 2007
Assimilationcon
"Florida's newest science fiction experience"
Radisson Worldgate Resort Orlando Florida Hotel

Orlando, Florida
www.assimilationcon.com
See all press releases here.
October 12- 14, 2007
Con*Cept 2007: Where Science Fiction Meets Fantasy
"Montreal's only fan run annual science-fiction and fantasy convention"
Days Hotel
Montreal, Quebec
Canada
www.conceptsff.ca/
Nov 23 - Nov 25
Darkovercon 30
"Gnomeward Bound"
Holiday Inn Timmonium
Timmonium
Maryland
www.darkovercon.org
January, 2008
Date
Convention
Location
State
Notes
Jan 18-21
Arisia '08
"New England's largest and most diverse science fiction and fantasy convention"
Hyatt Regency Cambridge
Cambridge
MA
2008.arisia.org/
Jan 11-13
RustyCon 25
"A science fiction & fantasy convention"
Seatac Holiday Inn
Seattle
WA
www.rustycon.com/
Jan 18-20
Confusion
"Brought to you by the Stilyagi Air Corps"
Troy Marriott
Troy
MI
www.stilyagi.org/cons/2008/
Jan 18-20
MarsCon (Williamsburg, VA)
"Southeastern Virginia's Premiere Relaxi-con"
TBA
Williamsburg
VA
www.marscon.net/
Jan 25-27
Vericon
Harvard University
Cambridge
MA
www.vericon.org/main.html
February, 2008
Date
Convention
Location
State
Notes
Feb 14-17
Capricon XXVIII
"A celebration of high fantasy"
Sheraton Chicago Northwest
Arlington Heights
IL
www.capricon.org/capricon28/
Feb 15-17
Boskone 45
"NESFA's regional Science Fiction Convention"
Westin Waterfront
Boston
MA
www.nesfa.org/boskone/
Feb 22-24
ConDFW
"A fantasy and science fiction event"
Radisson Hotel Dallas North
Richardson
TX
www.condfw.org/
Feb 22-24
ConNooga

Chattanooga Choo Choo Hotel
Chattanooga
TN
www.connooga.com
Feb 29 -Mar 2
MarsCon (Bloomington, MN)
Holiday Inn Select
Bloomington
MN
www.marscon.org/
Feb 29 -Mar 2
ConDor 2008
Handlery Hotel & Resort
950 Hotel Circle North
CA
www.condorcon.org/
March, 2008
Date
Convention
Location
State
Notes
Mar 5-7
Williamsburg Film Festival
Holiday Inn Patriot
Williamsburg
VA
Notes:
Mostly western films and actors, BUT, The Solar Guard Academy holds its reunion here.
Mar 14-16
Lunacon 51
Rye Town Hilton
Rye
NY
www.lunacon.org/
Mar 14-16
Omega Con
Sheraton Birmingham
Birmington
AL
portal.omegacon.us/
March 20-23
Norwestcon 31

Seatac Doubletree Hotel
Seatac
WA
www.norwescon.org/

March 21-23
Minicon 43

Sheraton Bloomington Hotel
Bloomintgon
MN
mnstf.org/minicon/

Mar 27-30
Aggie-Con 39
"The Winds of Change"
The Memorial Student Center at Texas A&M University
College Station
TX
aggiecon.tamu.edu/?q=aggiecon
April, 2008
May, 2008
Date
Convention
Location
State
Notes
May 23-25
Oasis 21
Sheraton Downtown Orlando
Orlando
FL
www.oasfis.org/oasis/.
Sponsor's website: oasfis.org/: Orlando Area Science Fiction Society
May 23-26
Time Gate 08
Holiday Inn Select
Atlanta
GA
http://timegatecom.org

May 23-26
Balticon 42
Marriott's Hunt Valley Inn
Hunt Valley
MD
www.balticon.org/
May 23-26
WisCon 32
World's Leading Feminist Science Fiction Convention
The Concourse Hotel
Madison
WI
www.wiscon.info/
June, 2008
July, 2008
Date
Convention
Location
State
Notes
July 3 - 6
Westercon 61
"Gnomeward Bound"
JW Marriott Resort
Las Vegas
NV
http://spfii.org/westercon61/
July 11-12, 2008
The Blob Fest
Annual re-enactment of the "Fleeing the theater scene" from The Blob, (1957)
Website yet to be updated
The Colonial Theater
227 Bridge Street, Phoenixville, PA, 19460
PA
www.thecolonialtheatre.com/
August, 2008
| | | | | |
| --- | --- | --- | --- | --- |
| Date | Convention | Location | State | Notes |
| August 2-13, 2008 | Ancient City Con | Hyatt Regency Jacksonville Riverwalk Downtown Jacksonville, | FL | www.ancientcitycon.com |
October, 2008
Date
Convention
Location
State
Notes
October 3-5
FenCon V
It's going to be Fantastic
Crowne Plaza Hotel, North Dallas/Addison, 14315 Midway Road, Addison
TX
www.fencon.org
Oct 3-5
Archon 32
Collinsville, IL Gateway Center
Collinsville
IL
http://www.archonstl.org/32/index.html
Oct 10 -13
Gaylaxicon
Annual international gay, lesbian, bisexual, transgender & friends Science Fiction, Fantasy, Horror, and Gaming Convention
The Hyatt Regency Bethesda,
Bethesda
MD
http://www.gaylaxicon2008.org/
Oct 31- Nov 2
ICON 33

Marriott? Hotel Coralville Hotel & Conference Center
Coralville
IA
http://www.mindbridge.org/icon/
October ?
Con*Cept 2008: Where Science Fiction Meets Fantasy
"Montreal's only fan run annual science-fiction and fantasy convention"
Website yet to be updated
TBA
Canada
www.conceptsff.ca/
Oct ?
Oni-Con
Anime convention
Website not yet updated
TBA

TX
http://www.oni-con.com/
November, 2008
Date
Convention
Location
State
Notes
Nov 14-16
WindyCon 35
"First contact"
The Westin Lombard Yorktown Center,
Lombard
IL
http://www.windycon.org/
Nov 21-23
OryCon 30
"Portland's Premier Science Fiction / Fantasy Convention": "The Digital Age"
Portland Marriott Waterfront
Portland
OR
http://www.orycon.org/orycon30/
November 12-14
Omega Con
The Lodge at Crooked Lake
Siren
WI
http://www.omegacon.org/
Nov ?
Darkovercon 31
"Gnomeward Bound"
Website yet to be updated
TBA
MD
www.darkovercon.org