The Thunder Child: Travel Destinations
---
The Tomb of Jules Verne
Jules Vere was born on February 8, 1828 and died at the age of 77, on March 24, 1905. He had suffered from diabetes for some time. He was buried in the Cimetiére de la Madeleine in Amiens, France. 5000 people attended his funeral on March 28, 1905.
In 1907 a sculpture was placed over his grave. It was designed by Albert-Dominique Roze (1861-1952). The sculpture depicts the figure of Jules Verne emerging from the tomb, stretching his hand out to the sky, and is entitled "Vers l'Immortalite et l'Eternelle jeunesse" (Towards Immortaility and Eternal Youth).
There have been many different postcards of this tomb on sale in France.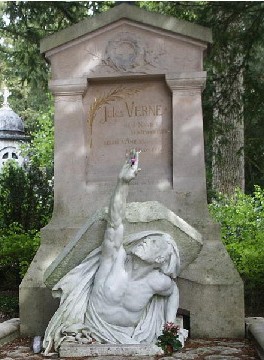 For many years, readers of the science fiction magazine Amazing Stories (founded by Hugo Gernsback), were greeted with a drawing of this Jules Verne sculpture on the masthead.
This postcard is from the Collecting Jules Verne website and is reproduced with permission.
Webography
http://www.julesverne.ca/: Collecting Jules Verne
http://jv.gilead.org.il/:Zvi Har-El's Jules Verne Collection
Return to:
Click on the icons for new features in The Thunder Child.
Radiation Theater: 1950s Sci Fi Movies Discussion Boards
The Sand Rock Sentinel: Ripped From the Headlines of 1950s Sci Fi Films