In 1933 Max Steiner wrote possibly the seminal film score for King Kong. This wasn't just one of the earliest uses of music to dramatically underpin the action on screen, it was a truly great score, too. Thus, it was always a shame that the only way film and film music fans could hear it was by watching the movie. For those living in an area where the film was run frequently this was not so bad. For those not exposed to it regularly via television this was frustrating. Regardless, fans of the music waited and waited, hoping that Steiner's music would someday become available on its own.
King Kong (1933) Soundtrack Releases

| | |
| --- | --- |
| 1973 | Now, Voyager: The Classic Film Scores of Max Steiner |
| 1975 | United Artists LeRoy Holmes production |
| 1976 | Entr'acte |
| 1997 | Original Soundtrack Scores: Max Steiner |
| 1999 | Rhino release |
| 2005 | Marco Polo release |
Shortly after the release of The Graduate (1967) classic film scoring began to fall into disrepute. The enormous album sales generated by the music of Simon and Garfunkel led studios to seek similar pop music, radio play, and the potential of selling millions of albums. More and more, film producers turned to rock bands and pop musicians to create hit songs.
In 1972, RCA asked George Korngold to produce an album of his father's film music for their prestigious Red Label. This album, "The Sea Hawk: The Classic Film Scores of Erich Wolfgang Korngold" featured music from twelve of the maestro's greatest film scores. Charles Gerhardt would conduct a full symphony orchestra, larger in many cases than that used for the original music, to produce a lush sound. Seemingly out of step with the times, the album was a critical and financial success and can rightly be credited as responsible for the trend that continues to grow to this day to re-release original soundtracks and re-record classic film music.
| | |
| --- | --- |
| For a 1973 follow-up, Korngold produced "Now, Voyager: The Classic Film Scores of Max Steiner." There, among the ten suites of film music, was King Kong. This would mark the first commercial availability of any music from the groundbreaking fantasy film. The 7:16 suite included "Forgotten Island," "Natives," "Sacrificial Dance," "The Gate of Kong," and "Kong in New York." As wonderful as it was to finally hear some music from Kong in rich, clear stereophonic sound, this could only whet a film music lover's appetite for more. This album was eventually released on CD. | |
While the "Classic Film Score" series would continue through another 14 releases, including a new recording of Steiner's Gone With The Wind, there would be no more music from Max's King Kong.
But fans would not have to wait long. In 1975, United Artists records released the first album devoted exclusively to Steiner's music as part of their own series devoted to classic film scores. Conducted by LeRoy Holmes, the album provided approx. 27 minutes of music from the almost 75 minute score. After reading Ray Bradbury's stirring liner notes, it was a great disappointment to hear the actual recording. According to Fred Steiner (no relation), Max Steiner had only 46 musicians. The thin, rinky-dink sound and performance on this album sounds like half that number, making this release an incredible let-down typical of the entire UA series.
| | |
| --- | --- |
| It would only take one more year for this injustice to be righted. In 1976 John Steven Lasher issued a magnificent Entr'acte label recording conducted by the aforementioned Fred Steiner, a noted movie and television composer in his own right. Steiner was given an orchestra of over 80 players to record approximately 42 minutes of music. Manuscript reconstruction was performed by noted musicologist Christopher Palmer and the liner notes for this gatefold album were by John Morgan, later to record several impressive film score albums with William Stromberg for the Marco Polo/Naxos label, including King Kong. With this quality of personnel, production, and selection of music, Entr'acte releases became sought after by connoisseurs. | |
| | |
| --- | --- |
| Lasher, who would become something of an enigma for soundtrack collectors, reissued the album on his Southern Cross label, an audiophile release on imported German vinyl. The cover featured a wonderfully tinted publicity photo, the famous one of Kong looming over New York with Fay Wray in his grasp. Although not a gatefold like the previous release, there were some nice stills on the back and a signed quote from Fay Wray about the score. The music was the same as the Entr'acte release. This Fred Steiner recording would become available again as a CD in the early days of the compact disc. | |
| | |
| --- | --- |
| The most recent availability has been on the bargain label LaserLight under the title "Original Soundtrack Scores: Max Steiner." This CD contains not only Fred Steiner's recording but includes Steiner cues from This Is Cinerama and Death of a Scoundrel. | |
The aforementioned John Morgan and William Stromberg began their own impressive classic film score series for Marco Polo. After several releases, a number of them featuring music of the Universal horror films, they tackled King Kong. Their 1997 release was the first complete recording of the score, restored by Morgan and conducted by Stromberg. This robust, vital recording was reissued on Marco Polo's budget label, Naxos, in 2005.
| | |
| --- | --- |
| Last, but certainly not least, was the 1999 Turner/Rhino release which featured the original soundtrack recording. Part One presents a condensed version of the movie story, much like a radio show. Part Two offers 24 minutes of film score. Producer Ray Faiola retrieved music cues from two primary sources: 1) a special set of 78 rpm records pressed at the time, and 2) alternate and partial cues still existing on nitrate film. What we have here is the closest we'll ever get to Steiner's original music short of viewing the film. The CD is very nice, with clean sound and generous liner notes featuring lots of photos and Kong arcana. | |
So, which release should the Kong-nossieur buy? Frankly, with the exception of the LeRoy Holmes version, they are all worth having. The Charles Gerhardt RCA release provides another 46 minutes of Steiner music with suites from Now, Voyager, Saratoga Trunk, The Charge of the Light Brigade, Four Wives, The Big Sleep, Johnny Belinda, Since You Went Away, The Informer, and The Fountainhead.
The Fred Steiner recording has the biggest sound but, recorded before the advent of digital recording, it lacks the audio dynamics of the Morgan/Stromberg edition. The LaserLight budget release would be the one to get, both for the economical price and the extra Steiner cues from This is Cinerama and Death of a Scoundrel. As mentioned, the Morgan/Stromberg release, besides offering the complete score, features a wider dynamic range with a little more oomph in the percussion. And the excellent liner notes include a note from Ray Harryhausen. This one can now be had at a budget price on Naxos. Ray Faiola's Turner/Rhino CD has the advantage of being the real deal. It may not offer as much music but old Max is the guy behind the baton. The CD packaging is also a nice bonus.
Regardless of which recording one picks, it is a testament to the greatness of the music and the genius of Max Steiner that over 70 years later fans are still interested in his score for King Kong.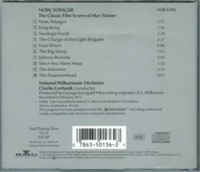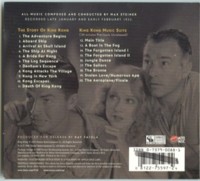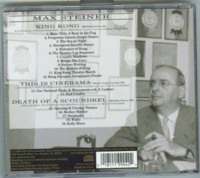 Backs of: Now Voyager...Rhino release...Steiner release