Vertlieb's Views
Commentary on movies past and present by Steve Vertlieb
ROBERT BLOCH: The "Clown" at Midnight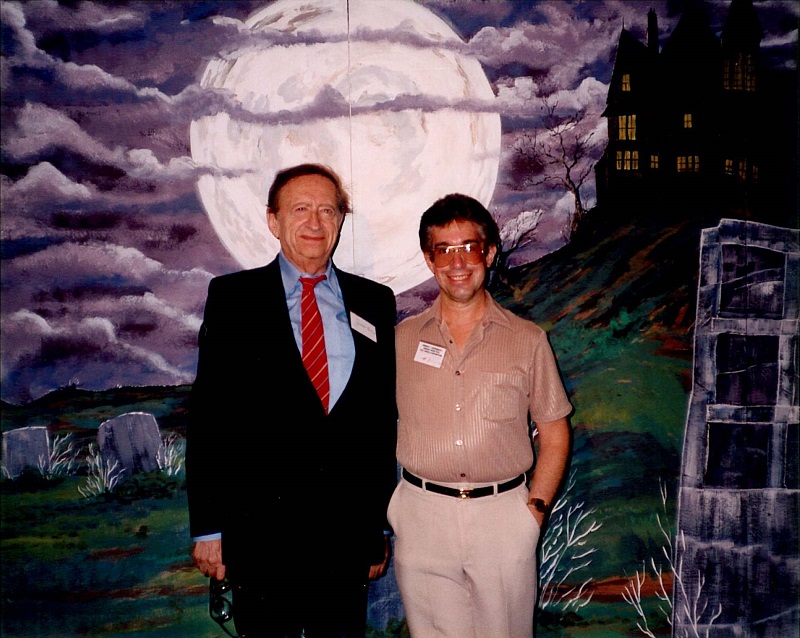 While audiences for contemporary fright films have developed a seemingly insatiable appetite for sadism, torture, and rampant bloodletting in their cinematic diet, there was a time in not so distant memory when horror in both motion pictures and literature allowed its viewers a slow, deliberate progression of suspense and icy horror without the use of graphic visual effects and dismemberment…a time when one's mind played as great a role in the realization of fear as anything ever conceived or constructed by prosthetics or rampant C.G.I on the motion picture screen. The interminable and all-sustaining terror created in the subtle shadings of burgeoning shadows, writhing inexplicably in the darkness, or in horrifying sounds and scrapings coming from somewhere deep within the cellars and catacombs of demented structures and caves are far more spiritually scarring, and socially paralytic than any half naked teenager running from hatchet wielding perverts and psychopaths projected in coldly calculating 3D imagery week after repetitive week at the local triplex.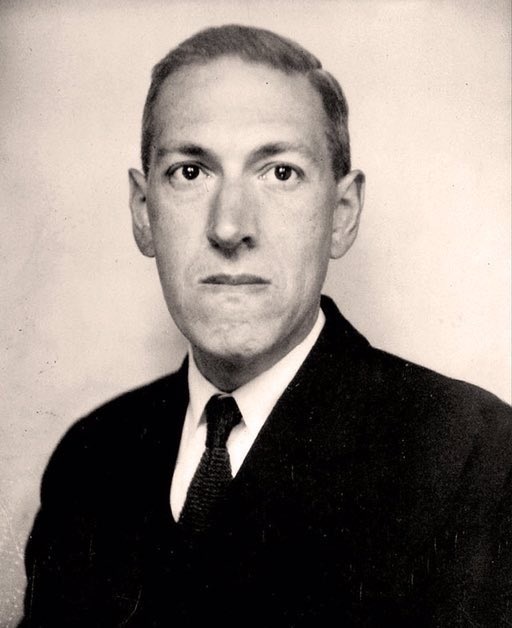 In more innocent days before the advent of Islamic beheadings and indiscriminate savagery in the streets - numbing the senses with nauseating imagery and increasingly provocative normality - there was a time when one's intellect and imagination were tempted past the comfortable sphere of complacence and civility to worlds beyond contemplation, and fantastic tales that witnessed madness…worlds inspired by often tortured brilliance and creativity in the minds of such purveyors of weird fiction as Howard Phillips Lovecraft, Clark Ashton Smith, August Derleth, Donald Wandrei, and Robert Bloch.

Such eerily heinous journeys into literary perversity, and Grand Guignol eloquence became the transformative signature of those early writers participating in what came to be known as "The Lovecraft Circle," a group of young writers working under the tutelage, influence, and guidance of, perhaps, literature's most acclaimed writer of horror fiction, H.P. Lovecraft.

Stephen King, this generation's most popular author of horror fiction has often generously proclaimed his debt to these early practitioners of horror fiction. During the nineteen twenties and thirties, between the ravages of two world wars, America and her allies had become hungrier for experience, more grimly determined to explore the boundaries of societal acceptance and transgression before it was vanquished yet again by oppression. It was a quest for passion's freedom that would continue despite the depression, and ever-growing attempts at both moral and spiritual domination by religious fundamentalists.

Robert Bloch was among the most dedicatedly prolific of these early writers. Born April 5th, 1917, in Milwaukee, Wisconsin of Jewish parents, Bloch's youthful imagination was entranced, and enticed by the lurid stories that beckoned him within "Weird Tales" Magazine in 1927 when he was only ten years old. At age sixteen in 1933, he wrote an early fan letter to H.P. Lovecraft, and the older writer responded with kindness, enthusiasm, and advice.
Bloch authored his own first published story "Lilies" for Marvel Tales in 1934.
This was followed by professional sales to Weird Tales at age seventeen that same year. "The Feast in The Abbey" and "The Secret in the Tomb" appeared in the January and May issues of the iconic magazine soon after in 1935. Bloch himself became a character (Robert Blake) in Lovecraft's story "The Haunter of The Dark," published in 1936, and dedicated to the young writer. Bloch would return the favor many years later in his novel Strange Eons which he dedicated to his mentor, Lovecraft.
Bloch was profoundly affected by the premature passing of his idol when Lovecraft died unexpectedly at age 46 in 1937. He would continue to reflect the older author's influence in much of his own published work for the rest of his life.
Bloch joined a writer's support group, "The Milwaukee Fictioneers," in 1935 along with his lifelong friend Harold Gauer. Bloch had known Gauer since their days together as fellow students at Lincoln High School in Milwaukee. Gauer had been the editor of the school's literary magazine, The Quill when the two met, and they bonded immediately. Another member of the group, an aspiring writer named Gustav Marx, offered Bloch a job writing copy in his advertising firm. Bloch would remain with the agency for eleven years, toiling in the nine-to-five world in order to support his young family, while writing short fiction at home.
It was during this period that he met and married Marion Holcombe in 1940, fathering his only child, Sally, whom he adored. Robert and Marion remained together through of a series of unfortunate illnesses, during which Bloch remained loyal to his wife. They divorced in 1963.
It was Eleanor (Elly) Alexander (formerly Zalisko), however, who became the love of his life. Her husband had passed away rather prematurely some months earlier when Elly met Robert, and the chemistry between them was both unmistakable, and instantaneous. They were introduced in January, 1964, and married nine months later in October of that year. Elly became his right hand, and remained utterly devoted to him until his death when she returned to Canada where she was born in order to be closer to her family.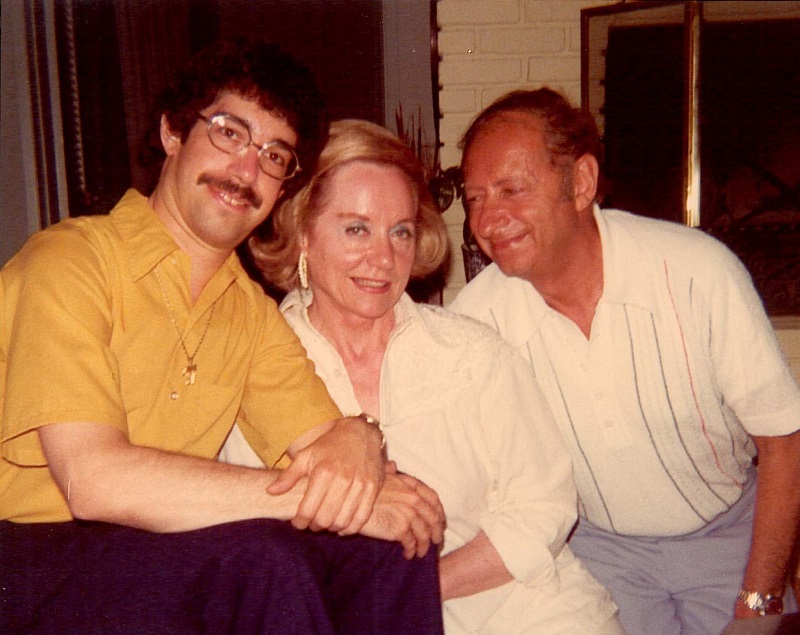 Taken at Bob and Elly's home in the Hollywood Hills, Summer 1974
Authors August Derleth, and Donald Wandrei, other members of the Lovecraft Circle, founded their own publishing company, Arkham House (named after the fictional town of Arkham written of in innumerable stories by Lovecraft) in 1939 and, six years later in 1945, published Bloch's first collection of short stories, The Opener of The Way.
A year earlier in 1944, Bloch was asked to contribute his writings to a weekly radio program called Stay Tuned for Terror, a fifteen-minute anthology series for which the writer composed thirty nine frightening episodes. This was, indeed, a precursor to his later innumerable assignments writing teleplays, screenplays, and adaptations for both television and motion pictures.
Bloch was, perhaps, as known for his novels and short stories of mystery and suspense as he was for his creations of subtle horror. Indeed, his contributions to NBC's long running television series Alfred Hitchcock Presents, as well as its companion publication, Alfred Hitchcock's Mystery Magazine, were extensive and memorable. In 1947 Bloch published his first novel, The Scarf, a tale of psychological and sexual tension. His publisher reprinted the novel a year later under the more lurid title of The Scarf of Passion, hoping to induce a wider audience of readers than it had received previously.

First edition, Psycho

1959 was a pivotal year in the career of Robert Bloch. He had won a Hugo Award for his story "That Hell Bound Train," and his representation was approached with a "blind bid" for a novel he'd recently written and published. His agent at the time, Harry Altshuler, was contacted through a third-party representing a client who had declined to be identified. The unidentified client made known their wish to option the novel for filming, and offered the sum of $9, 500.00 for the rights to the book. Bloch excitedly authorized his agent to accept the offer, effectively selling the motion picture rights to his story about a troubled motel owner whose unseen mother may have committed a succession of grisly knife murders of young women checking into the seedy motel. Bloch ultimately received a total of $6, 750.00 after taxes for the rights to his novel, which were purchased for Alfred Hitchcock and Paramount Studios.

Psycho was released to theaters in 1960 with a screenplay by Outer Limits scribe and producer, Joseph Stefano, and became a cult classic, ironically foreshadowing the "slasher" film craze which continues to bring in big box office dollars to this day. When the film debuted to packed theaters and terrified audiences, the memorable knife murder of Janet Leigh in her motel shower became the talk of the industry. Hitchcock was praised for his genius in having the star of the picture killed off in so shocking a fashion merely one third into the story. Indeed, from a cinematic and marketing standpoint, it was a brilliant risk to have the primary character, played by a major Hollywood star, murdered so brutally early in the progression of the film.

It should not be forgotten, however, that it was Robert Bloch who had originally written his primary heroine, Marian Crane, out of the novel so unexpectedly in his novel. Bloch liked to joke that, considering the furor created by Janet Leigh being stabbed to death in the shower, and the resultant reluctance of women to take showers, it was a good thing that he didn't have her killed on the toilet.
Psycho was, of course, a huge hit and for years after its release screenwriter Joseph Stefano proudly accepted recognition for its creation, a fact that continued to aggravate and annoy the book's actual author. It was Alfred Hitchcock, however, who in a rare instance of humility, and for years thereafter, conceded that "Psycho was ninety percent Robert Bloch's book."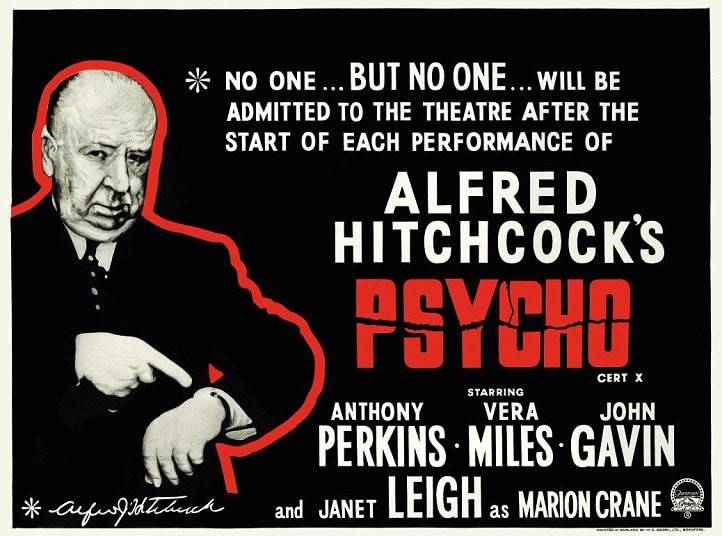 Hitchcock, it should be noted, while a brilliant filmmaker and cinematic genius, was often reluctant to share the success of his motion pictures with any of his collaborators, most notably with composer Bernard Herrmann whose musical scores for many of the director's greatest hits and critical successes contributed immeasurably to the artistic value of Vertigo, North By Northwest, Marnie, and The Man Who Knew Too Much, as well as the aforementioned . Indeed, when composer Miklos Rozsa won his first of three Oscars for the score to Hitchcock's Spellbound, and his "Spellbound Concerto" found a life of its own for decades on the concert stage, Hitchcock disavowed the composer's contribution to the film, and never used him again.

With the success of Psycho, Bloch felt empowered to leave Milwaukee and move to Los Angeles where he might at last devote all of his time to his writing. It was a crucial decision for the writer and his family, but the time had arrived when he simply had to take a chance to see if he could survive on writing alone. His novels and short story collections were growing more successful and his name value, generated from the popularity of Hitchcock's suspense masterpiece, contributed to the continuation of his recognition and acceptance in Hollywood.

In 1960, Belmont Books began publishing a succession of Bloch's horror anthologies in paperback, each proclaiming the issuance of stories by Robert Bloch, "author of Psycho." The first of these, "Nightmares," was a wondrous collection of ten short horrific tales originally published in the hardback anthology Pleasant Dreams, and reissued for a more contemporary market with the authorization of August Derleth and Arkham House Books. It was followed in 1962 by More Nightmares, a collection derived from both "Pleasant Dreams," and "The Opener Of The Way." Yours Truly, Jack the Ripper continued the commercially viable Robert Bloch literary franchise, along with Even More Nightmares, and many other companion volumes along Belmont's blood-strewn path.

It was during this period in 1960 that NBC Television decided to take a chance with a brand new "horror" television series hosted by Boris Karloff, with substantial creative input and script contributions by Psycho author Robert Bloch, as well as adaptations of classic stories by authors Richard Matheson, Robert E. Howard, Cornell Woolrich, and Edgar Allan Poe.

The network, however, developed cold feet when the series debuted, fearing that the American public was not ready or prepared for a television series devoted to Gothic horror. Boris Karloff's Thrilller premiered over NBC stations across the country on September 13th, 1960 but, by the time the series had reached the small screen, it more closely resembled the network's other prestige anthology Alfred Hitchcock Presents than a true purveyor of televised horror.

Alfred Hitchcock was so incensed by the similarities between the two series that he exerted considerable pressure throughout the program's two-year run to have it removed from the network's weekly schedule. Some four months after the premiere of Thriller, either due to Hitchcock's interference or, perhaps, based upon a wiser decision to create something new and unique, rather than merely copy an existing staple of the company's existing programming, NBC aired a truly frightening episode written by Robert Bloch entitled "The Cheaters." The story concerned a cursed pair of Victorian eyeglasses discovered in a house once owned by a warlock, enabling wearers to hear the often-ugly truth of people's "politically correct" comments and observations. "The Cheaters" was followed a week later by one of the classics of the acclaimed series, "The Hungry Glass."

Based on Bloch's short story "The Hungry House," (and utilizing the exterior of Norman Bates' Psycho house for an early sequence), the teleplay followed an emotionally scarred veteran and his loving wife to an old abandoned home, perched precariously upon jagged cliffs. The decaying mansion overlooked the turbulent sea, and was purchased rather inexpensively by the couple. It was, however, a home curiously devoid of mirrors. The mirrors, it turned out, were all discovered locked away in an attic closet, haunted by the ghost of a wretched old woman who had danced to her death in their shattered remains while obsessively admiring her own sickened image.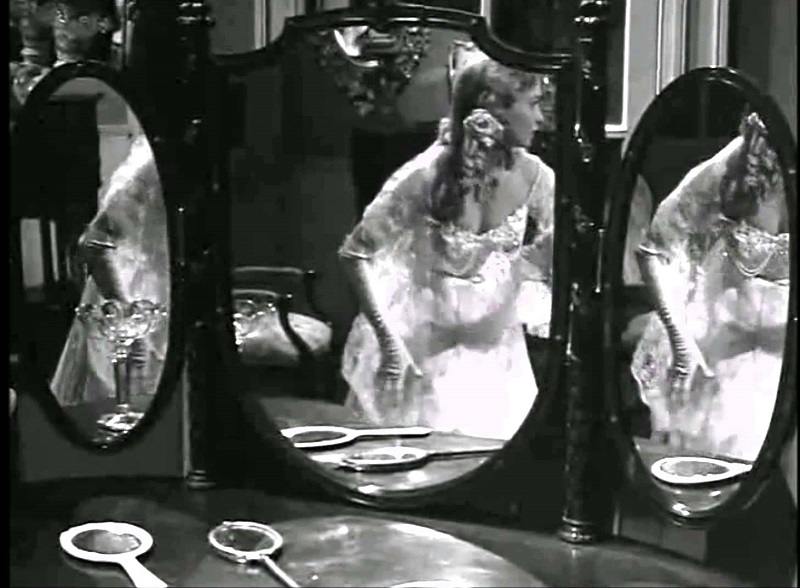 "The Hungry Glass"

William Shatner played the psychologically tormented man who mistakenly butchers his wife in the act of "saving" her from the grasp of the ancient crone lurking within the dreaded mirrors. It was, perhaps, the series high point, along with a later adaptation of Robert E. Howard's "Pigeons from Hell," and remains the most terrifying episode of series television in the long, often checkered history of the medium.

Bloch continued his association with both Thriller and the network until July 9th, 1962 when the series was canceled. However, his contribution to this landmark Gothic horror series, and such frightening episodes as these, as well as others like "The Grim Reaper" (once again featuring a young William Shatner), and "Yours Truly, Jack the Ripper," in which the infamous mass murderer continues his carnage through space and time due to a pact with the devil, remain a significant signature in the troubled history of horror on the small screen.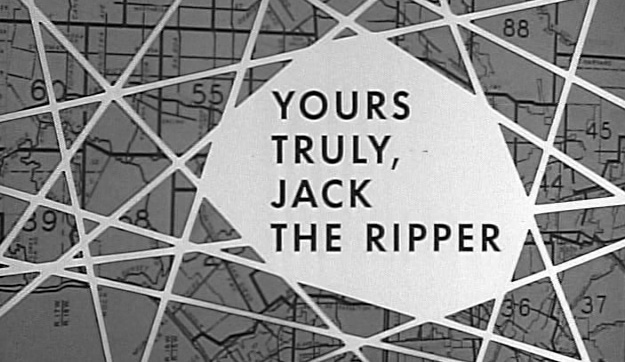 Robert Bloch wrote a rather remarkable essay that appeared in Forrest J Ackerman's pioneering Famous Monsters of Filmland magazine somewhere around 1960. In "The Clown at Midnight," Bloch postulated that psychological perception is dictated by circumstances, and that one's preconceived views either on comedy or horror might effectively be altered by the conditions surrounding an otherwise identical scenario. The example that he chose was that of a beloved comedic figure, adored by children the world over. In a traditional setting, populated by sawdust, peanuts, and wild animals galore, the circus clown is a figure epitomizing laughter, optimism, and happiness. Take that same circus clown, however, replete with pasty white makeup and garish red lips, and place him alone in the darkness, grinning eerily without comment, standing beneath a faded streetlight on a solitary corner at midnight, and he becomes a creature of the shadows…a horrific goblin and frightening denizen of the night.

In the fall of 1961, ABC Television premiered its anthology series Bus Stop, based upon the hit romantic motion picture starring Marilyn Monroe. It was an unlikely premise for a weekly series, and yet it seemed to work. The series presented solid dramas with memorable guest performances by an A- list of professional Hollywood actors and actresses. It fell victim to inferior ratings predictably, and lasted only a single memorable season. Its series finale, however, was one of the most unique in weekly ensemble television, departing entirely from its premise, and presenting an all-out horror episode based upon a short story by Robert Bloch. "I Kiss Your Shadow" featured Joanne Linville, George Grizzard, and Alfred Ryder in the tale of a man emotionally crippled, scarred, and haunted by the recollection of his wife's death in a tragic automobile accident.

Author Stephen King in his book Danse Macabre nominated this astonishingly out-of-character finale for a network televison series as "the single most frightening story ever done on tv. King went on to write that "Bus Stop was a straight drama show. The final episode deviated wildly into the supernatural and, for me, Robert Bloch's short story "I Kiss Your Shadow" has never been beaten on TV, and rarely anywhere else, for eerie, mounting horror."

Bloch's contribution to weekly television and to the genre continued with his authoring several episodes of NBC's original Star Trek series, including "What Are Little Girls Made Of" from the first season, "Wolf In The Fold" (a variation of his "Yours Truly, Jack The Ripper" premise), and "Catspaw," endearing and, perhaps, immortalizing his name in the highly visible, competitive Gene Roddenberry Trek universe. Bloch's big screen writing career continued successfully with a brief association with producer, director William Castle, and his screenplays for Straightjacket starring Joan Crawford, and The Night Walker featuring Barbara Stanwyk and former husband Robert Taylor. Bloch liked to tell the story of going to visit Joan Crawford in her trailer during the filming of Straightjacket, and finding what appeared to be her maid on her hands and knees scrubbing the floor of the trailer. As Bloch approached the door of the trailer, the "maid" looked up at him and grinned. It was Joan Crawford.

Robert Bloch also wrote a number of successful screenplays for producer/writer Milton Subotsky at Amicus Films in England, including The Psychopath, The Deadly Bees, Torture Garden, The House That Dripped Blood and Asylum. Subotsky filled in for Bloch at one point in their association, writing the screenplay himself for their adaptation of Bloch's story "The Skull." The release title of the Amicus production became The Skull of the Marquis de Sade, lest audiences failed to understand the significance of his original title. The plot-framing device of "stories within a story," as exemplified by several of the Bloch/Subotsky collaborations (The House That Dripped Blood, Torture Garden and Asylum) was derived famously from the landmark 1945 British Ealing production of Dead of Night in which a succession of corresponding supernatural vignettes, told in flashback, are strung together by a central story line involving all of the same central characters. The device was similarly used in Subotsky's scripted Dr. Terror's House of Horrors which essentially resembled a Bloch screenplay, and even reprised the voodoo jazz-inspired episode of NBC's Thriller TV series.
Robert Bloch and Me
Much as Robert Bloch had written to his own literary hero in 1933, I discovered Bloch's home address on Sunset Crest Drive in The Hollywood Hills either in 1969 or 1970, and wrote him of my affection for his work. I'd discovered his writing on Boris Karloff's Thriller, and soon began buying up every paperback anthology that I could find in drug stores, book stores, and through the mail.

The earliest volumes setting my young imagination ablaze were Nightmares, More Nightmares, and Yours Truly, Jack The Ripper, all of which adorn my bedroom bookshelf still. I can't quite recall how I'd discovered his mailing address but, to my bewilderment and delight, Bob wrote me back soon thereafter. We discovered that we shared a great many interests and friends in common, thereby fueling an enduring personal friendship which prompted hundreds of letters and postcards and lasting for some twenty-five years until his death.

When I decided to fly to the West Coast for the first time, and visit my brother Erwin during the torrid summer of 1974, Bob volunteered to act both as our chauffer and tour guide for a day. Now, that was a picture. Here was the acclaimed author of Alfred Hitchcock's Psycho asking permission to show us the sights of Los Angeles for some twelve hours while he drove around Hollywood and the surrounding metropolis pointing out people, places, and landmarks populating his proud adopted home town.

Famed science fiction motion picture producer/director George Pal had been occupying an office at Paramount Pictures while working on his production of H.G. Wells' In the Days of the Comet, which he envisioned as a mini-series for the CBS Television network. He had engaged Robert Bloch to write the massive teleplay, and Bob was eager to drive us over to Pal's office at the studio, and take us on a brief walking tour of the famous Paramount back lot. We drove first to the producer's office, and spent a lovely morning together with Bob and George Pal.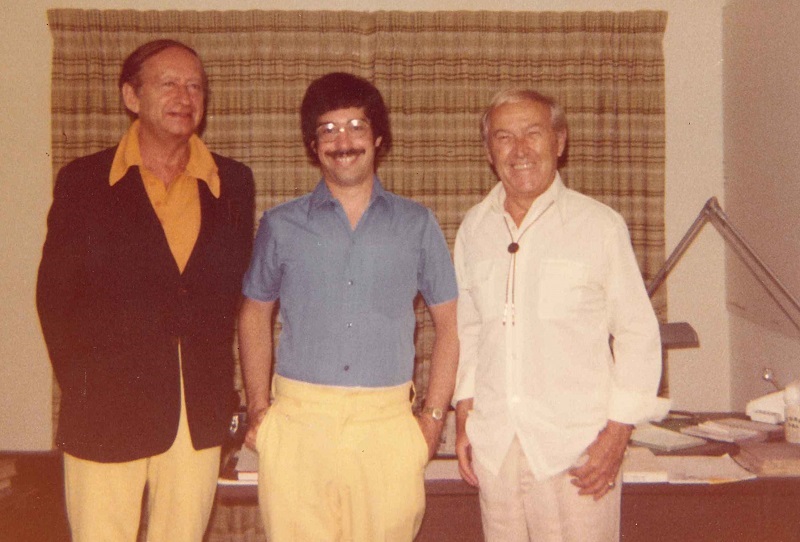 Taken in George Pal's office at Paramount Pictures in Hollywood with George, Bob, and I, Summer 1974

Then we commenced a walking tour, culminating in a stroll across the Western Street in which so many famous cowboy films had meticulously been shot. An unrepentant Jewish "ham" from Philly, I simply couldn't resist employing my celebrated impression of "Duke" Wayne's walk as we passed so many classic historical saloons and hotel "locations." While Bob grinned at the silliness of the moment, my brother simply shook his head in humiliated resignation, muttering "My brother the Hick."

Later in the afternoon we drove to Forrest J Ackerman's home museum, taking a guided tour of the famed "Acker Mansion," as Bob watched bemused while Forry showed off his astonishing collection of horror film artifacts. It was a memorable morning and afternoon, after which we drove back to Bob's home on Sunset Crest Drive in the Hollywood Hills.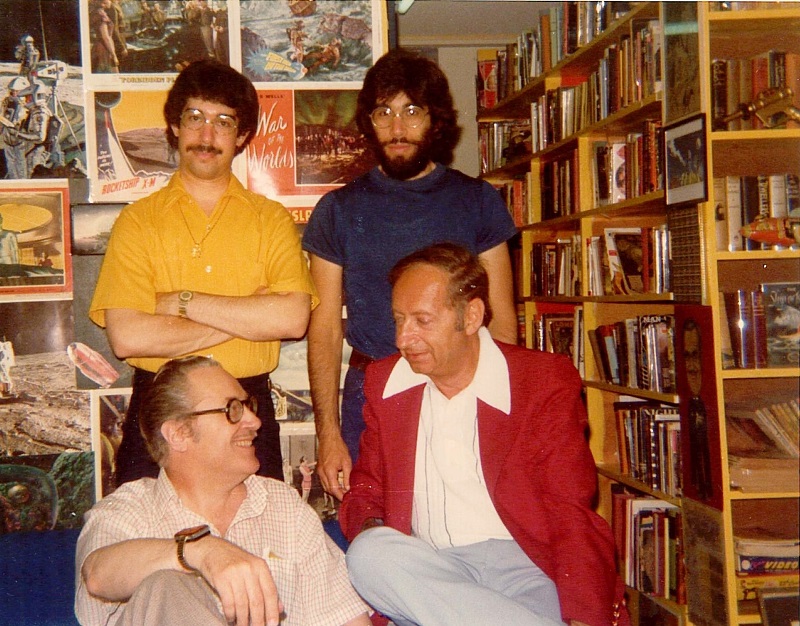 Bob drove us over to visit The Ackermansion, along with its beloved curator...Uncle Forry...during the Summer of 1974.

Bob ushered us into his study where, presumably, he did most of his writing. There was his typewriter sitting on the desk, surrounded by walls of books, magazines, and collectibles. I grinned as I spotted several copies of both L'Incroyable Cinema and Cinemacabre Magazine, two horror film publications in which my own meager writings on motion picture history had appeared, sitting prominently on his desk. I couldn't help smiling at his kindness in laying out these magazines for me to see during my visit. I hadn't any doubt that they would be re-filed somewhere after our departure, but I was warmed by his thoughtfulness in placing them upon his desk so that I might see them while visiting his office.

Bob's lovely bride Elly greeted us at the door, smiling warmly in gracious invitation. She was a delightful companion and hostess for the evening, preparing a special home cooked meal while conversing gregariously about both their lives and ours. As we were seated at their dining room table, Bob relaxed and immersed us in lengthy conversation, filled with puns, anecdotes, and social commentary. He noted during the evening that Buster Keaton had been a particularly cherished friend of his, and that Keaton was "the happiest man that he had ever been privileged to know."

He delighted in storytelling, and told us that actor Christopher Lee had recently settled in Los Angeles for a time, and that Bob had helped him find his home not far from theirs. Later, when I asked him if I might write to Lee, Bob suggested that I send the completed missive to him, and that he'd be delighted to put it in the actor's hands. I did so, and Bob was true to his word. It wasn't long before I received a lovely letter back from the famous Hammer Films star in the mail. In a more serious moment, I asked Elly how she felt about Bob's writing. Astonishingly, she told me that she had actually never read any of her husband's horror stories. When I asked her why, she replied that he was the love of her life, and that didn't wish to see that side of him. After a warm, loving evening of food, conversation, friendship, and hugs, Elly prepared a care package of leftovers for Erwin and I to take home…as any good Jewish "mother" would. It was a cherished day and evening that, happily, I've never forgotten.

In the years that followed, Bob and I remained in close touch. I'd telephone him at least once a month, and he was always a dear friend and advisor. He'd comment on my own writings, offering both suggestions and counsel. If anyone in literary circles has ever been a mentor to me, it was Bob. Whenever I'd telephone, Elly would screen their calls. She was his wife, friend, companion, and protector. Each time she heard my voice, however, I'd hear her call "Oh, Bob…Bob…it's Steve Vertlieb calling from Philadelphia. Seconds later I'd hear Bob's warm, friendly voice on the line saying "Well, how are you, Steve?" I felt a true, deeply affectionate bond between us.

Bob, Forry, and Steve at The Ackermansion during early Summer, 1974

Later, as the seventies drew to a close, Bob was appearing as the Guest of Honor at a science fiction convention somewhere on the East Coast. I've forgotten where precisely. It might have been Baltimore or New York. In any event, the organizers knew of my friendship with Bob, and so I was asked to write a special, personal tribute to him for the program book. I was honored to write about my friend, and he was delighted to learn that I had penned his published salute. As, perhaps, the principle writer for Cinemacabre Magazine over the years, I generally contributed a work of horror, science fiction, or fantasy poetry for each issue. In the Fall, 1988 issue (No. 7), I wrote a work of gothic horror entitled "Reflections" which I dedicated to Bob. It was my special tribute to him. The dedication read…"REFLECTIONS…For Robert Bloch." I think that he was deeply touched by the gesture.

In 1993, Bob authored his "Unauthorized" autobiography, Once Around the Bloch, a delightful remembrance published by Tor Books, in which he essentially thanked everyone that he ever knew in a pun-filled journey recounting his travels from Milwaukee to Hollywood along a decidedly mellow brick road. That same year I was thrilled to spend some quality time with Bob once again at Forry Ackerman's huge Famous Monsters of Filmland convention in Crystal City, Virginia. Forry had held many such conventions throughout the years, but this gigantic blowout was intended to be the best and, perhaps, the last of these monstrous love fests. All of Forry's pals congregated together for one last time with an astonishing guest list which included Ray Bradbury, Richard Matheson and, of course, Robert Bloch. I'd run into Bob quite a few times at both assorted, as well as sordid, science fiction conventions over more than two decades, but this was to be our final meeting.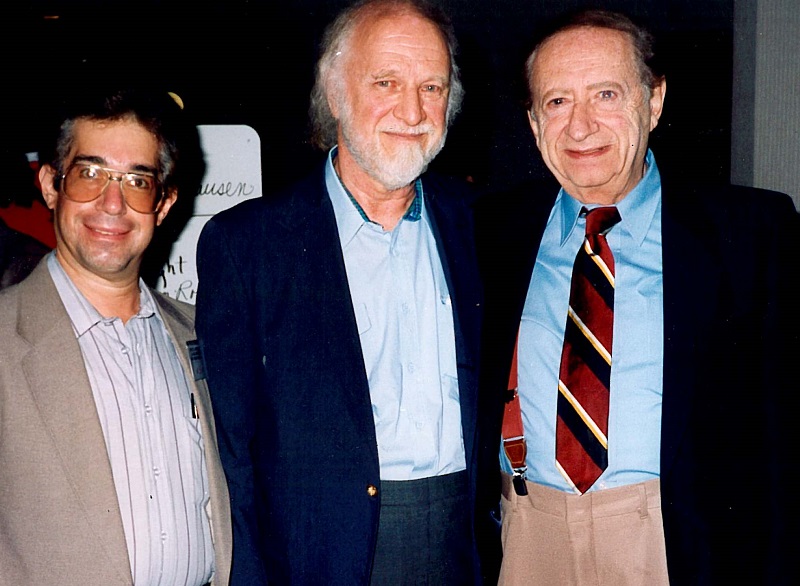 Me, Richard Matheson and Bob Bloch at Forry's Famous Monsters convention in Crystal City, Virginia, Summer, 1993

Bob was beginning to look frail and aged by 1993, and his legendary energy and enthusiasm were noticeably absent from the proceedings. He confessed an increasingly obsessive fear of death that had begun to concern him, and I tried to reassure him that he'd likely outlive me. When he spoke from the stage of his life, exploits, and career in publishing and in films, however, he was the old Bob…confident, fascinating, and funny as Hell. He captivated the large audience of fans with stories of Lovecraft, his involvement in Boris Karloff's Thriller television series and, of course, Hitchcock's Psycho. The room was overly warm and uncomfortable, though, and Bob was becoming understandably irritable. I ran over to the management of the hotel, and asked someone to please bring me a large glass of water for him. When he left the stage finally after several rounds of thunderous applause and some sixty minutes of uninterrupted laughter, I offered him the glass of water, and he seemed to recover some of his strength….for a moment at least.

Richard Matheson, the renowned author of The Shrinking Man, I Am Legend, Bid Time Return, and What Dreams May Comewas among the guests at the convention. Matheson adored Bob, and considered him a major influence on his own life and work. Seeing Bob again was obviously an emotional moment for the writer, and he expressed his love and admiration for Bob in a private moment which I was able to capture on film. A photograph taken together with these two literary heroes was, perhaps, my own emotional highlight of the wonderful, star studded weekend.

On September 23rd, 1994, I was visited by some fan friends from New Jersey at my new apartment. Knowing of my affection for Bob, they asked if I'd heard from him recently. With the frenzied business of moving into my new digs, and the traumatic breakup of my marriage in recently preceding weeks, it hadn't occurred to me that I'd not heard from Bob in some time. Seeing the concern on their faces, I grew apprehensive, and asked what was going on. They'd begun hearing dire stories of Bob's declining health and of a recent battle with cancer. Suddenly frozen with fear, I excused myself and walked into the bedroom to place a telephone call to the west coast. Bob's housekeeper answered the telephone, and I asked if I might speak to Elly.

The housekeeper told me that Elly was resting, and that she'd be happy to relay a message to her when she awoke. I said that I'd only just heard of Bob's illness, and wanted to touch base with Elly to ask if there was anything that I could do to support the two of them. I was suddenly filled with an overwhelming feeling of sadness as my eyes filled with tears, and I learned that Bob had passed away only hours earlier. The housekeeper assumed that I had heard the news, and that I was calling to express my condolences. I fell backwards onto the bed near the telephone, and choked upon the emotional grief surging through me. I sat there for a moment or two in shattered silence before re-emerging from my bedroom to give the news to my waiting guests that Bob had died. They left shortly thereafter, and I was alone with my thoughts once more.

I telephoned Elly again later that day, and spoke with her for a while, expressing my sadness and love for them both. She was calm, and reflective. Bob had been everything to her…her husband, her champion, her friend. "As Bob meant so much to you as his friend," she went on, "imagine the depth of loss that I'm feeling as his partner after so many years of sharing his life, and his world." Her sense of loss was palpable, and I allowed her to wander through her memories in silence. I remained in touch with Elly for a time, but it soon became clear that conversations and contact with Bob's close friends was becoming too painful for her. After a time, it grew more difficult to reach her as she became more private and reclusive. Their other friends reported that she was not returning their telephone calls, or offers of assistance. She decided eventually to leave Los Angeles and return to Canada in order to spend her remaining years with her family. I never heard from her again. Elly died on March 7th, 2007, in Manitoba.

Robert Bloch was a commanding literary figure of the twentieth century, a prolific writer and humorist. He was an intensely loyal husband, father, and friend. He was also an artistic chameleon, a deeply expressive individual whose remarkable sense of humor and impeccable comedic timing belied, perhaps, a darker creative identity in which he had fabricated a macabre progression of characters and unforgettably horrific scenarios, exemplified by his most legendary characterization, Norman Bates in PSYCHO. Bloch's acclaimed "Jekyll and Hyde" psychological study, published some thirty-four years earlier was, perhaps, a self-fulfilling prophecy…an analysis of his own astonishingly conflicted personality, and mirror to his creative soul…for, in the end, he had himself become His "Clown At Midnight."

To learn more about Steve Vertlieb, check out this video trailer of a documentary on him: The Man Who Saved the Monsters:
Click on the icons for new features in The Thunder Child.
Radiation Theater: 1950s Sci Fi Movies Discussion Boards
The Sand Rock Sentinel: Ripped From the Headlines of 1950s Sci Fi Films
SUPPORT THIS SITE