The Film Score Monthly release of Leigh Harline's film music for 7 Faces of Dr. Lao(FSM, Vol. 9, No. 11) is truly a moment that should have soundtrack collectors rejoicing. Harline's music is as whimsical and magical as the film for which it was written. This is another album that shortens that "wish list" of soundtracks never before available.

Producer George Pal had experienced a number of successes in his long career. In the United States, his stop-motion animation Puppetoons series for Paramount established him as a filmmaker comfortable both with stories of the fantastic and a dedication to filling movie screens with wonder and enchantment.
The Great Rupert (1950), in which a stop-motion squirrel takes the title role, further cemented his reputation as a producer unafraid of combining both live action and special effects to tell stories of interest to him. Pal scored popular successes with Destination Moon (1950), the 2001 of its day, When Worlds Collide (1951), War of the Worlds (1953), which won an Oscar for special effects, Houdini (1953), an entertaining bio-pic with Tony Curtis and Janet Leigh, tom thumb (1958) and The Time Machine (1960), both with Oscar-winning special effects, among several other films.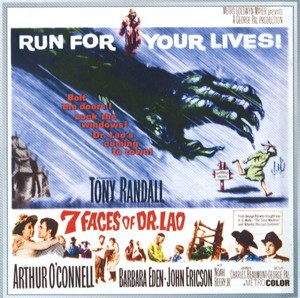 7 Faces of Dr. Lao (1964) was based on Charles Finney's fantasy novel The Circus of Dr. Lao. In adapting it for the screen Pal attempted to keep some of its more serious philosophical underpinnings, very much a European sensibility, while striving to produce a family entertainment. From a marketing standpoint this created an uneasy mix. With a storyline that dealt with both mortality and eroticism but starred light-leading man Tony Randall, stunt cast in several roles, along with elements of horror and a Western setting, and included both the Abominable Snowman and the Loch Ness Monster, what sort of film was this exactly?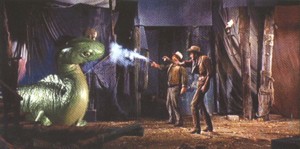 Frankly, many who saw it, and many who continue to run across it, find it somewhat weird, the shifting of tone between comic slapstick and its thoughtful ruminations on some of the big questions in life a bit unsettling for those who want only an entertainment and prefer not to be reminded of real-life issues. However, it is a delightful film, well-made, with a wonderful supporting cast and a nicely judged series of performances from Randall.
Unfortunately, it did not find the audience it deserved, although it did receive attention during several network television airings, and marked a continued a downward slide in Pal's fortune that began with The Wonderful World of the Brothers Grimm (1962) and continued through The Power (1968) and Doc Savage: The Man of Bronze (1975).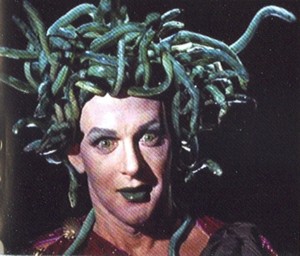 The "Main Title" is a wonderful kick-off for the movie, acknowledging its various layers. Using guitars, harmonica and accordion establishes an old West feel, while a banjo is doubled by vibes to create a Hollywood version of Chinese music. And, since the melody is slightly melancholy, a goofy little ocarina helps occasionally punctuate the proceedings to remind us this is meant as a light entertainment. The ocarina will reappear throughout the score as "comedy relief." A simple, lovely version of this main theme can be heard played on a mandolin with minimal accompaniment in "Hurdy Gurdy/Dr. Lao's Announcement." Two more tracks, both with the same name, "Hurry, Hurry, Hurry," further feature the mandolin.
Each of the characters get their own theme. A sense of profound sadness and tragedy along with a sense of the wisdom of the ages permeates the theme for the circus' fortune-teller "Appolonius of Tyana." In "Ed Meets Merlin," the ancient prestidigitator's past glory is suggested in a poignant, dignified melody reminiscent of Old England. A similar effect, but a bit brighter and more optimistic is conjured up in "The Magic Act (conclusion)."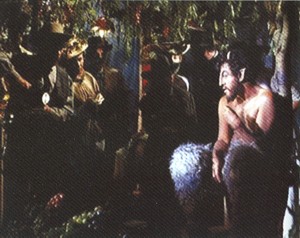 "Pan's Dance" is a fan favorite and begins playfully enough. But there is something of the Roman bacchanalia about it and prim Kate (Barbara Eden) is sensually ignited by the music issuing from the man creature in the Pan exhibit. As her blood races so does the music, accelerating in tempo as it builds, nearly spinning out of control.
The score offers quite a bit of musical variety, a somewhat international musical smorgasbord. The evocations of the Old West, China and England are joined by hints of Scotland in "Bagpipes," and ancient Greece in "Medusa," a mysterious, exotic track punctuated by a snake-like percussive effect.
Additional tracks offer alternate cues, overdub parts, and recorded material not used in the finished film. The stereo tracks are presented in pristine condition and offer a sharp listening experience.
Film Score Monthly liner notes are always a treat, full of perceptive analysis and information not only on the score in hand and the movie it came from but, in general on the world of film scoring. In this case kudos go to Jeff Bond, Ross Care and Lukas Kendall. An excellent selection of color photos from the movie serve as illustration.