Recommended Viewing
Recommended Reading
The Thunder Child: Village of the Damned (1960) Sourcebook
---
Letchmore Heath, London, England, Then and Now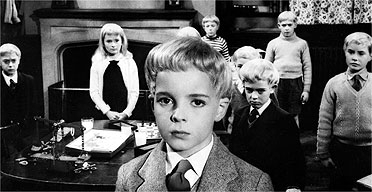 The Village of the Damned, based on
The Midwich Cuckoos, by John Wyndham

Midwich is a small, quaint English village. One day, its inabitants fall into a deep sleep for several hours in the middle of the day. Nine months later every woman capable of child-bearing gives birth to a blond-haired child with strange, penetrating eyes who matures incredibly quickly. What's the secret behind these children and their mysterious powers?

Village of the Damned was filmed in Letchmore Heath, a small village near Elstree Film Studios and only 18 miles away from London. You can drive there via the M1, A41, or M25.

According to their website (http://www.letchmoreheath.org.uk/): "The central focus of the village is the 17th Century Three Horseshoes pub, situated on the village green. The pub overlooks Aldenham War Memorial and the pond and serves an excellent British menu. The village itself dates back to the 13th Centure and the name derives from the old English word, Lech Mere, which means 'dirty pond'."

So if you're visiting London (or if you live near there!) and are a fan of Village of the Damned, take a drive down to...Midwich.

Location photos below by Judd Clarke, who kindly gave us permission to publish them here.
| | |
| --- | --- |
| | |
| | |
| --- | --- |
| | |
| | |
| --- | --- |
| | |
| | |
| --- | --- |
| | |
| | |
| --- | --- |
| | |
George Sanders starred as Professor Gordon Zellaby, Barbara Shelley as his wife Anthea and Martin Stephens as their new son, David. Michael Gwynn played Major Alan Bernard, Laurence Naismith played Doctor Willers, Richard Warner played Harrington, and Jenny Laird his wife.
Followed by the sequel, Children of the Damned, starring Ian Hendry and Alan Badel.
Webography
The Classic Horror Film Boards: Writers and fans discuss classic horror and science fiction films.
Click on the icons for new features in The Thunder Child.
Radiation Theater: 1950s Sci Fi Movies Discussion Boards
The Sand Rock Sentinel: Ripped From the Headlines of 1950s Sci Fi Films