DIGITAL MUSIC
EYE SCI FI
| | |
| --- | --- |
| | Searching! Searching! Searching! |
An Interview With Tom Kiesche
We recently reviewed a new fantasy/sf novel, Park Ranger Park. You can read that review here.

The author, multi-talented Mr. Kiesche, graciously agreed to do an interview with us. An actor for over 20 years, he has made guest appearances on dozens of TV series (including a recurring role as Clovis in seasons 2 and 3 of Breaking Bad), as well as a myriad of TV commercials.

"Big Quiche" as he is also known is also a singer, appearing regularly at performance venues in the LA area, as well as producing videos for his Closet Singer YouTube channel.

He's written, starred and produced in a variety of plays, short films and one feature length offering.

He's also the author of three books: I'd Like To Thank..., Sympathy for the Devil and his latest, fantasy/sf novel Park Ranger Park.

In this interview we focus specifically on his forays into fantasy and science fiction.
Short film: Monster's Lament
In 2009, you starred in, as well as wrote, produced and edited an 8-minute film called "The Monster's Lament," which is episode 37 of The Closet Singer.

Before we ask about the history of your The Closet Singer videos, please tell us about the genesis of this short film, became an official selection at ShockerFest 2009.

The story of the development of Monster's Lament just goes to show the evolution of the creative process that probably every filmmaker goes through, and the serendipity that sometimes occurs.

Here's the story:

Ron Rogge', a friend and fellow journeyman actor, also owned and operated a haunted house called The Old Town Haunt in Old Town Pasadena. One day he asked me if I'd be interested in writing lyrics to a song for a short video that could showcase his haunted house, as well as my singing.

I recalled that one of the last Broadway/Equity auditions I had gone on in New York City years ago, before my move to California, had been for a workshop for a new musical, entitled Creature at the time, billed as, "an alternative Frankenstein, musical drama." I had gone to the initial call and was called back...in the process I was to learn one of the original songs from the show, "One Voice," sung by the monster itself. Yeah, they were considering me for the monster, because of my size.

After talking with Ron I decided to try to find the sheet music for that, that I had filed away somewhere. Perhaps, I thought, I could just sing that particular song if it fit.

Surprisingly I found the song in my files, and thankfully in the top margin was the name of the guy who wrote the song, Tobin James Mueller. Taking a shot in the dark I contacted him through his website, and he was kind enough to respond back to me. He said he was cool with us using his song for the video if we wanted to, and he even sent me a fresh PDF of the sheet music.

I don't know much about the play other than the one song that I had strangely kept the beat-up sheet music to all those years...a song I had learned for an audition, for a role I didn't get, for a song I hadn't sung since. (Read more about Mr. Mueller's Frankenspell Superstar here.)

Ron and I went over the lyrics and the melody, and though we both agreed the song was an interesting spin on the Frankenstein story, it didn't quite fit what Ron was looking for. Not that that song wasn't great, but it was so intertwined with that show that it didn't make sense as a stand-alone song.

That's when I jumped in and starting writing original lyrics for our production of the story. I really just took what I knew of the story of Frankenstein and his monster, and humanized him.

When Ron had initially pitched the idea to me it was supposed to be comical and funny and light. However, when we gave the lyrics I had initially written to the composer, Dennis Napolitano, Dennis wrote music that was loaded with diminished chords - not at all light! But Ron and I liked what he had done so much that we decided to change the direction of both the video and the song.

The other producer, Michelle Gracie, came on board, and she helped with some of the physical stuff of the production, such as grabbing the make-up people and some of the support people.

Dennis and Ron initially wanted me to consider recording the vocals in Dennis' music studio, but since it was being partially billed as a Closet Singer episode, I wanted to do it in my closet [which was set up as a mini-recording studio.]

The application of my "monster makeup" took several hours. The Haunt was in the basement of what had been a bank, and the room we used to apply the prosthetics and stitchings was a big-ass vault. If you look at still pictures from the shoot, I'm colored green, but in editing the color of the makeup and some of the set just didn't look right, so we decided to make the video black and white, which then led perfectly to adding the public domain footage at the front of the short film. Happy accidents!

Once Monster's Lament was finished, we exhibited it at ShockerFest, a popular international film festival held in Modesto that had been running since 2002, and received an audience choice award for it. [Tom was interviewed while at ShockerFest. It's available at YouTube.]

This was the second project Ron and I had collaborated on. We had previously shot a short film called Bricks and Ashes (available on YouTube), also in his Old Town Haunt, which had a Western theme.
Closet Singer
For many years, you produced a series of music videos billed as Closet Singer, with you performing a wide variety of songs both solo and with guests.

What was the genesis of your singing and of Closet Singer ?

I started professional singing relatively late in life - in my early 20s. It was in the early '90s, and after college I worked as a pharmaceutical sales rep in Connecticut. But I'd found that I loved acting and I was doing work with amateur theatre groups. I was in a play, and one of the other actors warned that the way I was using my voice - I might get nodes. He was a very nice guy, a trained actor who had worked in New York. He was the experienced one in the group, professionally, so I listened to him.

I went to a vocal coach in Connecticut. After the first few minutes she said, "Your friend doesn't know what he's talking about, you're not going to get vocal nodes that way. But while you're here let's just sing through some stuff."

"Uh, no, I don't sing, I'm not a singer.

"Well, let's just try something."

I think she opened up some show tune book - Rodgers and Hart or Rogers and Hammerstein, Carousel or Showboat or something, and after I finished the song she looked at me and said, "I've got bad news, you can sing, you've got a great voice."

I spent a lot of time telling her how wrong she was, and she kept saying, "I'm telling you, just because you say you don't, doesn't mean you don't have a good voice."

So I started training with her. I did a recital with her, prior to giving up my day job to move to New York City to pursue professional acting. The recital was all these 9-, 10-, 13-year old girls and me, 26 years old, size of a linebacker. Kind of funny, I still have that program somewhere as a PDF.

I shelved singing for a couple of months and then, being in New York, and having not 'made it in a minute', tired of waiting tables, a lot of people were telling me, "You should sing, you should sing, you could make money singing." So I started training with some vocal coaches in New York.


Closet Singer episode #43 with special guest Crystal Keith. From Little Shop of Horrors... "Suddenly Seymour."

Everyone of them wanted me to be an opera singer, and I didn't want to be an opera singer. Some of them had me learn opera pieces, some of them had me learn musical theater songs. I started auditioning - way before I was ready to sing professionally, and I just got emotionally beat up. My favorite quote was from someone who said, "You have a Stradivarius of a voice that you play like a kindergartner." I simply hadn't trained enough to be auditioning against the best of the best at that time.

At some point I just put my voice away. Stopped trying to audition. I had done some Summer Stock where I had a couple of singing roles, I played Tony in The Boyfriend which was completely wrong for me. It was a tenor and I'm a bass-baritone, and a dancer and I'm not a dancer. The waiter in She Loves Me, another character tenor, and again I'm a bass-baritone.

I was finding that the roles I was going out for weren't really fitting me, so I stopped pursuing those types of roles for a few years. I sang a few times for friends - karaoke, just casually. Then one day I was at a party in Woodland Hills and a friend requested that I sing "Ol' Man River." I thought he was joking but did it anyway and when I turned around there were a lot of tears in a lot of people's eyes. And a couple of other friends there insisted I start singing again.


Closet Singer episode #5. "Ol' Man River"

My response was, "Okay, I'll do it but only on my own terms." Just because when I gave it up it was so painful - so many people were telling me what I couldn't do and what I had to do. My last musical theatre teacher in New York City, even though she's a lovely person really, beat the fun out of it for me with all these stupid rules - nothing to do with creativity, nothing to do with art, nothing to do with expression - just presentation and bullshit.

So I started interviewing voice teachers and met Alex Varden. I said, "Look, I'll start training with you, and start singing again but you can't tell me what I can't sing. Never tell me not to sing something or you'll never see me again."

Alex was great. I studied with him for a couple of years. One day we were playing through a song, "I Won't Send Roses," and at the end I just improvised an ending and he couldn't stop laughing. He convinced me that we should record it and send it to a particular radio show host at the time.

It's so funny how things happen. We recorded that in his studio and I was being charged by 15 minute blocks of time, which was very generous of him, but the longer it was taking to record the more tense I was getting and the more tense I was getting, you know, the more money I was spending and the more money I was spending the more tense I was getting, and it just wasn't great.

It was the very first Closet Singer which is coincidentally the only Closet Singer that wasn't actually recorded in a closet.

But, I recorded it, I asked a couple of friends, Brian and Laurie if they would be the actors in it, and I put it to video - it was the very first Closet Singer which is coincidentally the only Closet Singer that wasn't actually recorded in a closet, as ironic as that is.

After I posted "I Won't Send Roses" online and got some positive feedback from friends, I took a track that Alex recorded in his studio, took it to my walk-in closet which was the quietest place in my apartment, and since I had all the equipment - the microphones and cameras and stuff from other projects I had done - I recorded the vocals for that one, "The Best is Yet to Come," and cut it to a bunch of public domain footage.

The Closet Singer videos evolved gradually. The first few just scrolled lyrics or images while I sang. Someone challenged me to not hide behind images and just show myself, and after I did that someone else challenged me that I was still hiding, because I wasn't looking at the camera while I sang.

So I did "Beast of Burden" and I did that literally naked in front of the camera staring right at it. "Okay, you challenged me, I'll do that."


Episode #8. Beast of Burden

Closet Singer was just learning the microphone, learning camera, learning performance techniques, trying different things, experimenting. I can remember doing my first video with an outside guest - how awkward that was! I did some claymation, I did another original song called "Butterflies In The Moon.". I did the eight-minute long original Monster's Lament.

I did some where I was in other people's closets. I had a live band in there, a piano in there, a bunch of drunks in there, so it was a lot of fun, and it lasted for a number of years.

It was just fun, just creativity, but eventually I couldn't figure out what else to challenge myself with. Once it stopped being just about fun and I stopped learning from it I shifted to something else.

Episode #10. Superman Mashup
Alien Raiders (2008)
You played Logan in Alien Raiders. Your character carried a hand-held camera and recorded his team's assault on the supermarket...until he died...

Alien Raiders [was done by] a friend of mine, Ben Rock in 2009. It was one of his biggest feature films to that time, a Warner's Brother straight to DVD. Unfortunately the timing of that was bad. DVD's market sort of changed around that time and it was the final film in a slate of films for the production company Raw Feed, so it didn't get the attention that the first couple did, but I think it's a really fun film.

Personally, I think it's a really great film until just after my character dies, which has nothing really to do with the fact that my character dies, it's just that the Logan cam footage that I shot disappears and then also you see the monster, which ..I don't know, there's something more to the film before you saw the monster...

But the Logan Cam - that's actually a fun story. My friend Ben had me in to read for some of the characters and he asked me which character I would like to play and I told him, "Well, I kind of like Logan." And he said, "Actually, that's the one I thought you'd choose." Some of the producers were against it. They wanted me to play a stronger character because of my size and presence - which is the exact reason I didn't want to play those. I play those types a lot, and I thought playing a tech nerd would be fun.

At some point I talked to Ben and said, "Hey, can you do me a favor and make sure that the camera [that was my prop] works, and has a tape in it, and has batteries charged." And he made sure that happened.

And the first day on the set I was just shooting everything - I was shooting while we were rehearsing, I was shooting while they were filming other people, and just rolling film. It got to a point where even on my lunch hour and breaks I would crawl around the supermarket just shooting stuff, just for fun, and doing like fake documentaries and interviews of cast members.

I finished the first tape and tried to figure out who it was supposed to go and I asked someone who passed me on to somebody else who passed me on to somebody else. Finally I gave the tape probably to someone in the camera department.

While I was making the second tape I showed one of the producers - Dan Myrick, who had also produced Blair Witch Project - some footage that I'd just shot. He said, "God, where did you get that? What is that?"

I said, "That's Logan cam, man."

He's like, "What are you talking about? Have you been shooting this whole time?"

"I said, 'Yes.'"

"I want every single tape that you shoot. Give it to me."

To my knowledge, the first tape never got found. I don't know where it went or what happened to it. But all the other tapes became sort of prized little gems.

Once they started asking me to shoot certain things, I said, 'Look, man, Logan Cam was my idea and you can ask Logan Cam but you can't tell Logan Cam what to do.' It just became this funny thing.

Months after we were done shooting I got a call from Ben and the editor, and they said, "You just saved our ass. We could not figure out how to go from one scene to another and we just started looking through your Logan cam footage and we used some of that footage in some of the scenes." So that was awesome.

At the first test screening of the film, apparently so many people wanted more Logan footage that they went back and put in even more of my footage.

So I think that's fun - the Logan Cam footage in Alien Raiders. And it's a fun movie.

The only disappointing thing about the Alien Raiders movie was - it first started out called Supermarket. While we were filming they were talking about changing the title. When they told us what they finally picked and showed us the poster it was a disappointment. It was such a bad title for the movie and the poster had nothing to do with the plot. It's almost as if the marketing people had never watched the film. Which is tragic. Unfortunately, sometimes business gets in the way of creativity.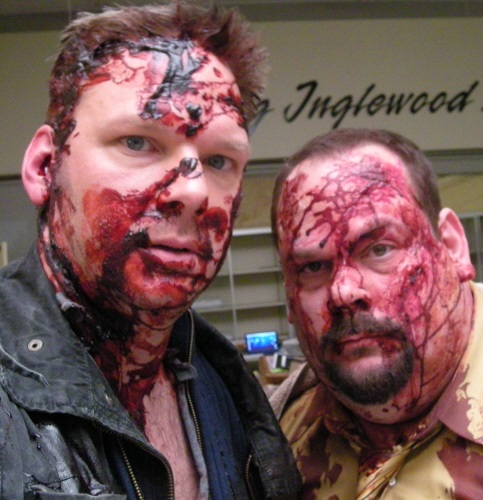 On Nurturing Creativity
You've created projects in many different media, to learn and to explore your creativity.

Sometime in high school I became self-aware - somewhere I was basically told I wasn't creative and I can remember turning in an original poem that I wrote and I got a C on it - I took a big piece of white paper and I painted an American flag on it and wrote the poem down and I got a C and I was so discouraged and to this day I remember how that felt - horrible, that some teacher judged it. It's funny, I've recalled the poem since then and I still think it's a really good poem, and I was just a young kid.

I think a lot of teachers shut down my creativity, as sad as that is.

I really didn't start to embrace my creativity until probably my senior year in college. And that's when I fell in love with acting and since then basically I've been nurturing my creativity and letting it come out in my writing and performances.

Six months after graduating college I started improv comedy, and then I started writing sketches. I was so broke in New York City [when I first started in the 1990s] and so angry at having all these shitty, shitty jobs that I'd spend hours upon hours writing and I would write poetry, songs, sketches and plays.

I actually started writing my first play just to see what a playwright goes through and then my friends who read it encouraged me to write more plays. A couple of my one-acts were produced in New York City, off-off Broadway - a full night of one acts was produced under the umbrella title, Anti-Balanced Ballistic Dummies in 1994. That was a lot of fun.

And then I started writing screenplays, some solo and some with collaborators, and I've turned two of those screenplays into novels.
Park Ranger Park
Your latest book is Park Ranger Park, a fantasy/action adventure novel.

I don't know where the initial idea came from. It probably came out of one of my many hikes and I'm pretty sure that the falls that are in the book came out of Sturdevant Falls. Sturdevant Falls and Upper Winter Creek Loop, both of those are out of a parking lot called Chantry Flats and both are beautiful hikes and that's probably where the beginning of the story started, and where I started writing it.

"What if a park ranger..." and just went with that question.

At first the story was a full screenplay. I was very happy with it. I showed it to a couple close people and while I got great feedback back, no one felt that it was going to be made as a screenplay. There was just too much to it. It was bigger than my resources. I don't have that many connections to the fantasy/sci-fi world. Because Park Ranger Park splits different genres people thought it was going to be a challenge. They didn't quite know what to tell me what to do with it. One person suggested it might be better as a television show, but after writing Sympathy for the Devil, I decided why not try to take Park Ranger Park and turn it into a novel.

Park Ranger Park, the novel, is about 1/2 of the original over-arcing story. With that said, there are so many things in the book that were never in the screenplay - characters and subplots that were added.

Honestly, that's so much more fun, and I'm so happy that I took the screenplay and basically cannibalized it for the book. Down the road I would love to see the book made into a movie but it'd be a completely different screenplay than what I started with, because so many things got fleshed out in the book.

Screenplays are basically blueprints of a story, and unfortunately they're very technically limited. The novel really allowed me to build a world that we don't know and characters that we have no idea about. And again I would love to see Park Ranger Park made into a film or even better yet, a short series like Netflix or Amazon are doing. Perhaps 4-6 episode so we can really dive into some of the subplots and characters and possibly even expand some of the scenes further.

As far as the plan for a sequel - the original screenplay went far beyond the end of this book, so there are scenes already written that were in my first draft of the novel which I cut, because I realized it was just too much and I was sacrificing too much by having so much in there I wasn't able to go in as much detail in some of the other stuff. And now with some of those other new characters, and some of those other storylines, and some of those questions that need to be answered, and just this amazing world that really blossomed in Park Ranger Park, there's definitely a second book ready to be written.
For more information on Tom and his projects
Books