On Wednesday, 4/26/06, I strolled around the path that runs on the outskirts of the townhome community in which I live.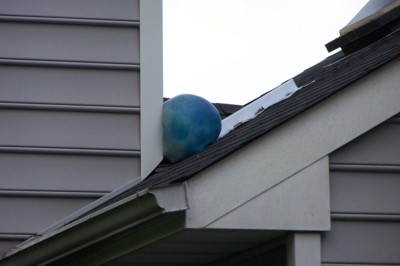 I'm not sure how long this ball has been on this roof. I don't recall seeing it before.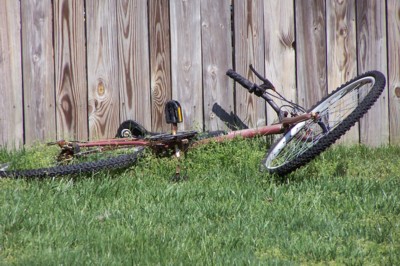 This bike has been left outside this townhome for several months.
Probably every Tuesday a groundsman who has to mow the lawn here...

picks up the fallen bike and props it up again.
The bike is clearly junk - flat tires, beat up seat...but its
owner clearly isn't going to throw it away...in an appropriate spot, anyway.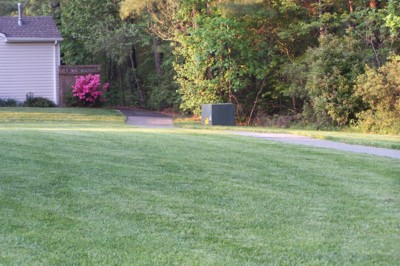 Most homes have garden decorations in their small front lawns or
behind their fenced-in back yards..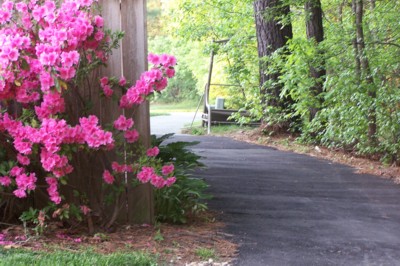 Dozens of walkers and joggers go down this path every day.
For the last three or four days they've seen this.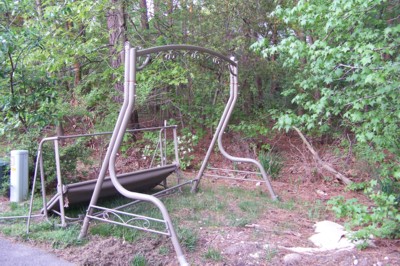 I doubt if someone from a different building dumped this pile of junk here.
So it's the people who live opposite this area that decided they'd rather
have this outside for all to see instead of inside their fenced-in yard.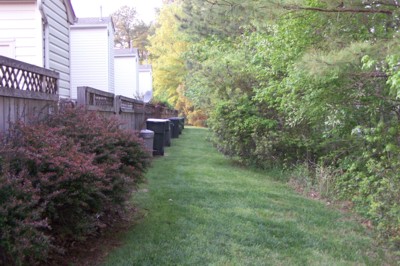 Most people have garages in which they can keep their garbage containers.
Others have a fenced-in central spot where the containers are stored.
Here, they keep their containers behind their yards. In a neat row - not bad.
Probably no one walks down this area except the people who own the homes,
when they pop out to bring their garbage containers around to the front for pick-up.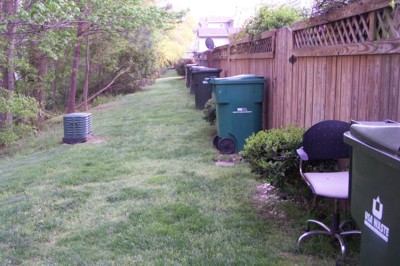 At the other end of the row of bacjyard fences, looking back. The chair is now visible.
So...has this chair been thrown away or do they use it to watch birds?
Considering its state...I think they just couldn't be bothered to keep
it inside their fenced-in yard any longer - or throw it away properly.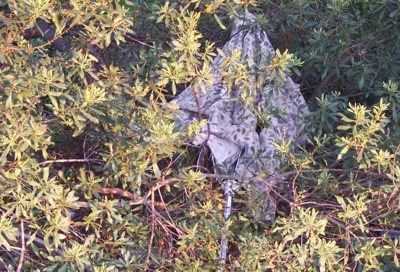 And at the end of this row of homes, someone decided to
throw this umbrella away into the woods, but close enough
for any passerby to see it, of course.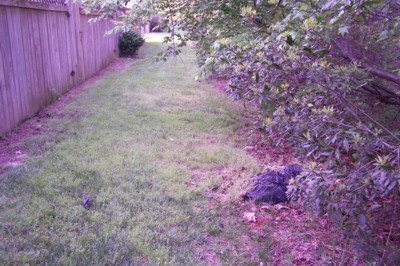 Every Friday the garbage men stop by and pick up garbage. They dump the
containers and any garbage bags next to it into their trucks and take it away.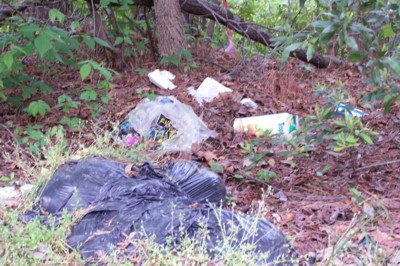 So there can be no reason why someone should throw these bags right opposite
their back yard. Where they can see them every Friday when they
wheel their garbage container out to the front.