The amount of work involved with conceiving every shot in a movie is astounding. There is so much work involved that often more then one artist works on creating the story boards. Each one given a different section to work on. And if a change is made in the script, then pages and pages of boards are scrapped. However, some of the story boards are exquisite works of art in and of themselves. The story boards for The Matrix were wonderful. The Wachowski brothers wanted the boards to look more like comics then story boards to help fit the feel of the movie better. They even used those boards to help get the funding for the movie.

You created a role playing game called Struggle for Life and Honor.
Well, Struggle for Life and Honor was one of those experiences you go through as an artist. Not a very successful one though. : ) I was looking into the gaming industry for possible work when I found this one. It looked like it would be good experience. They wanted artists to create characters for the game. You wouldn't get paid, but you would get credit and the freedom to do what you wanted. Well, I soon realized what that translated to mean: ?You figure it out, because we don't know.? So I struggled along creating some characters. Unfortunately, without a strong art director, there was no leadership for the project, so I left. It wasn't too long after that that I started sending out work to conventions. So I never really pursued game art.

You?ve said, ?I have been fortunate to meet some of the leading illustrators in the industry and through them I have learned a lot about the business of art and what it takes to be an artist.
I've had the pleasure of getting to know artists, like C.F. Payne, Richard Egelski, Bob Dacey, Murry Tinkelman, Vincent Di Fate, Danny Pelaven, and many many others. But I'd have to say that Chris Spollen has been the most influential. He still understands the struggles that emerging artists go through. He doesn't just talk about art and what he did to get started, but he'll talks about the business aspects and recognizes that it's much more difficult to be noticed today then it was twenty or thirty years ago. So many professors in schools are isolated from the working world that they don't prepare students for the difficulties that face them today. The rejections and financial costs of getting started. To be a professional requires understanding business. You can have the talent, but if you don't know how to price your work, or manage your costs then you soon find your self working at the local copy shop to make ends meet. I've met so many artists working in jobs they hate, because no one taught them that being an artist means you're are starting your own business.

You?ve said, ?My influences are Japanese wood block prints.?
I've always loved the beauty and elegance that seems to permeate through all aspects of the Japanese culture. Everything from food to gardens, to even wrapping gifts are done with an eye to the aesthetic. The wood block prints have such an elegance to them even though they were mass market items at the time. I just love that. I don't think I have a favorite artist per se, but I like the Ukiyo-e prints of the Edo period. Particularly the latter end were you see the bold colors and patterns. Unfortunately, I never had the opportunity to study Japanese art in school, so I'm learning as I go.

You?ve said, ?Using a variety of techniques, I'm able to achieve a painting that is very different from the traditional watercolor look.?
Sure. I have some of the ?Touch a Phoenix? painting. They?re not great photos, but they at least show how I paint. It's mostly a series of washes and a whole lot of patients.

I start with a sketch that I mask out so that I can create the background. Once I have that to my satisfaction I remove the mask and get to work on the foreground figures.

Using a variety of techniques, I'm able to achieve a painting that is very different from the traditional watercolor look.

Most watercolor paintings are done with light washes of color and without masks. This can make the painting seem a bit washed out and causes the ring of color you see at the edges of the paint. I, however, like a bolder look with smoother transitions of color. To do that I start by masking out the foreground figures, so that I can create the background without worrying about the rest of the painting. Many are surprised that my paintings are watercolor and not oil, because of their depth of color.

I have some pictures of the "Touch a Phoenix" painting. They're not great photos, but they at least show how I paint. It's mostly a series of washes and a whole lot of patients. I start with a sketch that I mask out so that I can create the background. Once I have that to my satisfaction I remove the mask and get to work on the foreground figures.

What's The Sea Hare about?
The Sea Hare was a children's book assignment in the master's program. It was an interesting project. It was one of the Grimm's fairytales. I think I had it on my website, at one time. It's about a Princess who wanted to keep her kingdom for herself and proclaimed that she wouldn't marry anyone who couldn't hide from her. So one suitor turned himself into a sea hare. Which I soon found out is a slug. Try making that look pretty.

?I've been selling my art at conventions across the country and have even picked up a few awards.?
The first convention I ever did was Astronomicon in Rochester in 2003. I won an award for ?Draco Nebula?. I figured that was a sign for me to start doing convention art shows. Getting ready for a show is an ongoing process. I start by reserving space in the art show. This is usually done months in advance although I've gotten in with only a few weeks notice. Then I decide what will be shown. I keep records of what I send each year, so that I don't always send the same thing twice. After that I start filling out the paperwork. There's a lot of paperwork involved, since most of the shows I mail-in to. Keeping track of which shows are happening now and what's coming up can get a bit tricky. Some happen on the same weekend even. The art has to be carefully packed weeks ahead, so that they'll arrive on time and in one piece. The staff at the art shows have been wonderful about hanging my work and taking such good care of it. I wouldn't be able to do this without them.

You recently got married. How has that affected your artistic goals?
Well, I haven't been married long, so I'm still adjusting. But my husband has been very supportive of my career. He even redid my website recently and will be with me at Worldcon. I think that my goals have pretty much stayed the same. I just have someone cheering me on now. I think keeping my options open and allowing opportunities to come to me has permitted great things to enter my life. I'm trying to stay flexible, and wait to see what the future holds.

Where do you get your "ideas" for a piece?
I think like most artists, they just come to me. Sometimes I try to direct an idea. Like wanting to do the Elements or I'm in the mood to paint a landscape. After that I'll look in books, watch movies, read and just wait to see what pops into my head. Once I get an idea then I start to sketch it out until it becomes the painting I want to do.

Can you read Japanese? What do the Japanese characters mean on each of your pieces of art.
Oh, no. I wish I could. Mostly I look them up online or in books. I try to find a word or phrase that fits each one. Sometimes it's the name of the piece.

I really like "Draco Nebula." Can you describe the creation process behind that? Your mermaids don't look like tradition "Western" type mermaids with their very long tails. Is there a type of mermaid like that in Japanese mythology or was it your own idea.
"Draco Nebula" was actually a painting I did just to play around with Photoshop. I started with a few washes to create the sky and basic shape of the dragon. Then I scanned it in and fleshed out the details in Photoshop. I think because I wasn't treating this a a finished painting, but rather as an exercise in digital painting, that it worked out so well. The "Mermaids" piece was actually created before I got into my Japanese phase. I wanted their tails to look more free flowing. Feel like they were swimming with the currents.
"Touch a Phoenix" step-by-step
The process for painting "Touch a Phoenix" is similar to the process I use for most of my paint. However, each one has its own needs and I paint in whatever way will work best to create the image I want.
With this painting I started off by sketching the image on tracing paper then transferring it to watercolor paper with graphite transfer paper. I use graphite paper, because the wax transfer paper would act as a resist when painting with watercolor. (Nowadays, I scan the sketch into the computer and print directly to the paper with a large format ink printer.)
Once the image is on the paper I stretch it by getting the paper wet and placing it on a wooden board. Brown gummed tape, the kind you use to get for mailing packages at the post office holds it to the board as it dries and shrinks. The reason I stretch watercolor paper is to keep it from wrinkling when it gets wet. It takes a few hours for the paper to dry completely, but once that is done, I then mask out the image so that I can paint in the background. I use liquid latex to mask out the edges of the figures and plastic wrap and tape for large areas.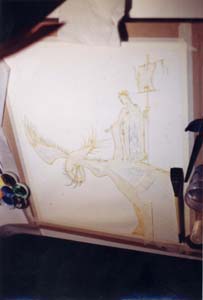 Step 1 - I took the picture upside down, so the angle's a bit off. It shows the paper stretched and masked without paint. Once everything is dried and masked out I proceed to paint the background in a series of layers. I start by getting the paper wet with clean water them adding the paint. This wet on wet technique is difficult to control. The paint flows and pools in all directions, so by careful placement of paint I can guide it to where I want it to go. Keeping the area for the tail feathers clear of color is very difficult doing this. Some color will get in, but since I will be painting over the area later it's not that much of a concern.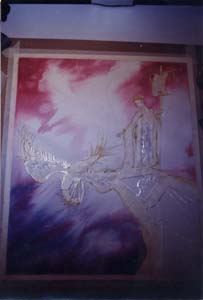 Step 2 - This one shows the image with the first layer of paint. Since I'm using yellows reds and blues I have to be careful that the colors don't run together. To prevent this I spray workable fixative to help set the paint for the next layer. This also prevents picking up colors and creating a "tooth" for the next wash of paint to grab onto. This way I can keep adding layers and deepening the color intensity.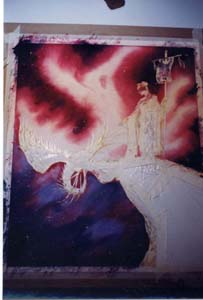 Step 3 - Once I have the background wash done I can then paint in the tail feathers. This is done with a mix of watercolor and acrylic. Since watercolor paint can only get darker, I have to use acrylic if I want any white or pale yellows. When I finish with the feathers I give it a final spray of workable fixative and then I remove the mask. Now I have sharp edges and a clean surface to paint on. At this point I can really see the painting coming along.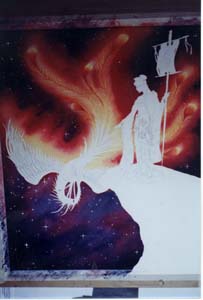 Step 4 - The feathers are a bit dark from shadow, but still you can see them and get the general idea. Painting the phoenix and woman also is done in layers, but these are done with more control. I'll still use a wet on wet technique, but with less water. This allows me to control where I want the paint to go, but also keeps it damp enough that I have time before it dries. It also prevents getting the "water mark" look were the paint stopped and a thin line of color shows the edge. I'm able to achieve a softer look with this technique.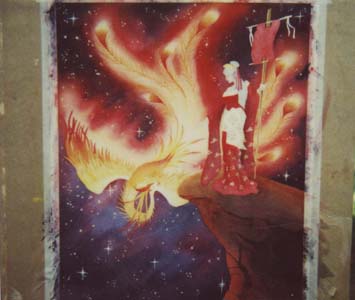 Step 5 - I took this one with a Polaroid camera outside, so the image isn't as sharp, but you can see the colors better.

More details are painted in, such as her face and hair. On the figure I masked out part of the pattern on her robe, so that I could more easily paint it an intense red. I'll usually use a dry brush technique since the areas are much smaller. This is the point were I will also clean up any areas that I don't like. Inevitably, there are drops of color that splashed on the painting in place I don't want. These need to be either cleaned up, but lifting with a wet brush or painted over.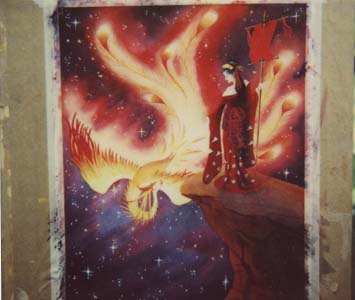 Step 6 - Also taken with a Polaroid. And this is the final image. Once the painting is done I add my chop marks on the bottom. The chops are my name in Chinese.