RB: Obviously you have a deep love of film. A childhood screening of the 1961 Mysterious Island launched a lifelong interest in both the film's composer, Bernard Herrmann, and the film's special effects genius, Ray Harryhausen. Has any other film had such a strong impact on you?

35th anniversary screening of Ben-Hur
David Wyler, son of director William Wyler, speaks to the crowd.

Bruce: Yes, William Wylers' presentation of Ben-Hur (1959) I regard as perhaps the greatest achievement in all of Cinema. It remains the most honored film in history and for good reason. It is the film that also launched my admiration of Miklos Rozsa and his profound music. I have the great honor to appear in the new 4 disc DVD set of Ben-Hur in the new documentary Ben-Hur: The Epic that Changed Cinema.

RB: Ben-Hur has always been a deeply moving and profound emotional experience for me. I've been fortunate to see it in 35mm and 70mm. I think director William Wyler was responsible for two of Charlton Heston's greatest performances-- this and The Big Country. Do you agree?
Bruce: Yes, it is a great film as well. And the score by Jerome Moross is one of the most memorable ever composed.
RB: Could you name a few of your all-time favorite films and perhaps tell us briefly why you feel they are important?
Bruce: That is a good question! Obviously Ben-Hur, not only for its scope, but it remains the most intelligent of all Biblical films, and the most intimate and profound. The depiction of Christ and his impact in the film is what stays with the audience, far more than the chariot race or anything else. Mysterious Island, for its' stunning music score, which I believe is the best of its kind. And is perhaps Ray Harryhausen's best overall film. Aimed more for an adult audience than any film he has made. I enjoy it more now than I did as a child as it also maintains interest for a mature viewer. El Cid (1961) for its great score and its message of honor. The Day the Earth Stood Still (1951), for its score of course, and performances from the cast that also stay with you. Again a film that appeals just as much to a mature audience. Patton (1970), perhaps the best biographical film ever made. It's a Gift (1934), the finest W. C. Fields comedy of all time! Many more I can list!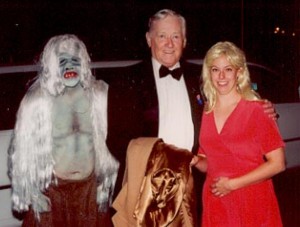 Alan Young flanded by a Morlock and 'Weena'
for The Time Machine
RB: Many film organizations are only interested in what they think are cutting edge films. The classics seem quaint and uninteresting to them. How important do you feel it is to keep the great films before the public, on the big screen where they belong?
Bruce: I find most "cutting edge" films to be elitist and snobby so to speak. I know most people feel the same way. The classics have a following and identity that is enormous. So called cutting edge films have as a rule, very small audiences. Keeping the classics on the big screen is important. As Ray Harryhausen has told me several times, "These films were designed for the big screen."
RB: Do you strive to acquire 35mm and 70mm prints?
Bruce: Yes, I have always screened 35mm and the occasional 70mm films.
RB: You mention in one interview that you work directly with the studios in obtaining your prints. Have you established contacts within their classics divisions?
Bruce: Yes I have, over the years you get to know alot of the people to book your films. And over time you build a reputation with them.
RB: During the Fort Worth Film Festival we ran the last remaining archival print of To Kill a Mockingbird. While we were honored to have in our possession a print from the time period, it had turned dinghy. Have you been turned down on a particular title due to the condition of the print?
Bruce: No, that hasn't happened. Sometimes a new print is better than an archival, due to its age.
RB: Gregory Peck had a new print struck. Since he was our guest we should have asked him to bring it along. What theatrical venues are open to you? One theater, the Orpheum, I believe, had just been remodeled.
Bruce: Yes the Orpheum and the Cinema Center theater, which has a large screen and auditorium (700 seats) and the Joslyn Art Museum's Witherspoon Hall theater, ( 900 seats) and a theater that is no longer here, the Indian Hills Theater, which was one of the last Cinerama screens in the world.
RB: What film and sound formats are available?
Bruce: Every kind of format has been available to us, from 70mm 6 track magnetic to full digital.
RB: Do you like to sneak upstairs and catch part of the show from the projection booth?
Bruce: Oh, yes, I have done that on occasion!
RB: Your events are much more elaborate than merely screening a movie. You've had Civil War, WWII, and Titanic re-enactors, live music, and a dance production as parts of various presentations. Do you devise these added value entertainments?
Bruce: Oh, yes! It is most fun to come up with the showmanship for each event. It all depends on the film as to what type of showmanship of course.
RB: Showmanship is a fine art that seems to have died along with the single screen cinema theater. Do you use any old fashioned "Ballyhoo" to promote your events locally? Maybe pull a William Castle?
Bruce: No, not quite like William Castle! Ray Harryhausen has dubbed me "Sid" Crawford after Sid Grauman! So I have a lot to live up to.
RB: How far ahead do you begin planning an event?
Bruce: As much as 4 to 6 months, and on the rare occasion I have had barely 6 weeks from coming up with the idea to the night of the actual event!

Ray Harryhausen receiving his Star on the Walk of Fame, June 10, 2003.
RB: So far, which event has been the most satisfying for you? Why?

Bruce: Hosting my Ben-Hur salute to Director William Wyler is my finest event. And the Harryhausen salute and the King Kong (1933) event and several others!

RB: They're all your children! What sort of support team do you have to help you in staging these events? Do you have a year-round organization dedicated to the next event?
Brce: No, not a year round organization. I really work alone! I do have a staff of helpers for the actual night of the event of course.
RB: I notice that you always have commemorative art created for each event. Do you have input into the creation of the art? Is any of it available as limited edition prints?
Bruce: I have input only in some suggestions as to layout etc. but it is the artist's work, not mine. Yes they are available, if anyone is interested they can contact me at my site and I can put them in touch with the artist.
RB: Do you work in tandem with charitable organizations?
Bruce: Yes I do. They help out with ticket selling etc.
RB: I presume they benefit monetarily or through the publicity the event gives their organization.
Bruce: Yes, they benefit either way.
RB: Are there any of these organizations you'd like to mention?
Bruce: Oh, some real good ones are The Kidney Foundation, Children's Square USA, The Non Profit Association of the Midlands and some others.
RB: Many people would be envious of you, immersing yourself in the world of film and hobnobbing with celebrities. But they might wonder how you make a living. Do you still work on radio or have these events become a full-time job?
Bruce: The events have been full time for several years. The radio documentaries have been lucrative for the ongoing international re-broadcasts since 1991.
RB: I must confess, regretfully, that I have never come across your radio shows on composers Bernard Herrmann and Miklos Rosza. The program descriptions and reviews sound absolutely wonderful. There are so many other incredible golden age composers who have received comparatively little attention. Do you have any plans to produce further radio broadcasts featuring film music?
Bruce: I may in the future. I did the Herrmann and Rozsa programs for totally altruistic reasons. I think they are the greatest of all composers in the 20th Century. I have some ideas for a future program or two. But nothing I could say right now.
RB: Please let us know when you can make an announcement. Are there other composers, from any time period, you particularly admire?
Bruce: Yes, I admire Jerry Goldsmith, Dominic Frontiere, Dimitri Tiomkin, Franz Waxman, Basil Poledoris, and several others.
RB: Any composers working today you like?
Bruce: Not many I am afraid. Trevor Jones is good.
RB: The current trend in film scoring seems to be away from the old European style that we all grew up with. What are you thoughts on the current state of film scoring?
Bruce: The current state is not good overall. The music is so bland and obscure. Too much light piano, almost every film now has at least one scene, where you hear that damn piano playing real lightly!
RB: You also write articles. Is there anything coming up that we might look to read?
Bruce: I haven't written for some time now. Haven't been asked to either!
RB: Someone should remedy that! Could you explain for our readers what "Halfway to Hollywood" is and your involvement?
Bruce: That is a Kansas City based film festival that I was on the advisory board for some time.
RB: Is it still around? What was its focus?
Bruce: Yes, it is, and they focus now on more indie films, etc. Not my cup of tea.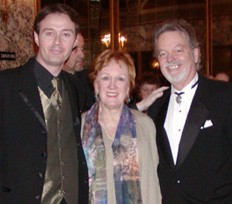 Bruce Crawford with Marni Nixon and Russ Tamblyn: West Side Story

RB: Your expertise and experience would make you an excellent speaker or guest panelist. Have you been called on to participate as a speaker or expert guest?

Bruce: Oh, yes, several times. At the Half Way to Hollywood and at concerts of film music across the country and most recently in the Ben-Hur DVD documentary.

RB: I'm sure that some folks have wondered why you stage these memorable presentations in Omaha. But that would seem to answer itself, in my mind. I'd think the populace would be very appreciative to have a bit of the Hollywood glitz and glamour in their hometown.

Bruce: Yes, it does answer itself, I live here in Omaha! The folks have loved the events over the years and it is gratifying to see such huge crowds at them.

RB: Your guests, while often exciting and always interesting, are not always the obvious choices. I also detect a bit of a liking for those actors and filmmakers associated with science fiction and fantasy. What philosophy is behind the selection of your guest line-ups?

Bruce: I get guests, first of all, that are available! And I do try to find people that I think the public would enjoy meeting and hearing etc. and sometimes people who should be more recognized.

RB: After your long friendship with Ray Harryhausen it must have been quite satisfying to see him receive both an honorary Oscar for his lifetime of work and his own star on the Hollywood Walk of Fame. What part did you play in that second event?

Bruce: I was just a guest in the VIP section of the Walk of Fame event. That was an honor to walk with Ray and Diana and Sam Calvin and I and Arnold Kunert all together, across the street to the ceremony! To be with them all like that was for me just another moment of my destiny!

RB: It seems that we have a couple of mutual friends. I've known Sam Calvin (publisher and editor of FXRH, a fanzine devoted to the films of Ray Harryhausen) for over forty years and Ernie Farino (Sam's partner and a two time Emmy winner for his special effects in the two Dune TV miniseries) used to be my partner in a special effects company called Stop Frame Productions.

Bruce: Wow, what a small world. Sam and Ernie and you and me... Those 2 guys are the ones that helped me start my career. If you look at issue 4 of FXRH Ernie gives me a credit in the credits and acknowledgements on the first page. I was all of 17! It was the start of all of this. They introduced me to all of this and I started networking before it was called networking! And it has culminated with the international broadcasts of my radio doc's, the film events, my trips to London to stay with Ray at his home and my appearance on the new 4 disc DVD of Ben-Hur in the documentary! Who would have ever believed it!

RB: It is indeed a small world and we never know who might influence us or who we might influence. It is a responsibility to be in the public eye. Is there a dream event that is as yet unrealized?

Bruce: Not really! But I look forward to coming up with more ideas!

Marvin Kaplan of It's A Mad, Mad, Mad World
RB: Any idea what film will be the next centerpiece of an Omaha Film Event?
Bruce: Yes, a salute to Humphrey Bogart and Casablanca! Our scheduled guest will be Stephen Bogart son of the legendary star. Scheduled for October 21, 2006.
RB: That should be spectacular. I've run that estimable classic twice for the Fort Worth Festival and both screenings were the largest we ever had. It's very exciting seeing a film like this on the big screen in a dark theater with a crowd of people. You can feel the electricity. Can folks get further information on the event at your website?
Bruce: Yes, but that won't happen till Sept. 27th when we announce to the public that tickets are on sale. It's great to hear that your screenings of it were the largest you ever had! Should be a good sign for us to.
RB: I'm sure it will be a big success. I want to thank you, Bruce, for taking time out of your busy schedule to have a chat. This was fun. I wish you continued good fortune with the Omaha Film Event.