| | |
| --- | --- |
| | Searching! Searching! Searching! |
The 40th edition of StarFest Denver took place this last weekend, April 21-23, 2017.
I had originally intended to go to the opening day. I'd wanted to attend the opening ceremonies for the convention, go to the panel on "How to view the Great American Eclipse" (which is going to occur on August 21, 2017, with the path of totality hitting various Wyoming cities like Casper and Torrington), and watch my favorite 1950s science fiction movie, It Came From Outer Space.
Yes, I've got It Came From Outer Space on DVD, but there's nothing like sharing the experience of watching a movie with an audience - and I really wanted to see how much of an audience this classic film would bring!
Alas, it was not to be. After 20 days of no snow, early morning on April 21 the snow was coming down ferociously in Cheyenne, and I decided discretion was the better part of valor postponed my trip to the next day, Saturday.
Saturday is actually the day at StarFest. Friday, people are busy setting up and the "main draws," the actors, don't get in until late - no autographs until Saturday and Sunday. Sunday, the day is jam-packed but ends at 6:30 pm. It's on Saturday that things start early and go on until midnight!
Saturday at StarFest
I arrived at StarFest at about 10:30 am. The convention was held at the Denver Marriott DTC in south Denver. The adjacent Denver Hilton Garden Inn hosted the ComicFest portion of the convention.
I walked into the Marriott, not into the lobby but into the entrance to the wing that housed the autograph/photograph and dealer's table room, the Dealer's Room, and on the second floor, the Avistrum Academy of Sorcery (set in the World of Harry Potter).
People in costume were everywhere. There was a very tall, very large Thing who was posing for photos with a member of the StarFest staff at his side. I immediately went over and had my photo taken. It turned out that the Thing and a few other costumed characters were actually part of a charity initiative - in a different part of the convention people could have their photos taken with several characters for a fee which went to charity.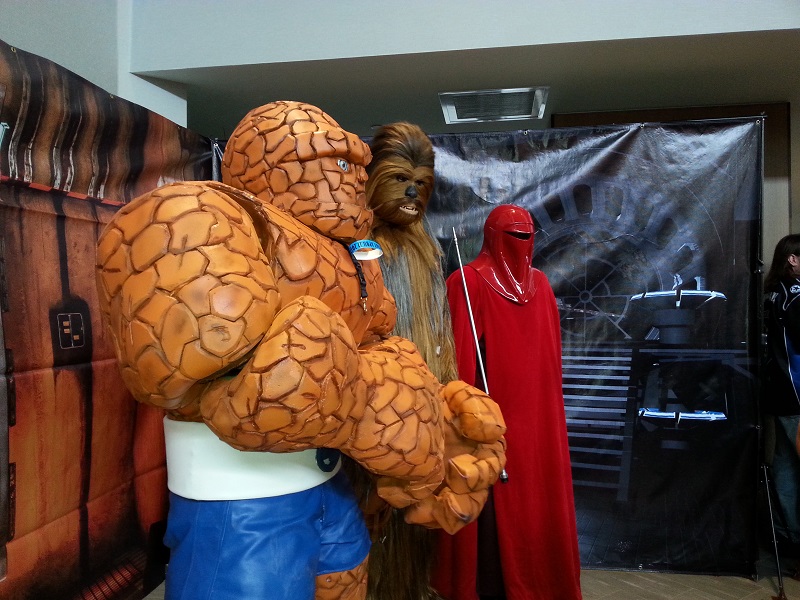 I got my media pass, and then debated what to do. I could have gone to see the last few minutes of David Bowie'sLabyrinth, (for some reason being shown in the HorrorFest video room, and then spent the whole day watching movies - Young Frankenstein (then leaving the rest of the HorrorFest videos which I had no interest in (Frailty, Silent Hill, Occupants, Buffy the Movie) and gone instead to the SF Video Room to see Star Trek: The Voyage Home (I think everyone's favorite Star Trek move after Wrath of Kahn Godzilla, King of the Monsters, Super 8 (a Steven Spielberg film), The Fly (which version the Events Schedule sheet didn't say), and Aliens. (I am not a fan of horror movies at all, but I like Aliens - the only installment in that series of movies that I saw or want to see..

But I didn't have time to watch movies!

One room was reserved for the "Main Events". On Saturday that was the Actor's Q & As - which would give fans a chance to ask questions of the actors of their choice. The first Q & A on this day was Michael Quinn (Nien Nunb - Lando Calrissian's navigator in Return of the Jedi and also a puppeteer of note - cutting his teeth on Jim Henson's Muppet Show and continuing his standout career from there.

Next was Hale Appleman's Q&A (he's Eliot in The Magicians. Jodelle Ferland, Five from Dark Matter was supposed to have a Q& A but she had missed her flight and wasn't to arrive until Sunday.

Christian Kane, Jacob Stone from The Librarians, rounded out the Q&A's for Saturday. On Sunday would be the turn of Rene Auberjonois (Odo, Deep Space Nine, David Giuntoli and Bitsie Tulloch from Grimm and Walter Koenig (Checkov from Star Trek.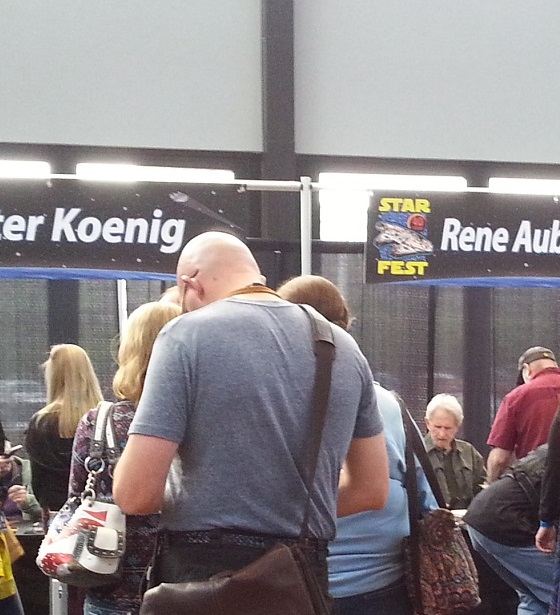 Walter Koenig - not visible behind the line waiting for his autograph -
and Rene Auberjonois signing autographs on Saturday

Although I would have loved to attend these Q & As, I decided that I wanted to mingle more with the attendees who came to the convention - the ones who came for ModelFest, GameFest, WhoFest and so on.

I spent the first two hours just wandering around, therefore. I went into the autograph/dealer's room first of all. All the actors were at tables, on one side of the room, with panels beside them to give themselves a modicum of privacy from each other, and with lines stretching in front of them of eager fans waiting for autographs.

Across the room, opposite the actors were tables featuring several authors - including one of the most popular SF authors ever who is also a Colorado resident - Kevin J. Anderson. But I chatted with the "smaller" authors who were just starting out.

I stopped in the RobotFest room, to admire the handful of models on display there, including two life-sized Robots from Lost in Space. The modelers were there, including Gary Alan Weston, who makes his models - about 1/4 life size - out of recycled materials.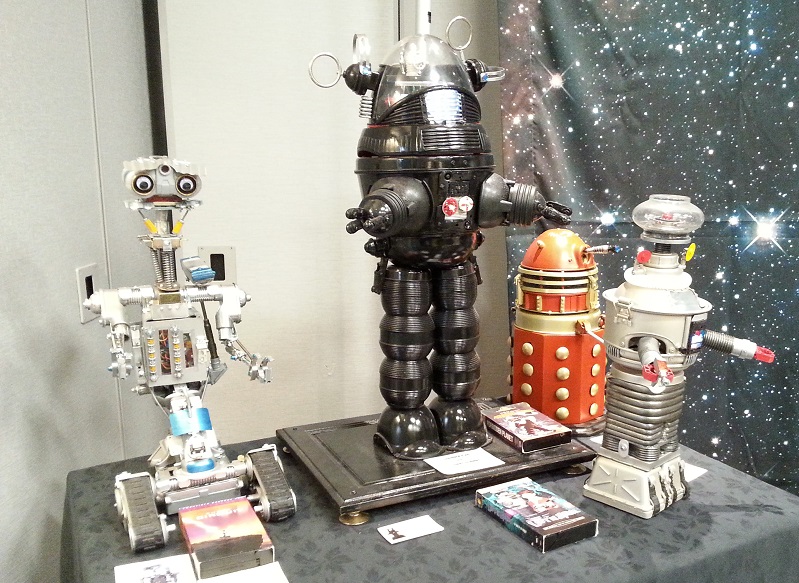 On my way to find what would turn out to be the humongous Dealer's Room I walked through a hallway lined with such tables as that of the Royal Manticoran Navy, a social group who are fans of David Weber's Honor Harrington. They have two "ships" in Colorado and many more scattered throughout the United States. Their website is /www.trmn.org/portal/.

The Denver Astronomical Society had a table - but no one was there when I walked by. They were outside goiving a demonsstration on the proper - and safe for your eyes - way to view the sun during the upcoming solar eclipse.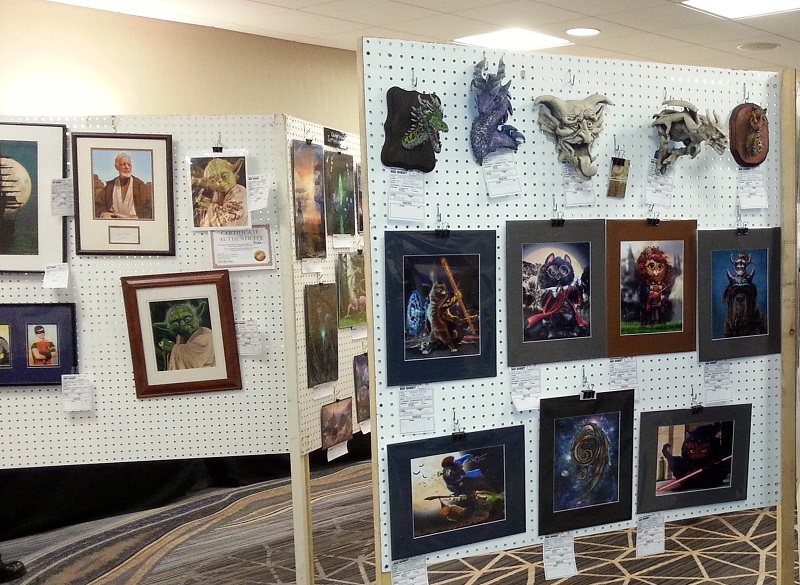 I attended only a couple of panels - each with pretty good turnouts. First was "Forced Diversity in Comics," talking about the representation of women and minority super heroes in Marvel and DC.
Then I sat in on a panel given by the Royal Manticoran Navy, a fan association that has chapters, which they call "ships" across the United States. As with the 501st Legion of Stormtroopers, they are a social group who also get together to perform at charity functions.
I watched the Tabletop gamers for a while, wishing I had the time to join in - but my time had run out.
I did stop to talk with Ghostbusters Colorado, founded about a year ago to honor the original movies. They also will appear at charity functions if requested.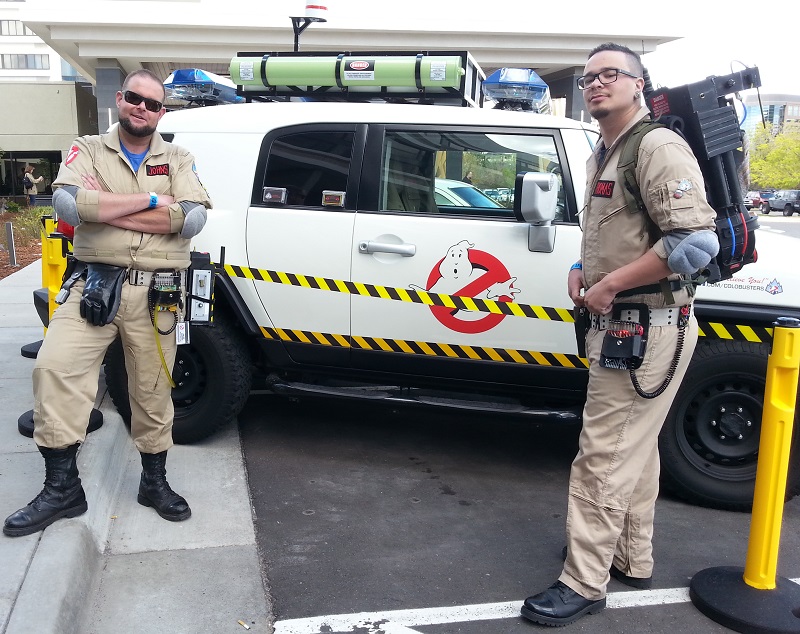 In summary, StarFest Denver 2017 was a lot of fun, and of course the organizers are already making plans for next year, when the convention will be held at the same two hotels.
For science fiction fans, there was something for everyone at this convention - from the camraderie of people sharing the same enthusiasms for a TV show, movie series, or activity such as tabletop gaming or cos play, the convention experience is not to be missed.
.