The Cinderella Season: 1996-1997
29-10 and National Champions

Buy the DVD from this external site
DCTVNY for $29.95
The Lady Vols won the 1995-1996 NCAA National Championship, defeating the Georgia Lady Bulldogs. Their record was 32-4. Chamique Holdsclaw established herself as a star.

Expectations were high for the next year, and Coach Pat Summitt agreed to allow HBO to film a documentary of the entire season.

The 1996-1997 season was much rougher than expected - with the Lady Vols losing more games than ever before. The HBO documentary, entitled A Cinderella Season documented it all.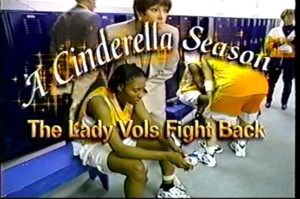 | | |
| --- | --- |
| Head coach Pat Summitt | Assistant coach Micki DeMoss |
| Assistant coach Holly Warlick | Assistant coach Al Brown |

The documentary begins with the Lady Vols in the locker room after a loss, in tears. The game in question isn't identified (we'll see the same footage later on in the doc), but the Vols are taking the loss hard.

Pat Summitt enters and speaks bracingly:

"Hey, gang. Y'all...C'mere. C'mere. Get your heads up. Listen up. That's the best effort of the year. Did we play hard? Well, if that's number 2 in the country and you fight like that every game - you hadn't fought like that every game. If you play this way, I'm telling you right now we're going to be there in March."

The theme music begins: "I feel lucky," as several of the players are shown in action shots and identified.

Date
Score
Opponent
Nov 15
Nov 17
Nov 19
Nov 20
Nov 23
Nov 24
Nov 26
Dec 3
Dec 8
Dec 15
Dec 18
Dec 21
Dec 29
Jan 2
Jan 5
Jan 7
Jan 12
Jan 17
Jan 19
Jan 21
Jan 26
Jan 28
Feb 2
Feb 4
Feb 9
Feb 11
Feb 15
Feb 17
Feb 22
Feb 24
Feb 28
Mar 1
Mar 2
Mar 15
Mar 17
Mar 22
Mar 24
Mar 29
Mar 30
80-59
79-60
72-59
64-66
83-68
87-58
71-36
79-63
93-94
65-82
79-71
68-65
75-77
64-52
57-72
72-83
84-61
72-60
92-79
62-71
63-60
94-83
74-72
78-74
104-39
90-59
76-63
64-59
78-83
80-98
75-48
100-99
59-61
91-54
76-59
75-57
91-81
80-66
68-59
Austin Peay
Kansas
Notre Dame
Louisiana Tech
Marquette
Vermont
Wisconsin-Green Bay
Memphis
Georgia (OT)
Stanford
Texas Tech
Texas (OT)
Arkansas
St. Josephs
Connecticut
Old Dominion
Kentucky
Purdue
Vanderbilt (OT)
Florida
Alabama
DePaul
Mississippi
Wisconsin
Mississippi State
South Carolina
Auburn
Vanderbilt
Louisiana State
Louisiana Tech
South Caroline
Louisiana State (OT)
Auburn
Grambling State
Oregon
Colorado
Connecticut
Notre Dame
Old Dominion

Point Guard Kelly Jolly

Kelly Jolly, LaShonda Stephens, Chamique Holdsclaw, Tiffani Johnson, Brynae Laxton, Kyra Elzy...

A brief interruption while Pat gives a pep talk during the Louisiana Tech halftime, then Niya Butts comments on The Stare.

"I don't even think she blinks when she talks, either. I don't think she does it."


Forward LaShonda Stephens


Forward Chamique Holdsclaw

Niya Butts, Misty Greene, Laurie Milligan, Pashen Thompson, Micki DeMoss, Al Brown, Holly Warlick, Tyler and the mascot, Abby Conklin makes a three point shot.

The doc begins:
October 15
5 am. First practice of the year...The drills continue at 6 am every day...More music over shots of their running, practicing, their beat up feet.

October 17:
Starting point guard Kelly Jolly injures her knee. Three weeks before first game. Her parents are there. "Pat's gonna die." Pat tells the team Kelly has a torn ACL.


Center Tiffani Johnson


Guard Brynae Laxton

Kelly's operation.

Season opener - Tennessee vs Austin Peay.
Pre-game: "I never enjoy coaching effort. I love coaching games. But effort is something you take care of individually so we're ready to play."

Pat to Chamique: "It's a W. It wasn't very pretty, but it's a W."

Pat critiquing the game: "Rebounding is desire. It's no more than desire."


Forward Kyra Elzy


Niya Butts

As Pat walks out of the building with her coaches: "We are so over-ranked. I laughed today. I saw we were ranked 2 in the country and had 5 first place votes. I died laughing."

November 10:
Tennessee is now 3-0, ranked 2 in the nation. Kelley Jolly is in rehab 6 hours a day.

November 20:
The Lady Vols go on the road to play an early season tournament. At the airport. Niya doesn't like to fly. Kisses the ground when they arrive in Louisiana. The Lady Techsters are ranked 8th in the nation.


Laurie Milligan


Pashen Thompson

"I'll tell you this. You can be a mental midget, or you can be a mental giant. And you decide which you're going to be. Because if you're gonna be a mental midget, then mentally you're not going to be able to survive out there in that arena with those people on ya and this team on ya."


Abby Conklin
They lose their first game of the season, in this, the 4th game of the season, to the 8th-ranked Lady Techsters:

"Sit up, look at me, let's move on. I was really, really proud of your effort and your intensity and your heart tonight. And I'm tellin ya, that means more to me than winning and losing right now for this team. I want you to remember this. You did not lose here because of heart. You did not lose because of effort. You lost because of execution. And the beauty of that is, this is November. We've got a lot of time to get better. If I was in here today, and you weren't upset about this, then I'd be upset. Because I want to coach a team, I want our staff to work with a team, that hates to lose, and is willing to play hard every game. Every game. And today you played hard."

"Welcome to Henrietta, home of Pat Head Summitt, state of Tennessee....." ["This is all that's there?"] "That's it. Blink and you miss it. I guess that's why I never blink. I'm afraid I'll miss something."

The doc then takes us to Pat's hometown. We see her and son Tyler picking corn on her parent's farm, see her father and mother, and then they visit Pat's high school, Cheatam County Highschool. Pat loses a game of "PIG" to a high school friend and is not happy about it.

"She knows you gotta go practice if you wanna win. Right?"

Fond memories


The barn

"This is where my basketball career started. My dad put up our basketball goal in the hayloft. There's no telling how many hours we played in this building.

I often think, if I hadn't, would I ever really have pursued basketball as a career? So.. I've got fond memories of this place."
December 15
Tennessee's record is 7-2, and ranked 4th. Stanford is undefeated ranked 1st. They don't play well and lose. The next day Pat gets on Abby Conklin for playing her own agenda.

"Why did they beat us to loose balls? Effort. Heart. Which absolutely makes me sick. To know that we are playing the toughest schedule in the country with people that are not competitive."


"I'm so mad I can't speak."


Dissecting the game next day
Scenes of practice the next day. Driving the team hard, talking to Abby Conklin. Then, a brief background of Abby Conklin and her parents.

December 18
Tennessee's rank has dropped to 6th. They play the Lady Techsters and win 79-71.


The porch where Pat
recruited Abby Conklin


Chamique in New York
December 25
Chamique has been playing basketball for 28 consecutive weeks. She gets a week off for Christmas. Cameras follow her to New York briefly.

Jan 5
Tennessee has lost to Arkansas for the first time in history. They then face undefeated top-ranked Connecticut and lose badly.
| | | |
| --- | --- | --- |
| Tyler can't believe it. | Happy Lady Huskies | "Y'all listen up. Everybody get your heads up. We've got to handle this. We talk about handling success. Now we're in a position we don't want to be in, we're having to handle failure. We got some veterans not carrying enough of the offensive punch for our basketball program. So we go to handle it. We got to get better. We don't have a choice, do we?" |

Transition card.


Kellie Jolly returns vs Kentucky

Jan 7
The Vols in Virginia to take on ODU. Cameras follow Kellie Sahner, director of basketball operations, who goes to hotel rooms making sure students are studying for the next hour.

The Vols lose the game to #2 rated ODU. Pat's end game pep talk is the one that started this doc.
Jan 9 Tennessee is 10-6. Kellie Jolly in rehab for 3 months. She's ready to play. She returns to the lineup with 14 games left in the season.

Whirlpool and various medical stuff. Players show off their tattoos.

Jan 26
Tenneesse is 13-7, faces 13th ranked Alabama and win with a 3-pointer. Laurie Milligan goes down with a knee injury. She is out for the rest of the season.
Feb 22
Kellie Jolly and Chamique Holdsclaw, roommates, chat before bedtime.

Tennessee has an 8-game winning streak. The last game of regular season is a rematch with Lady Techs. Tennessee loses badly. Pat does not say much at the end -- to angry to speak.


Pat sits Abby at start of 2nd half


No team with 10 losses has won a national championship
Pat gathers the team and announces who they'll be plauing in the NCAA Sub-regional - Grambling and then, if they win, Oregon.

"One game at a time. Survive and advance. Anything can happen in March."

Kellie hurts her ankle during the Grambling game, which they win. Gets 48 hours of treatment. Team clowns around with her in the locker room. Next day she convinces Doctor to let her play, and Tennessee beats Oregon.

March 20
The Lady Vols are four games away from NCAA. No one who has lost 10 games has ever won an NCAA.

Mar 22
Chamique has scored 707 points and played 1029 minutes without gettinginjured. 48 hours before they face Uconn. A team manager makes a curfew check.
| | | |
| --- | --- | --- |
| Sad Lady Huskies | Prepping for the championship game | Kids watch the free practice |
It's 3 am.
Pat and the rest of the coaches watch the tape of Uconn and discuss their strategy.

Tennessee beats UConn.

March 27
The team arrives in Cincinatti via bus. Micki DeMoss on screen. "I knew all along we'd get into the Final Four. I just didn't tell anybody."

The Vols hold an early, free, public practice for everyone to come see.


The ODU game is tied


Kellie Jolly hits her free throws
More watching of tape for the Championship game against ODU.

Pat gives another pep talk.

"We're not going to lunch time. We're going to war."

The game is tough to start with, but the Lady Vols draw away in the second half. With 2 seconds left Pat puts Laurie Milligan in. (She can't run, but she throws in the ball.)
| | | |
| --- | --- | --- |
| Laurie brought in | Hugs all around | Pat celebrates |
REVIEW
This documentary is only an hour long, and that is simply not time enough to cover an entire basketball season. There's no narrator to set the stage or speak in any depth on a particular aspect of the Lady Vols season.

Abby Conklin and Chamique Holdsclaw are the only players from whom we see their 'private' life - their parents. Did the other players not want to participate in this way, or was there simply not enough time?

Overall a must-have documentary...but it should have been so much better.