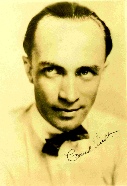 In 1780, Schiller was honorably dismissed from the academy, although without a doctor's degree, and was assigned as army doctor to a regiment of invalid soldiers at Stuttgart. To augment his meager income he decided to borrow money and publish his play. As a book, THE ROBBERS was largely ignored, but it came to the attention of Dalberg, director of a theater at Mannheim, who in 1782 produced a revised version which was a tremendous success.

Dissatisfied with an unpleasant job, and flattered by his sudden notoriety into the conviction that he was born to be a writer of tragedy, Schiller deserted the Wurttemberg army and fled to Mannheim in a neighboring principality. Dalberg was at first reluctant to associate himself with a refugee from another state, but by 1783 it was apparent that the Duke of Wurttemberg had ignored the desertion, and Schiller received a one-year contract as theater-playwright. In the following year two new plays were produced at Mannheim, neither of which enjoyed anything like the success of THE ROBBERS, but which were, like that play, characterized by a vehement, high-keyed prose and radical sentiments.

Schiller's contract with Dalberg was not renewed, and in 1784 he moved to Leipzig and then to Dresden, where he published his journal, DIE RHEINISCHE THALIA, and worked in a desultory manner on a new play, DON CARLOS. This tragedy, finished in 1787, represents in many ways the midpoint in Schiller's development as a dramatist. As is true of the earlier Mannheim plays, the language is often high-pitched and the action confusing; like them, the plot deals with an idealist, the Marquis Posa, who is destroyed by his own fanaticism, but, as in the later plays, the form is poetic and the thought mature.

After the completion of DON CARLOS there was a hiatus of ten years in Schiller's dramatic output. In 1787 he went to Weimar, where he made the acquaintance of the poet Herder, and finally settled in Jena. In his reading for DON CARLOS, Schiller had become interested in the Spanish-Dutch conflict of the sixteenth century, and as a result decided to devote himself to the writing of history. In 1788 he published his GESCHICHTE DES ABFALLS DER VEREINIGTEN NIEDERLANDE (HISTORY OF THE DEFECTION OF THE NETHERLANDS), and during the next four years wrote the impressive HISTORY OF THE THIRTY YEARS' WAR. Although Schiller's success as a historian led to his appointment as professor at the University of Jena, his work in that field is more notable for its literary qualities than for its historical accuracy or scientific objectivity. He instinctively sided with the oppressed and rebellious, and his republican sympathies colored his prose as well as his plays.

While at Jena, Schiller divided his time between history and philosophy. His concern was primarily with the study of aesthetics, although that is never, in his thinking, entirely divorced from ethics. His best-known essays in this field are ON GRACE AND DIGNITY and ON NAIVE AND SENTIMENTAL POETRY.

Schiller first met Goethe in Jena, and from 1794 on they were close friends and literary allies. Partly through Goethe's influence, Schiller's interest in writing poetry revived. Together they made a study of the epic style, and out of this interest grew a number of ballads and romanzas which are still among Schiller's most popular works. During this period Schiller also wrote several reflective lyrics expressing the humane idealism and high ethical aspirations which characterized his thought. Goethe was also at that time the director of the small theater at Weimar, where Schiller moved in 1799, and the two friends often worked together selecting and adapting plays for production there. The renewed contact with the stage quite naturally reawakened Schiller's love for the drama, and the remaining years of his life were spent writing poetic plays for the Weimar theater. With a burst of energy he wrote in rapid succession his five greatest plays: the WALLENSTEIN trilogy, made up of WALLENSTEIN'S CAMP (1798), THE PICCOLOMINI (1799), and WALLENSTEIN'S DEATH (1799); MARY STUART, THE MAID OF ORLEANS, THE BRIDE OF MESSINA, and WILLIAM TELL. The last, undoubtedly Schiller's most popular play, is an intensely human drama dealing with the rebellion of the Swiss people against their Austrian rulers. While writing still another historical play, DEMETRIUS, Schiller contracted the illness which led to his premature death on May 9, 1805, in Weimar, Germany.

A comprehensive edition of Schiller's works is the SAKULARAUSGABE, edited by E. von der Hellen, 16 vols., 1904-1905. The pioneer study of Schiller in English is Thomas Carlyle, THE LIFE OF FRIEDRICH SCHILLER, 1845, still useful in spite of the difficulties of the style. For more recent estimates see J. G. Robertson, SCHILLER AFTER A CENTURY, 1906; H. B. Garland, SCHILLER, 1949; William Witte, SCHILLER, 1949; and E. L. Stahl, FRIEDRICH SCHILLER'S DRAMA, THEORY, AND PRACTICE, 1954. For biographical and critical studies in German see C. von Wolzogen, SCHILLERS LEBEN, 1830; Reinhard Buchwald, SCHILLER, 2 vols., 1937, and SCHILLER UND BEETHOVEN, 1946; Ernst Muller, DER JUNGE SCHILLER, 1943; Kurt May, FRIEDRICH SCHILLER: IDEE UND WIRKLICHKEIT IM DRAMA, 1948; Bernhard Martin, SCHILLER UND GOETHE, 1949; and Melitta Gerhard, SCHILLER, 1950. Some recent more specialized studies are Ronald D. Miller, THE DRAMA OF SCHILLER, 1963; Edmund Kostka, SCHILLER IN RUSSIAN LITERATURE, 1965; and R. M. Longyear, SCHILLER AND MUSIC, 1966.

Main Works

PLAYS
:

DIE RAUBER, 1781 (THE ROBBERS);

DON CARLOS, 1787;

WALLENSTEIN, 1798-1799;

MARIA STUART, 1800;

DIE JUNGFRAU DE ORLEANS, 1801 (THE MAID OF ORLEANS);

DIE BRAUT VON MESSINA, 1803 (THE BRIDE OF MESSINA);

WILHELM TELL, 1804.

NOVELS
:

DER VERBRECHER AUS VERLORENER EHRE, 1786 (THE CRIMINAL, IN CONSEQUENCE OF LOST REPUTATION);

DER GEISTERSEHER, 1787-1789 (unfinished).

POEMS
:

XENIEN, 1796 (with Goethe);

GEDICHTE, 1800-1803.

HISTORY
:

GESCHICHTE DES DREISSIGJAHRIGEN KRIEGES, 1790-1792 (HISTORY OF THE THIRTY YEARS' WAR).

ESSAYS AND STUDIES
:

UBER DEN GRUND DES VERGNUGENS AN TRAGISCHEN GEGENSTANDEN, 1792;

UBER DIE TRAGISCHE KUNST, 1792;

UBER DAS PATHETISCHE, 1793;

UBER ANMUT UND WURDE, 1793 (ON GRACE AND DIGNITY);

UBER NAIVE UND SENTIMENTALISCHE DICHTUNG, 1795-1796 (ON NAIVE AND SENTIMENTAL POETRY).