Con-tact: Science Fiction Convention Previews and Reports
---
The Williamsburg Film Festival: Saturday, March 10, 2007
This was the last day of the festival. There were three films shown, with the actors answering questions afterwards, and the the Banquet in which all the guest stars and festival guests were entertained by such people as Sterling Riggs (Elvis inmpersonator), Eli Barsi, and Ed and Bobbi Beard.

The day before, in talking with Margia after her film, she mentioned that she and her husband had produced a music CD (her husband is an opera singer). She had only one left - I asked her to save it for me. Then as events went on I had forgotten all about it. So the first thing I did today was go to her in the Dealer's Room - and she had indeed saved it for me.




"Margia and Felipe: With Love" CD
I then asked her if had enjoyed the convention experience, and she was enthusiastic with her praise of the organizers of the Williamsburg Film Festival (take a bow, Bill Sasser), as they had exhibited 'true Southern hospitality.'
I then went to the Guest Star Theater to see Richard Anderson in The Curse of the Faceless Man (1958).
Richard Anderson: The Curse of the Faceless Man







While excavating the city of Pompeii (buried during a volcanic eruption in 79 AD), archaeologists find a stone-encrusted body, wearing a bronze medallion bearing a strange Etruscan inscription. Archaeologist Carlo Fiorillo (Luis Van Rooten), speculates the robust body may hold some life; medical researcher Paul Mallon (Richard Anderson) scoffs at the idea. "But people left alone with the seemingly petrified "faceless man" keep dying of crushed skulls; and Paul's artist fiancée Tina starts having strange visions..."

This movie is science fantasy, not science fiction, and indeed reminded me of nothing so much as an episode of Kolchak: The Night Stalker. In which, coincidentally, Anderson had a starring role as a tragic villain in the Night Strangler made-for-TV movie sequel.

As with most 1950s science fiction movies, the tale is narrated in documentary fashion...and is actually quite tragic, if viewed in one way, as the "volcano man" is actually the slave Quintullus Maximus, who fell in love with a Roman noble lady, and returns after a thousand years to save her from the eruption (as the anniversary of that day is quite close.) Once he achieves what he thinks is his mission, he disintegrated in the water.




Poster for
Curse of the Faceless Man
Richard spoke after the movie, explaining how he'd got the part, right after the great The Long Hot Summer starring Paul Newman, Joanne Woodward and Orson Welles. It sounded like it'd be fun, so he agreed to do it. I asked him if he'd gone into the water at the end of the movie himself, and he just laughed. First off, they shot it in only six days, and second, that water was cold, so he was fine for a stunt man to do it.
The night before, he had revealed that he was a tremendous history enthusiast, and indeed does work for:

California Indian Manpower Consortium

National Fragile X Foundation
Board of Directors of Veterans Park.
I asked him, therefore, if he was going to see the new USS Monitor center that had jusst opened that very weekend at the Mariners' Museum in Newport News, and he confirmed that he was indeed staying for a couple of extra days, as the event organizers were going to take some of the guest stars on a tour of the many historical sites in the Williamsburg-Yorktown-Jamestown Historic Triangle.

Audrey Dalton in The Bounty Killer
I then attended the showing of The Bounty Killer, (1965) starring Dan Duryea and Audrey Dalton. Quite a good little film, showing how the innocent and gentlemanly Dan Duryea transforms into a cold-hearted killer..despite his love for Audrey Dalton. He is finally killed in the end by a new bounty killer, so the circle will continue...

After the film of course Audrey shared some anecdotes, including the fact that the character who shoots Duryea at the end of the film was played by Duryea's son.

Audrey Dalton
Condorman starring Michael Crawford and James Hampton

Coming out of the theater, I saw James Hampton and his wife Mary in the lobby, talking with a fan. (All of the guest stars were very friendly and approachable, posing for photos, etc.)

I asked him how he'd liked making Condorman, and he related an anecdote about how Michael Crawford had nearly drowned in the Seine. In the movie, he lands in the water in his Condorman outfit and Hampton has to pull him out, but because of the strength of the current and the water-logged outfit...Hampton couldn't get him into the boat and instead struggled with him to shore, while everyone else on the crew merely watched, not realizing what was happening. And then they didn't even use the shot, because it had taken so long!

(Condorman was a Disney film, in which cartoonist Michael Crawford is turned into a costumed hero by James Hampton's character, so that he can rescue Tia Carrerra from the dastardly Oliver Reed. I don't think it was a success financially, but I liked it.
Next, we saw a The Waltons episode, "The Literary Man," starring David Huddleston. It was one of the earliest episodes, and depicted how John-Boy Walton truly became a writer.
David Huddleston

Huddleston plays a writer who left home in search of the "big story," and with his anecdotes impresses John-Boy, who can't leave home because his family needs him. Huddleston finally reveals that he actually hasn't done any writing, he's always talked his stories away, and that instead of leaving home to find the big story, John-Boy should consider that it might be right there on Walton's Mountain.

I was never a fan of this show - I preferred and still prefer action/adventure fare, but this was a nice little episode and Huddleston did a good job.

I did see one Walton's episode many years ago - I don't know why - but the ending has stuck in my mind for over 20 years. Apparently it's just after Hitler rises to power in Germany, so all the inhabitants of Walton's Mountain decide to take exception to some German immigrants living near them.
They pile up all the German books in a bonfire, but before they light it John-Boy brings over their German neighbor and asks him to read the opening page of one of the books. Turns out the book they were about to burn - without being able to understand what it was - was the Bible. So the crowd is duly chastened...and leave quietly.
Probably the only book in 1933 USA that could have done that deed, but still a relevant story today, when censorship is rampant to ban or destroy books - even if you haven't read them.
I asked Mr. Huddleston also if he were going to go see the USS Monitor, and of course he was. Probably most of the guests at each festival stay a few extra days to take in everything that Williamsburg and the Historic Triangle have to offer.
I look forward to next year's festival!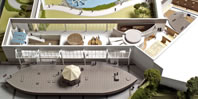 Model: USS Monitor center
---
Click on the icons for new features in The Thunder Child.
Radiation Theater: 1950s Sci Fi Movies Discussion Boards
The Sand Rock Sentinel: Ripped From the Headlines of 1950s Sci Fi Films