Con-tact: Science Fiction Convention Previews and Reports
---
Cadet's Log: 2006 Williamsburg Film Festival - FRIDAY
by Caroline Miniscule
Susie Coffman told me how she became a fan of William Boyd:
I had never seen Hopalong Cassidy. I grew up with TV cowboys, Gunsmoke and Have Gun, Will Travel and then the Westerns channel ran a documentary on Hoppy and Grace and I started watching his movies, and I just fell in love with Hopalong Cassidy. So I got all the material I could get on him. I like to write fiction and I thought ?he?s a great character to write about,? so I wrote six Hopalong Cassidy adventures and some poems that I dedicated to Hoppy and Grace and some of my own Western poetry that I had written.

It took her three years to write the stories, and at the end of that time she was encouraged to have them published.


Author Susie Coffman
Author Coffman met Grace Boyd and wrote her in as a character in three of her stories:
?I met her in Lone Pine, California. I met her a couple of times and we?ve talked on the phone. I actually wrote her in as a character in the last three Hoppy stories - Hoppy and Grace. They meet...a little romance there... she's a school marm, she comes out West and of course meets Hoppy, and like any woman would, falls in love with him.
But I asked her first and said you don't mind me writing you in as a character, and she said no, not at all. Anything I wrote I let her read.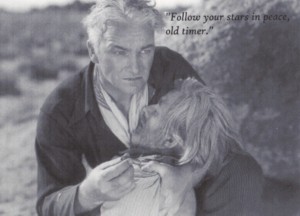 Hoppy's words to the dying "Gabby" Hayes in Hopalong Cassidy Enters becomes the title for her book.
How did William Boyd meet his fourth and final wife?

"Grace Bradley was a teenager in New York, and she went and saw the Cecil B. DeMille silent epic, The Volga Boatman, starred William Boyd he was only 31 years old, and of course like any teenage girl she fell in love with him, and she said, ?I?m going to marry him some day.?

.... She was a dancer and she was a concert pianist. She was in New York, she was in a stage show, and a Hollywood producer saw her and gave her a screen test.
She ended up going out to Hollywood and becoming an actress herself. She made probably 20 or 30 movies. But, William Boyd was married four times, and he was going through his last (third) divorce. One of his producer friends said, ?I?m having a dinner party and I?d like you to come,? and he said, ?I?m not going with anybody right now that I could bring,? and the producer said, ?Well, we have this young actress under contract, her name?s Grace, why don't you give her a call, she's a nice girl, I?m sure she?d like to go.?
He called Grace, and said ?I?m William Boyd, would you like to go to this party.? well, she said, "Yeah, sure, and I'm the President's daughter," and she hung up on him, because her friends used to do that to her all the time, because they all knew she had such a crush on him for so many years, that they used to say, ?I?m William Boyd,? and she?d say, ?Yeah, sure.?
He called his producer friend back and said ?She hung up on me.? So he said, ?Well, tell her that I said to call. So the second time he called he said, "I'm really William Boyd, and I?d like you to go to this party.? And she said something and he laughed. And anybody that knows Hopalong Cassidy, he?s got a very distinctive laugh. Well she recognized that laugh and she just froze. And she said, ?Yes, I?d like to go out with you.? So he came to pick her up. She lived in a house with her mom, and, she was at the top of the stairs and he was at the bottom of the stairs with her mom and she walked down the stairs to him and he opened his arms and she walked right into his arms, and three weeks to the day they were married and they were married for thirty five years. It?s one of the greatest fairy tale romances stories you ever want to hear.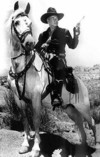 Return to:
Click on the icons for new features in The Thunder Child.
Radiation Theater: 1950s Sci Fi Movies Discussion Boards
The Sand Rock Sentinel: Ripped From the Headlines of 1950s Sci Fi Films
Recommended Reading

Recommended Viewing